"November"
-1-
Lew Childre, singer/guitarist/producer, born Opp, AL 1901.
Earl Rouse, of the "Rouse Brothers" born 1911.
Joe Heathcock, singer, fiddler, movie and TV actor, born 1914.
Bill Anderson "Whispering Bill" born Columbia, SC 1937. Inducted NSHF 1975. CMHF 2001.
Robert "Keith" Stegall born Wichita Falls, TX 1954.
Lyle Lovett born Klein, TX 1957.
Elvis Presley recorded "Suspicious Minds" 1969.
Glen Campbell's single "Try A Little Kindness" charted 1969.
Roy Acuff visited his friend Minnie Pearl, as she was recovering from a stroke in 1992. The last words he spoke to Minnie as he left the room were "I'll see you In Heaven, Minnie." Mr. Acuff died three weeks later.
The Ryman Auditorium hosted the 2001 Christian Country Music Awards. Crystal Gayle and John Berry were co-hosts, Merle Haggard, Stella Parton, Jeff Carson and Tammy Cochran entertained.
Gary Allan's "Tough Little Boys," was the #1 Country song in America 2003.
Jeff Carson and wife Kim, became parents for the first time when Dayton was born 2003.
-2-
KDKA in Pittsburgh became the first radio station in America to air programs on a regular basis 1920.
Charlie Walker born Charles Levi Walker, Copeville, TX 1926. Member Grand Ole Opry. Inducted Texas Country Music Hall of Fame 2000.
Roy Acuff was defeated, while running for Governor, of the State of Tennessee in 1948. Gordon Browning was elected by a comfortable margin.
Pee Wee King appeared on "The Kate Smith Show," in NYC 1953.
Hugh "Earl" Yager, of the Johnson Mountain Boys, born Gordonsville, VA 1953.
Jerry Lee Lewis Jr. was born to Jerry Lee, and second wife Jane Mitcham 1954.
Stonewall Jackson debuted on the Opry in 1956.
k. d. Lang born Consort, Alberta, Canada 1961.
Johnny Cash spent the night in jail in Lafayette, GA 1967.
Margaret "Sally" Waters, age 64, of "Sarie and Sally," died in 1967.
Glen Campbell's single "Gentle On My Mind" charted 1968.
Capitol Records released Buck Owens' album "I Wouldn't Live In New York City" 1970.
Willie Nelson and Shirley Collie divorced 1971.
Johnny Cash arrived in Israel for the filming of his movie "Gospel Road" 1971.
Hank Williams Jr.'s album "Whiskey Bent and Hell Bound" certified gold 1981.
Zora Layman, age 81, recording artist/violinist, died 1981.
Al Grierson, age 52, the "Poet Laureate of Luckenback," drowned in a flash flood just outside of Luckenback, TX in 2000.
John Berry and Linda Davis hosted the Christian Country Music Awards in 2000.
Elaine Tubb Lemieux, age 85, first wife of Ernest Tubb, died in 2001.
Rodney Crowell, John Prine, Paul Overstreet and Hal Blair inducted NSHF 2003.
LeeAnn Rimes' album This Woman was released 2004.
-3-
Fabor Robison, record company executive/talent manager born Beebe, AR 1911.
Leon Huff, "Light Crust Doughboys," born Whitesboro, TX 1912.
John Maddox, of "Maddox Brothers & Rose," born Boaz, AL 1915.
Ray Edenton, studio musician, born Mineral, VA 1926.
Marty Robbins recorded "Singing the Blues" in 1955. It became his fifth chart record, and first #1.
Johnny Bush released "Your Kind Of Love," 1958.
Merle Haggard was paroled from San Quentin Prison, after serving two years and nine months of a five year sentence, 1960. The remaining two years and three months of the sentence were served on parole.
Jimmie Rodgers, Fred Rose, and Hank Williams, are the first inductees into the CMHF 1961.
Duane Eddy's single "Dance With The Guitar Man" charted 1962.
Dolly Parton's "Jolene," debuted on the chart 1973.
Reba McEntire's "You Lie" topped the charts 1990.
John Denver's final album "The Unplugged Collection" was released in the UK 1997.
Cameron Zane Chestnut debuted in the lives of Mark, and Tracie Chestnut in 1998. Cameron is their third child.
Dream Works released Linda Davis' album "I'm Yours" 1998.
Mercury released Billy Ray Cyrus' album "Shot Full of Love" 1998.
Champ Hood, age 43, singer/songwriter, died in Texas 2001.
Bob Dylan, Shel Silverstein, and Dean Dillon, inducted NSHF 2002.
Sammy Kershaw and Lorrie Morgan petition the court for Orders of Protection against each other in 2003. The couple was married in 2001.
Tim McGraw and wife Faith Hill, were involved in a traffic accident on their way to CMA rehearsals in Nashville, TN 2003. There were no injuries.
-4-
Kirk McGee born Williamson County TN 1899.
Will Rogers gave his debut performance at the Ryman Auditorium 1925.
Delbert McClinton born Lubbock, TX 1940.
Alan Munde of the Country Gazette, born Norman, OK 1946.
Van Stephenson, "BlackHawk," born Hamilton, OH 1953.
Roy Acuff, and Kitty Wells, took the first country music show to New York's "Broadway," in 1955. The show played for one week.
Kim Forester of "The Forester Sisters," born Oglethorpe, GA 1960.
The movie, "Your Cheatin' Heart," premiered in Montgomery, AL 1964.
Barbara Mandrell's "Sleeping Single In A Double Bed," became her first #1 in 1974.
Audrey Williams, age 52, died in Nashville, TN 1975.
Hank Williams Jr., appeared at Carnegie Hall 1981.
Sandy Brooks called Garth, prior to a show in Cape Girardeau, Mo. in 1989. She told him to come home immediately and straighten out their marriage, or she was leaving. Garth did not finish the show.
HMG released Jackie Lee Cochran's album "Rockabilly Music" 1997.
The NSHF, inducted Dean Dillon, and Shel Silverstein, in 2002.
Johnny Cash released his album "The Man Comes Around" and traveled with June to their home in Jamaica 2002.
Dale Noe, age 76, songwriter, guitarist, died Phoenix, AZ 2004.
-5-
Roy Rogers born "Leonard Franklin Slye," Cincinnati, OH 1911.
Roy Horton, born near Broad Top, PA 1914. CMHF 1982.
Billy Sherrill born Phil Campbell, AL 1936.
Gram Parsons born Winter Haven, FL 1946.
T. Texas Tyler released "My Buckets Got A Hole In It,"/"Cry Baby Blues," 1949.
Don Gibson signed with RCA Records 1950.
Joni Harms born Canby, OR 1959.
Johnny Horton, age 35, died in a car wreck near Milano, TX 1960. Horton was hit head-on by a drunk driver while returning home after an appearance in Texas.
The Kinley's, Jennifer and Heather, born Philadelphia, PA 1970.
Capitol Records released Buck Owens' single "Big Game Hunter/That Lovin' Feeling" 1973.
Ryan Adams born 1974.
Johnny Paycheck's single "Take This Job and Shove It" went to #1 1977.
Jimmie Davis, age 101, singer/songwriter/2 term governor of Louisiana, died in Baton Rouge, LA 2000. Inducted CMHF 1972.
Warner Bros. released Johnny Cash's album "Unchained" 1996.
Deana Carter and husband Chris DeCroce were divorced 2001.
Universal Records released Johnny Cash's "American IV: The man Comes Around" 2002.
Dorothy Southworth Ritter, age 88, widow of Tex Ritter, died in the Motion Picture and Television Home in Woodland Hills, CA. 2003.
Bobby Hatfield, age 63, the Righteous Brothers, died in his Michigan Motel Room in 2003.
-6-
Gene Sullivan of "Wiley & Gene" born Carbon Hill, AL 1914.
Stonewall Jackson born Emerson, NC 1932. Stonewall was the first artist to become a member of the Grand Ole Opry, who didn't have a recording contract
Guy Clark, singer/songwriter/guitarist, born Monahan, TX 1941.
Doug Sham of the "Texas Tornado's" born San Antonio, TX 1941.
Glen Frey of the "Eagles," born Detroit, MI 1948.
The "Country Carnival Barn Dance," debuted on KMPC in San Gabriel, CA 1948.
Elvis Presley and his parents signed a one-year contract with the Louisiana Hayride 1954. Elvis would receive $18.00 for every Saturday night, and Bill Black and Scotty Moore, would receive $12.00 each.
Johnny Burnette's single "God, Country And My Baby" charted 1961.
Patsy Cline's hit single "Crazy" debuted on the charts 1961.
Jo Walker-Meador assumed duties as the executive director of the CMA 1962.
Woodward Maurice "Tex" Ritter inducted CMHF 1964.
Sonny James' "Here Comes Honey Again," went to #1 1971. This song became Sonny's 16th consecutive #1 record.
Buck Owens recorded "Streets Of Bakersfield" 1972.
Reba McEntire and her husband were passengers on a private plane that crash-landed at Nashville International Airport in 1992. In 1991, Reba lost her road manager, and seven members of her band, in a plane crash near San Diego, California. There were no injuries as a result of the Nashville incident.
Wynonna filed for divorce from her husband of two years Arch Kelley III, in Franklin, TN 1998.
Lee Ann Womack and producer Frank Liddell were married in 1999.
Troyal G. "Garth" Brooks filed for divorce from wife Sandy in 2000. The case was heard in the Davidson Country Court House in Nashville.
BMI's "49th Annual Country Awards 2001" was attended by a Who's, Who in Country Music. Frances W. Preston, President and CEO of BMI, presided, and personally presented Willie Nelson, with the President's Award. "I Hope You Dance" was named BMI's "Song Of The Year." Toby Keith was named "Songwriter/Artist of the Year."
Alan Jackson won five awards at the CMA awards show 2002. First time award winners, the Bellamy Brothers, won the International Artist Achievement Award.
Phil Vassar's single "In A Real Love" topped the charts 2004.
-7-
Ernie Newton, stand-up acoustic bass player/session player, born Hartford, CT 1909.
"Archie" James Campbell, Hee Haw cast member, born Bulls Gap, TN 1914.
Red Foley recorded "Chattanoogie Shoe Shine Boy," at Castle Studio, 1949.
Robin Lee, born Robin Lee Irwin, Nashville, TN 1953.
Pat Boone married Shirley Foley, daughter of Red Foley in 1953.
A radio station in Richmond, VA (WXGI) banned Webb Pierce's

#1 single, "There Stands The Glass," in 1953, saying the song was not suitable for their younger listening audience.
Wanda Jackson released "Mean Mean Man," in 1960.
Alvin Pleasant Delaney "A.P." Carter, age 68, died Kingsport, TN 1960. Elected CMHF 1970.
Asylum released "Eagles Live" 1980.
Marty Robbins drove in his final NASCAR race, shortly before his death in 1982.
Willie Nelson appeared in an episode of "Miami Vice," playing the part of a Texas Ranger in 1986.
Minnie Pearl "Sarah Ophelia Colley" celebrated her 50th anniversary on the Grand Ole Opry 1990.
Bobby Sykes, age 66, guitarist, died 1994.
Shania Twain's album, "The Woman in Me," certified as a three million seller, 1995.
Columbia records released Rosanne Cash's album "Retrospective" 1995.
Vince Gill's 11th annual Celebrity Basketball Game and Concert, was held in 2000, at Belmont University. Money raised was used for scholarships.
Buddha Records released Eddy Arnold's "RCA Country Legends" album in 2000.
Gene Wooten, age 49, Dobro virtuoso, died in 2001.
-8-
Scotty Wiseman of "Lulu Belle & Scotty," born Ingalls, NC 1909.
Patti Page born Clara Fowler, in Oklahoma 1922.
Harold Shedd, music executive/producer, born Bremen, AL 1931.
Jimmy Elledge, singer/songwriter/pianist, born Nashville, TN 1943.
Bonnie Raitt singer/songwriter, born Burbank, CA 1949.
The "Main Street Jamboree," debuted on CHML in Hamilton, Ontario 1952.
Patsy Cline recorded "Walkin' After Midnight," 1956.
Louisiana Hayride star, Johnny Horton's was buried in Shreveport, LA 1960.
Buck Owens recorded "Your Tender Loving Care" 1966.
Otto Gray age 83, died 1967.
Capitol Records released Buck Owens "Too Old To Cut The Mustard/Wham Bam" 1971.
The 1984 and 1990 CMA Award Shows were presented in Nashville.
Tennessee Ernie Ford inducted CMHF 1990.
The Highwaymen recorded their third album in Santa Monica, CA 1994.
Warner Brothers released "Very Best of Rex Allen Jr." 1994.
Johnny Paycheck joined the Grand Ole Opry 1997.
Alison Krauss and guitarist Pat Bergeson married 1997.
Toby Keith was named Country Songwriter Artist of the Year, and Loretta Lynn was awarded BMI Icon status at the BMI 2004 Country Awards Show on Music Row.
-9-
George D. Hay born 1895 inducted CMHF 1966.
Curly Fox, "Curly Fox & Texas Ruby," born Graysville, TN 1910.
Hank Penny recorded his first record for ARC 1938.
Richard Greene, session musician/fiddle, born Los Angeles, CA 1942.
James Talley, Capitol recording artist, born Tulsa, OK 1943.
ABC radio premiered "Ozark Singing Bee," 1954.
George Jones debuted on the charts with "Why Baby Why," 1955.
Faron Young's "Country Girl" was #1 on the Billboard chart in 1959.
Hank Locklin joined the Grand Ole Opry 1960.
Roy Acuff became the first "living" member, inducted into the CMHF 1962.
Conway Twitty, and Loretta Lynn, recorded their first duet "After The Fire Is Gone," 1970.
Collectables released Exile's 2-album set "Kentucky Hearts/Shelter From the Night" 1999.
The Nashville Songwriters Hall of Fame inducted: Johnny Russell, Dennis Linde, Don, and Phil Everly, in 2001.
Vince Gill, while performing on the TV portion of the Grand Ole Opry, received an electric shock to his lips from the microphone in 2002. The show was stopped while technicians checked the wellbeing of Vince, and the status of the microphone. It was a memorable moment in Opry history, and Vince handled the situation like the true professional that he is.
James "Spider" Rich, age 80, songwriter, died in Tennessee 2003.
-10-
Paul Cohen was born in 1908.
Onie Wheeler born Senath, MO 1921.
Announcer George D. Hay debuted on the Opry in 1925.
Donna Fargo, singer/songwriter born "Yvonne Vaughn," Mount Airy, NC 1940.
Dave Loggins born Mountain City, TN 1947.
Greg Trostal, "Pirates of the Mississippi," born Elmira, NY 1950.
Pat Severs, "Pirates of the Mississippi," born Camden, SC 1952.
Homer and Jethro released "Houn' Dawg," 1956.
Marty Robbins' single "Singing the Blues" went to #1 1956.
Teddy and Doyle, the Wilburn Brothers, and Stonewall Jackson, joined the Grand Ole Opry 1956.
Buck Owens released "I'll Take A Chance On Loving You/Walk The Floor" 1958.
Marty Robbins released "Ruby Ann," on Columbia, 1962.
Chris Cagle, born Christian Cagle in DeRidder, LA 1968.
Gene Autry's "Rudolph The Red-nosed Reindeer," certified gold, 1969.
David "Stringbean" Akeman and wife Estelle were murdered in a robbery at their rural home near Nashville, 1973. The two robbers were waiting for them, as they returned home from an appearance on the Grand Ole Opry.
The British press reported that Johnny Cash suffered a serious cut on his hand while in Nottingham, England 1983.
Curly Fox, age 85, died Graysville, TN 1995.
Chalee Tennison married guitarist Mark Gillespie in Pigeon Forge, TN in 2001.
Johnny Cash's Memorial Service was held at the Ryman Auditorium in 2003.
-11-
Hank Garland, session guitarist, born Cow Pens, SC 1930.
Narvel Felts, singer/songwriter/guitarist, born in Missouri 1938.
Marshall Crenshaw, Rockabilly singer/guitarist, born Detroit, MI 1953.
Dave Alvin, Guitar/Vocals/Alternative Country Rock, born Downey, CA 1955.
Jerry Lee Lewis released "You Win Again," 1957.
Doyle Wilburn and Margie Bowes married 1961.
Capitol Records released "Buck Owens Sings Tommy Collins" 1963.
Buck Owens recorded "Dust On Mother's Bible" 1965.
Texas Jim Robertson, age 57, singer/actor, died 1966.
Lisa Kaye McCarter, and Teresa Faye McCarter, "The McCarters," born Sevierville, TN 1966.
Jan Howard and Bill Anderson's "For Loving You," duet, charted in 1967. The single made it to #1.
Johnny and June Carter Cash, attended the Watergate trial in Washington D.C., at the invitation of Federal prosecutor James Neal in 1974.
Reba McEntire signed her first recording contract with Polygram Records 1975.
Dwight Butcher, Bluebonnet recording artist, died 1978.
Deana Carter married Chris DeCroce 1995.
Johnny Cash filmed an episode of "Dr. Quinn, Medicine Woman" 1996.
Reprise released Paul Brandt's "Outside The Frame" 1997.
-12-
Roy Newman, Western Swing bandleader/multi-instrumentalist, born Santa Anna, TX 1899.
Dean Upson of "The Vagabonds" born 1900.
Sunshine Sue born "Mary Arlene Higdon" in Kesauqua, IA 1912. Sue was the singing host of the "Old Dominion Barn Dance" on WRVA in Richmond, Virginia.
Jo Stafford born Coalinga, CA 1920.
Neil Young born Toronto, Canada 1945.
Bob Wills recorded "Thorn In My Heart," 1948.
Hank Thompson was slightly injured in a plane crash 1950.
Barbara Fairchild, singer/songwriter, born Lafe, AR 1950.
Elvis Presley was voted "Most Promising Country and Western Artist," by Billboard magazine 1955.
Justin Tubb released "Pepper Hot Baby," 1955.
The movie "Jamboree," premiered 1957. Jerry Lee Lewis made his acting debut in Jamboree.
Rockabilly singer Dave Rich recorded an album for RCA 1956.
Johnny Cash recorded "Big River," & "Ballad Of A Teenage Queen," 1957.
Loretta Lynn's "Don't Come Home a' Drinkin," charted 1966. It became her first #1 single.
Dollie Good, age 51, died 1967.
Construction began on a new Grand Ole Opry House 1971.
Johnny Cash taped his "Christmas Special" on the 12th through the 17th in Montruex, Switzerland 1984.
John Lair of the Cumberland Ridge Runners, and founder of the Renfro Valley Barn Dance, died 1985.
The IRS took everything Willie Nelson owned, to satisfy a multi-million dollar tax bill in 1990.
Robert Lee Parton, age 79, father of Dolly Parton, died in Knoxville, TN in 2000, from a stroke.
Bear Family released Harry Choates' album "Devil in the Bayou" 2002.
-13-
Jack Guthrie, singer/songwriter, cousin of Woody Guthrie, born Olive, OK 1915.
Jimmie Rodgers recorded "Hobo Bill's Last Ride," 1929.
Sonny Fisher, Rockabilly, born Tyler, TX 1931.
Buddy Killen, industry executive, born Florence, SC 1932.
Dick Flood, singer/songwriter, born Philadelphia, PA 1932.
Tracy Schwartz, of "The New Lost City Ramblers" born NYC 1938.
Ray Wylie Hubbard, singer/songwriter, born Soper, OK 1946.
Del Wood joined the Grand Ole Opry 1953.
Hank Snow topped the charts with "I Don't Hurt Anymore" 1954.
Ernest Tubb recorded "Home of the Blues," for Decca 1957.
Ferlin Husky's "Wings of a Dove" was the #1 country song 1960.
George Jones' single "Window Up Above," charted in 1960.
Ral Donner's single "Please Don't God" charted 1961.
Eddy Arnold's #1 single "Make The World Go Away" debuted on the charts 1965.
Little Jimmy Dickens #1 country single "May The Bird Of Paradise Fly Up Your Nose" debuted on Billboards Top 40 pop chart 1965.
Jerry Lee Lewis Jr. died 1973.
Alvin "Junior" Samples, age 57, died 1983. Member of the Hee Haw cast.
Bill Doggett, age 80, died 1996.
Cecil Blackwood, age 66, " Blackwood Brothers," died in Memphis in 2000.
Garth Brooks released "Scarecrow," 2001.
Hoyt Axton's "Gold" Collectables album was released 2001.
Ray Harris died 2003.
Nashville police arrested Wynonna Judd on a DUI charge 2003. Her blood alcohol level was more than twice the legal limit.
-14-
Ken Carson, "Sons of the Pioneers," born 1914.
Noel Boggs, western swing steel guitarist, born Oklahoma City, OK 1917.
Merle Travis recorded "Won'tcha Be My Baby," 1950.
Marty Robbins first Columbia recording session 1951.
Ernest Tubb recorded "I'm In Love With Molly," for Decca 1951.
The Carlisles joined the Grand Ole Opry 1953.
The "Blue Bonnet Barn Dance," debuted 1953 on KCEN-TV Temple, TX.
Time Magazine coined the phrase "Nashville Sound," in an article 1960.
Johnny Cash was arrested in Nashville, for an alcohol related offense 1961.
Tom T. Hall recorded "I Flew Over Our House Last Night" 1972.
Johnny Paycheck released his album "Take This Job and Shove It" 1977.
Rosanne Cash's single "My Baby Thinks He's a Train" went to #1 1981.
Mel Tillis' home severely damaged by fire 1988.
Wynonna and hubby Arch Kelley III announced that they were divorcing 1998. The couple was married in 1995, after Wynonna became pregnant with their second child.
Jasmine Records released Red Foley's album "Stay a Little Longer" 2000.
Collectables released Flatt & Scruggs "Town and Country/Changin' Times" 2000.
Toby Keith was named "Favorite Male Artist" for the third consecutive year, at The American Music Awards show in Los Angeles 2004.
-15-
Lowell Blanchard, Promoter, born Palmer, IL 1910.
William Fries, a.k.a. "C. W. McCall," born Audubon, IA 1928.
Patsy Montana was hired by WQAM radio, in Miami, FL 1950.
Hank Snow released "A Fool Such As I" 1952.
Elvis' first movie, "Love Me Tender" premiered in New York City in 1956. Elvis made a total of thirty-three movies.
Bobby Helms recorded "Fraulein," 1956, and it remained on the charts for fifty-two weeks.
Jack Ingram born Houston, TX 1970.
Albert E. Brumley, age 72, gospel songwriter, died 1977.
Alabama's "Alabama Christmas" album certified gold in 1985.
Randy Travis' "Diggin' Up Bones" was #1 on the Country charts 1986.
Capitol Nashville released John Berry's album "Things Are Not the Same" 1994.
Wynonna made her acting debut on TV's "Touched By An Angel," 1998.
-16-
Earl A. Bolick, "Blue Sky Boys," born Hickory, NC 1919.
Felton Jarvis, record producer, born 1934.
Troy Seals born Big Hill, KY 1938.
Wesley Rose married Margaret Erdelyan 1940.
The "WSB Barn Dance," debuted in Atlanta, GA 1940.
Larry Cordle born Cordell, KY 1949.
Mark Orr, "Kentucky Headhunters," born Charlotte, MI 1949.
Carl Smith's "Let Old Mother Nature Have Her Way," charted 1951.
Faron Young discharged from the U.S. Army 1954.
Wynn Stewart released "Uncle Tom Got Caught,"1959.
Patsy Cline recorded "I Fall To Pieces," 1960.
William James "Will" Goleman, "Cactus Brothers," born Shreveport, LA 1963.
The Osborne Brothers recorded Rocky Top 1967.
Glen Campbell's #1 country hit "Wichita Lineman" charted 1968.
Frank Luther, age 91, recording artist, died 1980.
Bob Wills and The Texas Playboys, played their last show together in the Will Rogers Auditorium in Ft. Worth, Texas 1986.
Capitol Records released Buck Owens' album "Hot Dog" 1988.
Joe Medford, banjo player, died 1993.
Dwight Yoakam's "Just Lookin' For A Hit," went platinum 1994.
Lorrie Morgan married John Randall 1997.
John Daniel "J. D." Sumner, age 73, died of a heart attack in 1998.
Warner Bros. released Bela Fleck & the Flecktones "Greatest Hits of the Century" 1999.
Live music was presented for the first time at the new Country Music Hall of Fame, in 2000. Mark McGuinn, Bill Davidson, and Brian Pruett played two songs for a group of travel writers.
Speedy West died 2003.
David Frizzell released his album "Confidentially" 2004.
-17-
Wiley Walker of "Wiley & Gene" born Laurel Hill, FL 1911.
Bruce Hinton, MCA executive, born Tell City, IN 1936.
Gordon Lightfoot born Orilla, Ontario, Canada 1938.
Henry Whitter, rural folk music recording pioneer, died Morganton, NC 1941.
Gene Clark, singer/songwriter/guitarist, born Tipton, MO 1944.
Opry House Matinee, hosted by Eddy Arnold and Ernest Tubb, debuted on the Mutual Radio Network 1945.
Eva Overstake, age 33, a.k.a. Mrs. Red Foley, took her own life after learning her husband was having an affair with Sally Sweet 1951. Red Foley married Sally Sweet, a short time later.
Marty Robbins' "Singing The Blues," went to #1 in 1956.
Brenda Lee released "Rockin' Around The Christmas Tree," 1958.
Richard Adams Jr., of the Johnson Mountain Boys, born Gettysburg, PA 1958.
Waylon Jennings' "Yours Love," charted 1968.
Gary Stewart's "Ramblin Man" charted 1973.
CMH released Butch Baldassari's album "Evergreen" 1994.
Shania Twain's album "The Woman In Me" certified as having sold over ten million units 1997.
Garth Brooks released his two-disc concert set "Double Live," 1998. The album sold over fifteen million copies making it the best selling live album in history.
Blake Shelton and wife Kaynette were married 2003.
Don Gibson, age 75, died in Nashville, TN 2003.
-18-
Jimmy Swan born Colman, CO 1912.
Jacky Ward born Groveton, TX 1946.
The Louvin Brothers recorded their first sides for Apollo Records 1947.
John McFee, "Southern Pacific," born Santa Cruz, CA 1953.
Capitol Records released Merle Haggard's "Sing Me Back Home" 1968.
Glen Campbell's album "Wichita Lineman" was certified gold 1968.
Conway Twitty recorded his #1 hit "Hello Darlin'," 1969.
Jerry Lee Lewis and wife Myra were divorced 1970.
June Petrie "Elviry" Weaver, age 86, of "The Weaver Bros. & Elviry" died 1977.
Barbara Mandrell presented her first Network Television special 1980.
Esco Hankins died 1990.
BMG released "Legendary Eddy Arnold" 1997.
Doug Sham, age 58, of the "Texas Tornado's" died 1999.
-19-
Jerry Foster born Tallapoosa, MO 1935.
Roy Acuff recorded "The Waltz of the Wind" 1947.
Hank Snow's "I'm Movin' On" topped the charts 1950.
Faron Young inducted into the U.S. Army, for a period of two years 1952.
Johnny Cash wrote "I Walk The Line" 1955.
Johnny Horton's "North To Alaska," charted 1960.
The CMA Awards were broadcast from the Ryman Auditorium, on NBC-TV for the first time in 1968. The show was co-hosted by Roy Rogers and Dale Evans.
Billy Currington born Savannah, GA 1973.
Tom T. Hall's "Country Is" topped the charts 1974.
Johnny Cash entered a drug treatment center 1989.
Bobby Russell, age 51, died 1992. Inducted NSHF 1994.
MCA released Mark Chesnutt's "Greatest Hits" album 1996.
-20-
Eck Robertson, fiddler/recording artist, born Madison County, AR 1897.
Judy Canova, actress/singer born Jacksonville, FL 1916.
Tut Taylor, multi-instrumentalist session player, born Milledgeville, GA 1923.
Curly Putman, songwriter, born Princeton, AL 1930.
Joe Walsh of the "Eagles," born Wichita, KS 1947.
George Grantham of "Poco" born Cordell, OK 1947.
RCA paid SUN Records $35, 000.00 for Elvis Presley's recording contract in 1955. Elvis signed a three-year dear with RCA Victor the same day.
Buck White wrote "Home Run Man," and Jimmy Martin recorded it 1958.
Little Jimmie Dickens returned to the charts with "The Violet and the Rose," 1961.
Francis Craig, WSM music star, died Sewanee, TN 1966.
Dierks Bentley born Phoenix, AZ 1975.
Waylon Jennings' "Are You Sure Hank Done It This Way" was #1 in 1975.
Ace Cannon released his 2-album set "Tuff Sax" "Moanin' Sax" 1995.
Chet Atkins released his "RCA Country Legends" album in 2001.
Ronnie Dunn inducted into the Oklahoma Music Hall of Fame 2003.
Charlie Cline, age 73, co-founder of the Lonesome Pine Fiddlers, died in Jasper, AL 2004.
-21-
Hal Smith, fiddler/publisher/entertainment executive, born Cullman County, AL 1923.
Jean Shepard born "Ollie Imogene Shepard," in Paul's Valley, OK 1933.
Flatt & Scruggs recorded there first session for Columbia Records 1950.
Jean Shepard joined the Grand Ole Opry 1955.
Johnny Burnette's single "You're Sixteen" charted 1960.
George Jones' single "A Good Year for the Roses" debuts on the charts 1970.
Kelsi Osborn, of "SHeDAISY" born Magna, UT 1974.
Lynn Anderson's album "Rose Garden" certified platinum 1986.
Johnny Cash's two live prison albums, were both certified platinum 1986.
Garth Brooks released his "Fresh Horses," album 1995.
Jim Eanes, age 71, Bluegrass singer/guitarist, died 1995.
MCA Nashville released Vince Gill's "Souvenirs" album 1995.
MCA released "The Best of Joe Ely" 2000.
Welcome to the new "Music City USA." On November 21, 2001, one month after the attacks of 9-11, Country Music Television presented their "Country Freedom Concert." Charlie Daniels was booked on the show, and was going to perform his popular "This Ain't No Rag, It's A Flag." The politically correct executives at CMT (which is owned by VH-1) told Charlie that he could not sing that song on the show, because it might offend the Muslim community. Charlie Daniels, an American Patriot, cancelled his appearance on the show. Welcome to the new "Music City USA."
-22-
Laddie Cain of "The Four Guys," born Houston, TX 1951.
The first Disc Jockey Convention was held in Nashville, TN 1952.
A & M Records released Rita Coolidge's "Nice Feeling" album 1971.
Glen Campbell's #1 hit "Country Boy" charted 1975.
Charlie Pride recorded his #1 single, "She's Just An Old Love Turned Memory," 1976.
Kenny Rogers' "Lady," went to #1 on the charts 1980.
Lorrie Morgan and Keith Whitley married in 1986.
Lari White hit the USO trail in 1998. Lari entertained U.S. troops in Germany, Italy, Bosnia, and Turkey.
Wynonna Judd married her former bodyguard D.R. Roach in Leiper's Fork, TN 2003.
Don Gibson's funeral was held in his hometown, Shelby, NC 2003.
-23-
Jerry Sullivan of "Jerry & Tammy Sullivan" born Wagarville, AL 1933.
Webb Pierce released "No Love Have I," 1959.
The Browns "Scarlet Ribbons" charted 1959.
Charlie Sizemore born Richmond, KY 1960.
Spade Cooley, age 58, died in Vacaville, CA 1969, while serving a prison sentence, for beating his wife to death in front of their daughter.
Johnny Cash debuted "Sunday Morning Coming Down" on his TV Show 1970.
Barbara Mandrell's "Sleeping Single In A Double Bed" topped the charts 1978.
Grady Nutt, age 48, Hee Haw Cast member, died in a plane crash in Vinemont, AL 1982.
Al Terry, age 63, recording artist, died 1985.
Roy Acuff, age 89, was buried on this date in 1992. The burial took place less than eight hours after his death, as he had requested. He passed away at 2:35 AM in his sleep, as the result of congestive heart disease. Roy Acuff was the first vocalist featured on The Grand Ole Opry, and the first "living" member, inducted into the CMHF 1962.
Smokey "Eugene" Rogers, age 76, died 1993.
Tommy Boyce, age 55, vocalist/songwriter/producer, died of a self-inflicted gun shot 1994.
Trace Adkins made his début on the Grand Ole Opry, and proposed to his future wife Rhonda Forlaw, while on stage 1996.
Deana Carter's single "Strawberry Wine" topped the charts 1996. It was named CMA Song of the Year in 1997.
Garth Brooks released "The Magic of Christmas," 1999.
Warner Bros. released Keith Harling's album "Bring It On" 1999.
Dolly Parton and Vince Gill, hosted the CBS television special celebrating the 75th Anniversary of the Grand Ole Opry, in 2000.
-24-
Tom C. Fouts "Captain Stubby," of Captain Stubby and the Buccaneers, born 1918.
Frenchy "Stoney" Edwards born Seminole, OK 1929.
The Carter Family recorded "Lonesome Valley"/"Wabash Cannonball," for Ralph Peer and Victor Records 1929.
Johnny Carver born Jackson, MS 1940.
James Bryan, Bluegrass/fiddle, born Mentone, AL 1953.
Sonny James released "Young Love," 1956.
Tom T. Hall recorded "Me And Jesus/Turn It On, Turn It On, Turn It On" 1971.
Marty Robbins released "The Best Part Of Living/Gone With The Wind" 1971.
Asher Sizemore, age 69, Grand Ole Opry, died in Arkansas 1975.
"Wanted, The Outlaws," the first million selling Country album in history, certified platinum 1976.
Emil Dopyera, age 74, died in 1977. Emil is credited with inventing the Dobro.
Waylon Jennings' single "Come With Me" topped the charts 1979.
Loretta Lynn's mother Clara Webb Butcher, died in 1981.
Sony released "Deryl Dodd" 1998.
Chet Atkins & Jerry Reed released their duet albums "Me & Chet/Me & Jerry" 1998.
Glen Campbell, age 67, was arrested by Phoenix police for Drunken Driving, Hit and Run, and Aggravated Assault on a Police Officer 2003.
-25-
Biff Collie, disc jockey/show promoter, born Little Rock, AR 1926.
The Carter Family recorded "Lonesome Pine Special," for Victor Records 1930.
Walter "Ralph" Emery debuted as the host of WSM's all night show 1957.
Amy Grant born Agusta, GA 1960.
Eddie Stubbs, fiddler/WSM show host/Grand Ole Opry announcer, born Gaithersburg, MD 1961. Eddie was a member of the Johnson Mountain Boys, and played in Kitty Wells' band, prior to going to WSM.
Glen Campbell's single "By The Time I Get To Phoenix" charted 1967.
Tanya Tucker and her piano player (Tony Brown,) were drinking in a Nashville bar in 1976. After a few hours, Tanya left the bar and wrecked the car she was driving, almost killing herself. Tanya's father fired Brown, and a short time later, Tony Brown was Elvis Presley's piano player.
Jimmy Bowen released his "Best of Jimmy Bowen" in 1991.
Garth Brooks released his "Sevens," album in 1997.
Bear Family released Charlie Feathers' album "Rare & Unissued Recordings." 1998.
Daryl Singletary injured, when the horse he was riding on, stumbled and fell in 1999. The accident occurred at Daryl's in-laws ranch in Texas. He received a broken collarbone and numerous bruises.
Elton Britt's album "Ridin' with Elton" was released in 2000, twenty-eight years after his death.
Kenny Rogers' hit the road with his "Kenny Rogers & Friends Celebrate The Season" Christmas tour 2004. Rebecca Lynn Howard and Billy Dean also performed.
Bobby Lee House, age 55, songwriter, died 2004.
-26-
Rev. Andrew Jenkins, blind preacher/singer/songwriter/multi-instrumentalist, born in Jenkinsburg,
GA1885. Andrew wrote over 800 songs, and recorded over 100 records.
Shell Smith, guitarist/recording artist, born Carroll County, MS 1895.
Charles "Gabe" Ward, "Hoosier Hot Shots," born Knightstown, IN 1904
Jimmie Revard, bandleader of the "Oklahoma Playboys" born Pawhuska, OK 1909.
Bonnie Lou's single "Daddy-O" debuted on Billboard's Chart 1955.
Jerry Reed released "If The Good Lord's Willin'," 1955.
Mac Wiseman released "I Hear You Knockin'," 1955.
Hawkshaw Hawkins and Jean Shepard married on stage, in Wichita, KS 1960.
Linda Davis born Dodson, TX 1962.
A&M released Rita Coolidge's album "The Lady's Not for Sale" 1972.
Merle Haggard recorded "Always Wanting You," 1974.
Shania Twain's "Greatest Hits" album topped the chart in 2004.
-27-
Werly Fairburn, singer/songwriter/member Louisiana Hayride, born New Orleans, LA 1924.
Eddie Rabbitt born Brooklyn, NY 1941.
Michael Emery was born to Ralph and Joy Emery 1967.
Guitarist James "Jimmy" Wiedner," was shot and killed in a hold-up in Downtown Nashville in 1973. Jimmy was Hank Snow's lead guitar player.
Bob Attlesey, age 77, of "The Shelton Brothers" died 1986.
Charline Arthur, age 58, died 1987.
Johnny Russell and Sheila Williams Allen married 1991.
Joe Diffie joined the Grand Ole Opry 1993.
Clint Black and Lisa Hartman Black's #1 "When I Said I Do" debuted on Billboard's Top 40 Chart in 1999.
Elvis Presley was inducted into the Gospel Music Hall of Fame in 2001.
Farm Aid 2003, aired on PBS on Thanksgiving night. The show was taped in Columbus, OH on September 7th, 2003.
Lonestar's single "Mr. Mom" topped the charts in 2004.
-28-
Robert Lunn, Grand Ole Opry comedian, born 1912.
November 28, 1925 George D. Hay presented the debut broadcast of "The WSM Barn Dance," later to be re-named "The Grand Ole Opry." The broadcast originated from the WSM studio. Fiddler, Uncle Jimmy Thompson, was the first artist to perform.
Doodle Owens, songwriter, born Waco, TX 1930.
Bob Wills recorded "San Antonio Rose," 1938.
Eddy Arnold married Sally Gayhart 1941.
Hal Horton, age 55, Dallas DJ and show promoter, died 1948.
Hank Locklin debuted on the Opry 1953.
Grandpa Jones released "Hip Cat's Weddin'," 1960.
Carrie Rodgers, widow of Jimmie Rodgers died 1961.
Ilya Toshinsky, of Bering Strait, vocals/guitar/banjo born in Russia 1977.
Paul Davis' single "Cool Night" charted 1981.
Marty Stuart joined the Grand Ole Opry 1992.
Gary Allan and Danetta Day were married in Aiken, SC in 1998.
"CMA 40TH" a TV special aired on CBS-TV celebrating the 40th anniversary of the Country Music Association, in 1998. More than 200 Country Artists were in attendance.
EMI released "The Capitol Years: Ode to Bobbie Gentry" 2000.
-29-
Merle Travis born Rosewood, KY 1917. Inducted CMHF 1977.
Myrna Joy Brooks a.k.a. "Jody Miller" born Phoenix, AZ 1941.
Hank Thompson released "Shot Gun Boogie,"/"Humpty Dumpty Heart," 1947.
The Carlisles released "No Help Wanted," 1952.
Webb Pierce recorded his #1 hit "Slowly," 1953.
Johnny Horton's "The Battle of New Orleans," won Grammys for Song of the Year, and Best Country and Western Performance in 1961.
Joseph Falcon, age 65, Cajun music pioneer, died Crowley, LA 1965.
Freddie Hart's single "Easy Lovin'" was certified gold 1971.
Ray Smith, SUN recording artist, died in Burlington, Ontario 1979.
David "Butch" McDade, age 52, died in his home from cancer 1998. Butch, a drummer, was a founding member of the "Amazing Rhythm Aces."
Mindy McCready pled guilty to drug charges 2004. She had been arrested on August 5th, and charged with presenting a fraudulent prescription for OxyContin. Mindy was fined $4,000 and will serve three years of supervised probation. She will also be required to perform 200 hours of community service.
-30-
Vito Pelletier, Grand Ole Opry's first stage manager, born Nashville, TN 1889.
Teddy Wilburn born Hardy, AR 1931.
Bob Moore, bassist\ session player, born Nashville, TN 1932.
Jack Reno born Bloomfield, IA 1935.
George Richey born Freeman AR 1935.
Jimmy Bowen Producer/Music exec. / Singer/Song-writer, born Santa Rita, NM 1937.
Frank Ifeld, singer/songwriter/yodeler, born Coventry, England 1937.
Minnie Pearl debuted on the Grand Ole Opry in 1940.
Jeannie Kendall of "The Kendalls" born "Jeannie Kuykendall," St. Louis, MO 1954.
David Houston released "Its Ben So Long" 1959.
T. G. Sheppard debuted on the charts with "Devil In The Bottle," 1974.
Mindy McCready born Fort Myers, FL 1975.
David Houston, age 54, died from a brain aneurysm 1993.
Martina McBride joined the Grand Ole Opry 1995. Loretta Lynn made the presentation.
Cedar Glen Records released Vassar Clements' album "Back Porch Swing" 1999.
Randy Travis' movie "Texas Rangers" was released 2001.
OTHER MONTHS
JANUARY FEBRUARY MARCH
APRIL MAY JUNE
JULY AUGUST SEPTEMBER
OCTOBER NOVEMBER DECEMBER
Back to the COUNTRY CALENDER Main Page


****This Country Music History Calendar is reprinted with permission from the original work copyrighted by Bill Morrison © 2005.
See: Bill's "Rockabilly Country News & Views" Page

PAGE PRESENTED HERE BY THE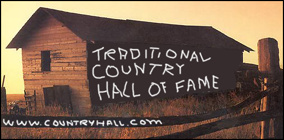 TRADITIONAL COUNTRY HALL OF FAME