THE ROCKABILLY HALL OF FAME PRESENTS

A R C H I V E - #1
NEW HANK THOMPSON ALBUM DUE. HighTone Records has announced the signing of legendary country music singer Hank Thompson. A new Thompson album is scheduled for a July 2000 release. Thompson has been recording the new album in Dallas with Lloyd Maines (father of Dixie Chicks' lead singer Natalie Maines) producing. Thompson has sold over 70 million records internationally and was elected to the Country Music Hall of Fame in 1989. One of the musicians on the album is Thom Bresh. Bresh's father-the great Merle Travis-played guitar on most of Thompson's hit records.


Review of latest issue of Cash fanzine below

Johnny Cash " The Man In Black"
Issue 23, June 2000, of long established UK quarterly fanzine out now . Devoted to Mr Cash's activities past and present, it will be of interest to most RHOF readers. Normally 24 pages this time its a whopping 28 pages from editor Peter Lewry. A5 size and professionally produced. Highlights include an interview with long time cash discographer and friend John L Smith, an excellent feature on Cash`s UK ep releases, well illustrated, picture quality is excellent all through the mag, DVD and cd reviews inc a look at the brand new 3cd set Love, God, Murder in the CBS Legacy series, review of the new Ian Calford tribute cd Strapped For Cash and the latest news re Johnny (soon to be a dj for the BBC!!!). All in all a darn good read for anyone who digs Dyess' most famous son. Highly recommended. Subscription details from Peter at p.lewry@btinternet.com
-Phil Davies



Western swing pioneer Adolph Hofner died of cancer Friday, June 2, 2000. He was a few days shy of his 84th birthday. Hofner performed continuously in San Antonio and South Texas (and, briefly, Los Angeles) from about 1933 until he had a stroke in 1993. He will be best remembered for the many fine records he made for Bluebird, Okeh/Columbia, Decca, and finally Sarg.



Check out the BUFFALO BOP website dedicated to BUFFALO BOP. Features EVERY Buffalo Bop-CD with all the CD-Covers, track-listing, artists-index and more. Author: ralf.21033@t-online.de (Ralf Wittenburg)



Bandleader Tito Puente, who rode to fame on the heels of the 1950s mambo craze and helped define Latin jazz for the next 50 years, died Thursday, June, 1, 2000. He was believed to be around 77. Puente died at NYU Medical Center in New York. Puente recorded more than 100 albums in his more than 60 years in the business. He won his fifth Grammy in February for best traditional tropical Latin performance for "Mambo Birdland" and has been nominated for the music award 10 times. "The excitement of the rhythms and the beat make people happy," he said in a 1997 Associated Press interview. "We try to get our feelings to the people, so they enjoy it. It is not music for a funeral parlor." That year, RMM Records released a three-CD, 50-song compilation from Puente's recorded output through 50 years. It's titled "50 Years of Swing." The first cut, "Que No, Que No," is from his "El Rey del Mambo" ("The King of the Mambo") recording of 1946.



The Lucky Stars new CD Hollywood & Western is available now. It features a lineup of Sage Guyton on vocal and guitar, Jeremy Wakefield on steel and vocals, Whitey Anderson on piano and accordion, Brent Harding on bass and vocals, and Charlie Paddock on drums. It has three previously released tunes, "Everybody's Fool", "Look What The Cat Dragged In", and Pee Wee King and Redd Stewarts "Tennessee Tango". New tunes include "Chisel To My Heart", Hot Potato", Get Off Your High Horse", "A Fella Named Jack", "All Shapes and Sizes", "White Lie Blues", "Been Betrayed Blues", "Sugar Mama", and "Honky Tonk Bound". sicians are James Gilliam, Brantley Kearns, and Jelle Van Atten. Available from their website at http://www.theluckystars.com along with other merchandise/recordings, gigs, bios, etc.



TEX BENEKE DIES.
(AP) May 31, 2000 - Gordon "Tex" Beneke, a singer and sax player who took over the Glenn Miller Orchestra after the band leader's death during World War II, died May 30th of respiratory arrest at the age of 86. Beneke, who joined the orchestra in 1938, died at the Assured Horizons rest home in nearby Costa Mesa. His sunny Southern voice helped make hits of Miller's "Chattanooga Choo Choo," "(I've Got a Gal in) Kalamazoo" and "Don't Sit Under the Apple Tree." When Miller broke up the band in 1942 to join the military, Beneke played with other bands before joining the Navy during World War II. Although he played in the Navy Band, he never played in Miller's Air Force orchestra. In 1946, Miller's widow asked Beneke to take the Glenn Miller Orchestra back out on the road. Under Beneke's direction, the band again flourished. Postwar audiences went wild for the reconstituted group, which scored a string of Top 10 records. But the band's manager and producer insisted Beneke keep the sounds as faithful to Miller's pre-war work as possible, with no experiments. T he frustrated Beneke broke with Miller's estate and formed his own band. A year later, he billed the performance as "Tex Beneke and His Orchestra: Playing the Music Made Famous by Glenn Miller." He released his own album - "Shooting Star" - in 1948 on the Magic Records label.
Born Gordon Beneke in Fort Worth, Texas, on Feb. 12, 1914, he earned the nickname Tex early on. Beneke began his big band career with the Ben Young Orchestra in 1935 and played with it until 1937. In 1938, he joined Glenn Miller as a sideman earning $52.50 a week. Although one of the most popular soloists with the Miller band, Beneke was left out of the 1953 movie "The Glenn Miller Story." He appeared in films including "Sun Valley Serenade" (1941) and "Orchestra Wives" (1942), which helped propel him to the top of the polls in Downbeat and Metronome magazines. Beneke worked consistently through the 1960s, appearing on TV's "Cavalcade of Big Bands." In the 1970s and 1980s, Beneke continued to play his own music in a style closely resembling the Miller orchestra.



A note from Rollin' Rock's Ronny Weiser: I just received the soundtrack CD from the HBO movie "If These Walls Could Talk 2" and I have in it a Rollin' Rock master "Wild Wicked Wanda" sung and written by Johnny Legend & His Rockabilly Bastards. It's kinda amusing to see Rollin' Rock being the only small label amongst the various conglomerates: MCA, SONY, Polygram, RCA, etc., etc. The other ironic thing is that the song is also in the HBO movie starring Sharon Stone, Vanessa Redgrave, etc.



"Only the Lonely: A Tribute to Roy Orbison" CD, Various Artists CMH, featuring Bryan Sutton, Rob Ickes and Mark Thornt - released the week of May 29th.



Loretta Lynn's new CD, "Still Woman Enough" will not be released until Sept. 12th in stores.



FAN FAIR WILL MOVE. As Fan Fair 2000 approaches, speculation grows about where next year's version of the event will be held. Set for June 12-15 at the Tennessee State Fairgrounds, this year's Fan Fair has yet to sell out. Last year the event drew 21,000, the first time since 1991 that it fell short of its 24,000 capacity. The Tennessean reported Friday that the Country Music Association and the Grand Ole Opry, producers of the event, are considering alternate sites for next year including Adelphia Coliseum in downtown Nashville, and the Nashville Superspeedway, being built in Wilson County, east of the city. The downtown Gaylord Entertainment Center and the adjacent Nashville Convention Center represent a third possibility. Organizers also are considering making the event a Thursday to Sunday affair, rather than Monday to Thursday, and selling single-day tickets in addition to event passes. "This is the last year at the fairgrounds," the CMA's Ed Benson told The Tennessean. "The venue is tired and rundown." For information about this year's Fan Fair.



MORE OPRY 75th ANNIVERSARY PLANS.
Beginning June 16, every Friday night through August 4, the Grand Ole Opry will turn the Opry Plaza - the area in front of the Opry House, the Acuff Theatre and the Opry Museum -- into a high-energy celebration of its 75th Anniversary from 8:30pm - 11:00pm with Opry Plaza Parties. A concert stage will feature performances by artists who will also appear on that night's Opry shows. "We've booked award-winning artists who will appeal to the Opry's fans," said Opry general manager Pete Fisher. "We're inviting everyone out for a lot of fun each Friday night. With great music on the concert stage, strolling musicians, impromptu jam sessions and a Plaza dressed to the nines, we think these parties will be a great way to help everyone celebrate the Opry's landmark anniversary." The parties will be open to the general public with no charge.
Artists scheduled to perform:
June 30 - Junior Brown
July 7 - The Derailers
July 14 - The Derailers
July 21 - Jim Lauderdale
July 28 - Asleep at the Wheel
August 4 - BR5-49
"Like so many other acts in country music, we love the Opry and what it means to country music. We're thrilled to be a part of the Opry's 75th Anniversary Celebration and are looking forward to singing under and around the stars in the Opry Plaza this summer," said Ray Benson of Grammy-winning Asleep at the Wheel, scheduled to perform July 28th.




HANK PENNY
Bloodshot Revival and Soundies present never-before released recordings of country music classics Hank Penny - Crazy Rhythm - Release Date: July 18, 2000.
Hey all you crazy kats and kittens, the Bloodshot Revival/Soundies bandwagon is rollin' your way with a serious dose of jazzy country-swing (that planted the seeds of rockabilly) from Mr. Hank Penny, one of the original insurgent bad-boy types we here at Blootshot are all goosey-pimply over.
Crazy Rhythm is enough to make all you rockabilly types and rebel-music lovers break into a sweat. This jumpin' disc contains no less than 30 previously unissued tracks laid down by Hank and his crew of top-notch musicians in 1951 for Standard Transcription Recording Services. You get Hank's signature tune, "Little Red Wagon," along with a grab-bag of dance-hall ("Flamin' Mamie), California-brand swing ("Taxes, Taxes"), and a few ballads and novelty tunes ("Rabbits Don't Ever Get Married," "White Shotguns") thrown in for good measure. Featuring crack pedal steel player Noel Boggs and the vocal stylings of teenage singer (and future Gong Show stalwart) Jaye P. Morgan, the musicianship sparkles throughout, placing the long overdue spotlight on one of country's underground legends.
This fella was a house afire from way back in 1935, when (at age 18) he put together his Radio Cowboys - one year before Pee Wee King founded his Golden West Cowboys. Why, he even acted in a coupla Westerns, yukked it up as a regular on Spade Cooley's TV show in the 40s, and joined forces with a partner to open the famous Palomino nightclub in North Hollywood. He fronted bands from the '30s into the '70s, blazing a musical trail from Birmingham, Alabama through New orleans, Chattanooga, Atlanta, Cincinnati, L.A., Chicago, Vegas, but his recorded material has been impossible to find. Until now, that is!
Bloodshot Revival/Soundies is proud to add Crazy Rhythm to its fine catalog of lovingly remastered transcription recordings that also includes collections by Rex Allen, Spade Cooley, Hank Thompson, Pee Wee King, and Governor Jimmie Davis. Rockabilly hepcats like Deke Dickerson (who covered Hank's "Peroxide Blond") have been crazy for this rabble rouser for years. Now it's your turn to give this disc a spin, and get hip to Hank.
Talk to Lee at: lee@bloodshotrecords.com for the skinny. Bloodshot Records - 3039 W. Irving Park Rd. - Chicago, IL 60618. Phone: 773-604-5300. WWW.BLODSHOTRECORDS.COM Fax: 773-604-5019.



TAKE NOTE of these upcoming exciting European Show Dates.
courtesy: Rod Pyke, Fax: 0208 519 7315 - E-Mail: RodPyke@aol.com
June 30 - The Muskrats/Sugar Creek Trio - Swindon Rock 'n' Roll Club
July 1 - Number 9 - Cruise Inn, Amsterdam
July 7 - Number 9/Pyromanix/Hot Rod Gang - Dusseldorf, Germany
July 8 - Narvel Felt's - Americana, Newark, Nottinghamshire
July 11 - Chuck Berry/Little Richard /Jerry Lee Lewis - London Arena
July 21 - Ray Condo - Cruise Inn, Amsterdam
July 21/22 - Big Al Downing/No.9/Ray Condo - Munich, Germany
July 23 - Linda Gail Lewis - London, R & R All-dayer
July 29 - Big Al Downing - Skegness Rock & Roll Festival
July 29 - Toini & The Tomcats - Cruise Inn, Amsterdam
August 7 - Ray Campi - London
September 29, September 30, October 1 - Comets & Linda Gail Lewis & Bobby Cochran - Chippenham
October 5/10 - Hemsby Weekender - Comets/Vernon Taylor/Hemsby Weekender/Ray Condo/Alvis Wayne/Rocky Burnette/Paul Burlison/Cadets/jacks
November 9/10/11/12 - Terry Dene/The Jets etc.- Teddy Boy Weekender - Vauxhall Holiday Park, Great Yarmouth
November 24/27 Vernon Green/Sam Butera/Roscoe Gordon/Sid King/Hal Singer - Rhythm Riot Weekender, Camber Sands
March 2/3/4/5 - To Be Announced - Rockabilly Rave,2001 - Camber Sands
March 16/17/18 - Rip Masters/Graham Fenton Party - East Coast R & R 2001 - Vauxhall Holiday Park, Great Yarmouth



Lisa Marie Presley Writes With Head Pumpkin. May 25, 2000 - Elvis's daughter, Lisa Marie Presley, is working on a song with Smashing Pumpkins f rontman Billy Corgan for her debut album. Lisa has written a song with Billy Corgan from the Smashing Pumpkins and that's ongoing now. The producer said, "Presley's debut, which will be released in late 2000 or early 2001 on the Java Records label, is a diverse offering. It's a pop record, but it also has elements of blues, funk, country, R&B, hip-hop ... sort of the confluence of whatever modern-day Memphis is right now. It has a lot of influences, and it continues to grow and evolve. It sort of grew up in the soil from which she sprang."



CHET ATKINS MUSIC BACK IN THE LIGHT. Collectors will want to know that a wonderful 2-CD set called Chet Atkins: Guitar Legend -- The RCA Years is being released. It includes a full 50 of Chet's very best tracks for RCA, ranging from the very first session (done in Chicago in August 1947 as Chet Atkins and his Colorado Mountain Boys) to a 1978 track done with the first Nashville Guitar Quartet.



Just in at SLC Billy Central, CD-review Johnny & the Blades - Let's Make Vegas Tonight



Daddy-o Dilly reports:
Gene Vincent was the cover story in Goldmine magazine in the June 16, 2000, issue, on sale June 2. This will be possibly the third time he will have been the cover feature in this magazine, which, by the way, is increasingly available at U. S. book/magazine stores. Please refer to the preview on page 130 of the May 19, 2000, issue. Goldmine's website: www.goldminemag.com



Johnny Cash At San Quentin Sees Unedited Release In July.
Johnny Cash's legendary 1969 concert at San Quentin State Prison in San Quentin, Calif. will be preserved unedited and in its entirety for the first time on CD, when Columbia/Legacy releases Johnny Cash at San Quentin (The Complete 1969 Concert) on July 4. Johnny Cash at San Quentin was originally released in 1969 but was missing nine tracks originally played during the Feb. 24, 1969 concert. Those include "Big River," "I Still Miss Someone," "I Don't Know Where I'm Bound," "Ring of Fire," "Folsom Prison Blues," "He Turned the Water Into Wine," "Daddy Sang Bass," "The Old Account," and a closing medley of "Folsom Prison Blues," "I Walk the Line," "Ring of Fire," and "The Rebel" (featuring the Carter Family, the Statler Brothers, and Carl Perkins). As with the previous release, The Complete 1969 Concert includes back-to-back versions of "San Quentin" -- written especially for the performance -- per the request of the prisoners in attendance. Country legend Merle Haggard, who was a serving time at San Quentin in 1969 for breaking and entering and attended the show, is interviewed by country star Marty Stuart for the liner notes to the album. Besides the music, a famous rock and roll image came out of the 1969 San Quentin show as well. Photographer Jim Marshall's timeless photo of Cash flipping a bird to what looks like the camera lens (but in actuality was to all the photographers and cameramen at the front of the stage who refused to move upon Cash's request) was taken at the show. Here is the track listing to Johnny Cash at San Quentin (The Complete 1969 Concert):
1. "Big River"
2. "I Still Miss Someone"
3. "Wreck of the Old 97"
4. "I Walk the Line"
5. "Darlin' Companion"
6. "I Don't Know Where I'm Bound"
7. "Starkville City Jail"
8. "San Quentin"
9. "San Quentin"
10. "Wanted Man"
11. "A Boy Named Sue"
12. "(There'll Be) Peace in the Valley"
13. "Folsom Prison Blues"
14. "Ring of Fire"
15. "He Turned the Water Into Wine"
16. "Daddy Sang Bass"
17. "The Old Account"
18. Closing Medley ("Folsom Prison Blues," "I Walk the Line," "Ring of Fire," "The Rebel")




New from Rollin' Rock Records - JOHNNY & THE BLADES, "Let's Make Vegas Tonight." CD106. Another great creation from Ronny Weiser's studio, great sound, great band, great music! For more info on the band, see: www.johnny&theblades.com - Mail order directly from Rollin' Rock for $13.98 plus $2 S&H (or $4 foreign airmail). Ronny Weiser, 2460 Casey Dr., Las Vegas, NV 89120.




"And The's Right Too," Hudson and the HooDooCats' latest CD. St. Louis based trio, visit their website for more info: www.hudsonandthehoodoocats.com - This CD is also available on the Rockabilly's Merchandise Page.

BLUEGRASS AND THE INTERNET
  Bluegrass may be a style that reveres traditional musical values, but its fans have turned to the Internet, the most modern form of communication, to spread the word about the high lonesome sound. If you are interested in exploring the online world of bluegrass, a good place to start is:
http://www.blueaudio.com/
a site with dozens of links to bands, record companies, stores that specialize in acoustic instruments, and concert and festival listings.
Another good site is:
http://www.ibma.org
It is the home of the International Bluegrass Music Association. This is the group that presents the annual World of Bluegrass convention where they present the Bluegrass Music Awards. If you want to join a discussion group:
http://www.topica.com
lists 20 different ones devoted to bluegrass, as well as separate lists that cover bluegrass instruments including flatpicking guitar, banjo, fiddle, and mandolin.

 
Bluegrass Great Bill Napier Dead at 64. Bluegrass musician Bill Napier, best known for his guitar and mandolin playing with the Stanley Brothers and Charlie Moore, died Wednesday, May 3 at age 64 in East Tennessee. Napier wrote "Daybreak in Dixie," which he recorded with the Stanley Brothers in 1957. The recording was one of the first non-Bill Monroe mandolin instrumentals to enter into mainstream bluegrass. He also played the influential lead guitar line on the Stanley's 1959 version of "How Far to Little Rock." The cause of his death is still unknown, according to Snyder's Funeral Home in Gray, Tenn., where he was buried on Saturday, May 6, 2000.



Kats Like Us and Rollin' Rock Records is now booking the Second Annual Battle Of The Bands held @ Legends Lounge in Las Vegas on Sunday Sept. 3rd,2k Labor Day weekend. Winner records a Record w/ Rollin' Rock. Send TWO promo packs to:
Kats Like Us
Texas Mike & Maybee Baby
450 N. Nellis #105
Las Vegas, NV 89110
(Texas Mike & MayBee Baby)
http://community.webtv.net/KatsLikeUs



PATTI PAGE RETURNS ON RECORD. Trisha Yearwood, Kathy Mattea, Emmylou Harris, Alison Krause, Suzy Bogguss and Jesse Winchester sing on the Patti Page revival album "Brand New Tennessee Waltz". Patti celebrated the album release with a Nashville concert May 7. The 1950 album title is one of the biggest hits in pop history.



Posted May 8th - Norma Barthel passed away today. Norma was the president of the Ernest Tubb Fan Club for over 45 years. She was actually the first person to run a fan club for a country music entertainer and had the largest fan club in the country music business for many years. She was the only fan club president for Ernest Tubb. She also ran a fan club for Justin. Norma lived in Oklahoma.




BLUE CAPS. Bill Mack visits Paul Peek in April 2000. Paul is doing better and up and around. photo courtesy Bill Mack.
More photos of Paul and Bill




Sat. Nite, May 6th - Approximately 9PM, CST, Richard Young, member of the Kentucky Headhunters Group, was leaving the stage with the band after their performance in Oklahoma City, OK, when he collapsed complaining of chest pains. He was taken to a hospital in OK. City, where he is in serious condition suffering from a heart attack.



Big Barn Combo - Woodward Records
"Comin' All The Way From Detroit City"
Woodward Records is proud to present The Big Barn Combo "Comin' All The Way From Detroit City" - the debut full-length disc by one of Detroit's top rockabilly bands - and one of the country's finest. Festuring songs written by vocalist Craig 'Bones' Maki, as well as two covers of tunes learned from 1950s recordings, this groups is NOT a nostalgia act! These boys live and breathe American roots music, from western to rhythm & blues to pop, it's all there fused into a fireball of rock'n'roll, western bop, boogie and bamalam. Produced in Chicago by Jimmy Sutton, who originated the long-gone Moondogs, was a founding member of the Mighty Blue Kings and now fronts the Four Charms, all songs were recorded 'live' without overdubs at Steve Albini's E.A.R. studios direct to 2-inch tape using analog and tube equipment. The mixing and mastering processes remained strictly analog and mono. For a big time, look for The Big Barn Combo in your neck of the woods, 'cause once they get a-goin' there ain't no slowin'! Hep Cat Records will soon have the disc available.
Catch the combo at David Loehr's 8th Annual Rockabilly Rebel Weekender June 28 - July 1 in Indianapolis! They're slotted to play Friday (June 30) night and back up headliner Jack Earls the same evening! For more info, call the James Dean Gallery in Fairmount, Indiana.
More info contact: WOODWARD Records
P.O. Box 494
New Baltimore, MI 48047 U.S.A.
Tel/Fax: (248) 586-9578



Brand New: The Floyd Tillman Fan Club ... http://www.geocities.com/floyd_tillman_fan_club/
Ronnie Dawson dates confirmed.
Sat, Aug 5 - Columbus OH, Thirsty Ear Tavern
Tue, Aug 8 - Milwaukee WI, Marcus Centre For The Performing Arts
Fri, Aug 18 - Baton Rougue LA, Spanish Moon
Sat, Aug 19 - New Orleans LA, Rock 'n Bowl
Thu, Aug 24 - New York NY, Rodeo Bar
Fri, Aug 25 - Lowell MA, Lowell Summer Music Festival
Sat, Sep 2 - Johnstown PA, Johnstown Folk Festival
Sun, Sep 3 - Johnstown PA, Johnstown Folk Festival



Carolyn Richards "Tribute To Patsy Cline" is a narrated, musical tribute inspired by performing a portion of it on stage over the last few years. It outlines Patsy's career in words & song, includes some other favorites, and concludes with Carolyn's own song writing effort "I Can't Tell Him Goodbye" as a bonus. Carolyn does not imitate Patsy. She sings Patsy's songs in her own style. http://users.1st.net/crmusic. A single from the album was released from Nashville in May 2000.



A tip from Jim Stephenson: Hillbillies of an academic bent might be interested in this year's ARSC (Association of Recorded Sound Collections) annual conference being held on the University of North Carolina campus in Chapel Hill. Among ARSC's usual widely ranging topics will be a session on North Carolina rural string bnads, and a tour of the Southern Folklife Collection. Check out the whole scene at http://www.arsc-audio.org/unc.html



RE: Our Story on the Front Page News ...
In the family tree of rock 'n' roll, Memphis is the roots. With Elvis Presley, B.B. King, Al Green and Jerry Lee Lewis having started their careers in this Mississippi River city, it's only fitting for the Rock 'n' Soul Museum to settle here, too. The Beale Street attraction - which features juke boxes, film clips and artifacts including Presley's clothes and one of Ike Turner's first pianos - opened last Saturday in the newly built Gibson Guitar Corp. plant, offering visitors an auditory stroll through American music history. The 8,000-square-foot exhibit, "Rock 'n' Soul: Social Crossroads," was created by the Smithsonian Institution and Memphis Rock 'n' Soul Inc., a nonprofit company that runs the museum.
Ace Cannon was inducted into the Rock and Soul Hall of Fame Museum on April 28, 2000. He will be working at Beale Street's Blues City Cafe on August 19, 2000.



RELEASE: THE BEST OF THE ANDREWS SISTERS/THE MILLENNIUM COLLECTION. [Non-Rockabilly] - (MCA) One of the most successful women's vocal groups of all time, The Andrews Sisters were particularly influential during World War II. Their upbeat, sunny singing and song selections stood as one of the few positive sounds in that era. This CD serves as a brief overview of the sisters' career, starting with their first radio hit--a 1937 recording of the Yiddish song "Bei Mir Bist Du Schoen (Means You're Grand)." Considering the sheer number of hits this ensemble had, the 12 tracks here can't fully capture the trio's impact--it would take at least another 12 just to cover the bulk of their hits. But this anthology captures the essentials, including "Boogie Woogie Bugle Boy," "Don't Sit Under the Apple Tree (With Anyone Else but Me)," and "Rum and Coca-Cola." Although the trio continued to record during part of the '50s, those latter-day songs are not included here. The CD insert gives an equally brief insight into The Andrews Sisters, though, like the CD, it does provide the essential overview. There are better retrospectives out there, but The Millennium Collection is a solid offering.



Rick Nelson's youngest son, Sam is also doing music and has his own website which can be found at http://www.hisorange.com



VISIT THE: Roy Orbison International Fan Club.
Membership includes: bi-annual newsletter, 8x10 autographed color photo, biography fact sheet, discography, bumper sticker, fan club button, membership card, Christmas card & welcome letter from Barbara Orbison. Prices: $15-U.S. new
$18-Outside of US new
$12-US renewal
$15-Outside of US renewal
Kim Taylor
Barbara Orbison Productions



Recommended Reading: BARRACUDA MAGAZINE Contact: P.O. Box 291873, Los Angeles, CA 90029. Phone 323-769-5630, e-mail: mail@barracudamagazine.com, website: wwww.barracudamagazine.com



DANNY RAMSEY, Poplar Bluff, Mo., passed away Sunday, April 23rd, after a bout with cancer. Danny was one of the top DJs in the nation back in the late '50's, broadcasting out of the Bootheel of Missouri - KMIS Radio located in Portageville, MO. Danny played bass professionally for a while and later became a pastor, owning his own Christian radio station. In his early days he aired all of of Narvel Felts' tunes including Narvel's very first tracks. You could also hear Lou Hobb's music on Danny's KMIS programs.



TAMMY WYNETTE IS ACM PIONEER AWARD WINNER. The First Lady of Country Music, Tammy Wynette, has been named the first posthumous recipient of the Academy of Country Music's special Pioneer Award. Created in 1968, the award recognizes outstanding and unprecedented achievement in the field of Country Music. The recipient is chosen by the Academy's Board of Directors. On Wednesday, May 3, the CBS Television Network will air the Academy's 35th annual awards presentation ceremonies. The ceremonies will emanate from the Universal Amphitheatre in California and will be hosted by Dolly Parton.



Merle Haggard's first live album in 15 years is making quite an impression, on fans and on the record label. Live at Billy Bob's Texas: Merle Haggard is also the first album release on the Live at Billy Bob's label. The Hag may be rethinking his marketing strategies. Sales of the album have been boosted by the video for his first single, 'Motorcycle Cowboy -- Blue Yodel 13.' His spokesmen say this is only the third video of Haggard's career, and his first since the mid-1980.



Rockabilly Music Fan and Cartoonist Guy Gilchrist now has a new Nancy comic strip EVERY DAY at his website! That's right, for all you Nancy readers, now you can start each day with a new Nancy, Sluggo and Aunt Fritzi adventure! Read the Nancy comic here: http://www.gilchriststudios.com/nancy/main.asp



BOBBY AUSTIN will be 67 May 4, 2000. Bobby is still fighting each day to remain vital, he would love to get email messages. We are asking for special messages to pass on to him this year from friends, partners, musicians, etc. Your messages will bring Mr. Austin great joy. Thanks. Please send e-mails to: Kimberley - Dunmore00@aol.com



WILLIE PITTMAN DIES. Barbara Pittman has informed us of the death of her husband Willie. He passed away Monday, April 10th in Memphis after a long battle with cancer. Willie was the former manager of the Memphis Music Hall of Fame Museum on 2nd Street, downtown Memphis. Barbara is doing fine and thanks all those who have expressed their condolences.



Bob Moore's Daughter: Linda. Good Lord, what a beauty! She should be performing in Nashville again soon. You wouldn't want to miss it. Click here for her birthday photo page.



BUILT FOR SPEED - Nasty (CD)FLIPSIDE RECORDS - FRCD 001. Finally things have started to move, rockabilly wise, in Norway. Ok, we've had a few bands and a small but good scene for many a year and there's no need to paint things black, but now - things move like wildfire! During the last couple of years no less than 6 new bands, rockabilly and surf groups, has seen the light of day, and lots of kids have shown their appreciation for their music, something that was well proven during the successful "Oslo Rockabilly Festival" recently. One of these new bands are Built For Speed, not only did they deliver a mighty great show during festival, but there was also a CD for sale at night, their first. Built For Speed are: Anders Westhagen, ex-Teencats, lead guitar & vocals, Ole J.E. Evensen, ex-Daltons, stand up-bass, Andreas Reiten Westhagen, drums (ex-nothing, he's 11 years old!) For more information, photos, interviews, etc. contact: Tor Arne Petzold, P.O. Box 92 Stovner, N-0913 Oslo, Norway. Phone +2221 41 30/90 59 07 88. email: taprock@online.no - Look out for forthcoming releases on flipside; The Beat Tornados "Breakfast At Teddy's" vinyl EP, and come August, a brand new CD by this group, Norway's hottest surfers!



Original Cool's Marshall Lytle Interview by Ken Burke



Texas Jamboree Records presents NICK CURRAN, "FIXIN' YOUR HEAD" CD TexJam 0065. Great listening and finger-snappin' soul-ful jive! Emerging from the vibrant blues scene in Dallas, Nick Curran is quickly establishing himself as one of top guitarists and vocalists in Texas. Drawing on his idols: T-Bone Walker, Johnny Guitar Watson and Roy Brown, Nick unleashes a rousing set of uptempo traditional blues on his debut release "Fixin' Your Head." If you're a fan of old school jump blues, make sure you check out this youngster. A perfect to additional any rockabilly show, when you're looking for something different that fits the bill! Contact: Texas Jamboree Records, P.O. Box 161148, Austin, TX 78716 - www.taxasjamboree.com



Heinz Burt Dies. April 10, 2000 - Phil Davies reports: "Small piece in today`s Sunday Mirror says Heinz Burt of Tornadoes and Just Like Eddie fame has died aged 57 ironically enough. He`s suffered from motor neurone disease for some time but managed to play his last gig two weeks ago. Now he`s gone to join his mentor Joe Meek in the great seance in the sky."



The Louisianna Hayride is releasing a rockabilly album, with such artists as: Elvis, Johnny Cash, David Houston. For more info contact scenarecords@aol.com - regarding release dates and order possibilities.



TKOMagnum has now announced the release of Rebel Heart Vol 7, CDMF 102. The CD contains the Challenge alternate takes, previously only available on the USA Hollowbody CD, the complete live concert from Geneva 6 October 1967, and a radio interview recorded the same day. Magnum is offering it at a special offer of 12.50GBP to UK purchasers or 15.50GBP to overseas customers (normal price will be 15GBP). Magnum Direct, Magnum House, High Street, Lane End, High Wycombe, Bucks, HP14 3JG UK Tel 44 1494 882858 (from overseas) (UK omit 44 add 0) Fax 44 1494 882631 (as above) e-mail music@tkomagnum.co.uk - useless Gene is on good form on the live tracks. -Derek Henderson



The Bob Moore / Grady Martin Fan Club has new short-cut URL. Give it a try: http://www.rockabillykings.com



VISIT THE Iowa Rock N Roll Music Association / The Music Didn't Die!



Thomas O'Grady, Former Partner in Talent Management Company, Dies at 73. Thomas B. O'Grady, former partner in Nashville's Corlew-O'Grady talent management company, died Monday (March 20) in Norwalk, Conn. He was 73. O'Grady worked for 42 years for UST (U.S. Tobacco) in Greenwich, Conn., and had risen to the post of vice chairman when he retired from the company in 1991. O'Grady's partnership in talent management with David Corlew lasted from 1993 to 1998, during which time the company guided the careers of such acts as Charlie Daniels, John Berry, Blake & Brian and the Cox Family. (Music News)



Opry Star Speck Rhodes Dies. March 20, 2000 - A longtime star of the Grand 'Ol Opry has died. Speck Rhodes died Sunday at his Nashville home. Rhodes was best known as a 'Country Comic' who often guest starred on the Opry and Hee Haw. Rhodes was 84 years old.



Updated web site:

EVERLY BROTHERS INTERNATIONAL - Bas Siewertsen, webmaster - jeba@multiweb.nl



Jon Johnson Reports: I received my promo copies yesterday of Music Mill's Louisiana Hayride series. Seven - count 'em, seven - CDs! Four volumes falling under the banner of "Classic Country Radio," two entitled "Classic Gospel Radio," and one volume of "Classic Comedy Radio." It's an interesting series; no match whatsoever in terms of packaging for Dragon Street's Big "D" Jamboree set that was released a couple of months back (cursory one-size-fits-all liner notes and no recording dates are provided), but there's an awful lot of good music here. Hank Sr., Johnny Horton, George Jones, Johnny Cash, Faron Young, the Louvin Brothers, Marty Robbins, Ray Price, and a bunch of others. Each disc is short - ten songs and about 25 minutes apiece (except for the comedy one, which is 50 minutes) - but if they're selling these at budget prices that could work out okay nonetheless. The big news insofar as rockabilly fans are concerned is that the same company, Music Mills, is putting together a rockabilly series also culled from the Hayride broadcasts. I don't know too many names yet, though I know that Bob Luman and David Houston will be included. In any event, look for that in June. - Jon - jon_erik@juno.com



Jon Johnson wrote a great story on the Comets, with mention of their latest Rollin' Rock CD, for Country Standard Time magazine.



Tommy Collins dies.
March 14, 2000. This note is from: Michael Henson (Sideman@prodigy.net).
"I am sorry to announce that Tommy Collins passed away today. As most of you probably know he was a great friend of mine and of the country music world. Tommy was the man who Merle wrote about in the song called "Leonard." He wrote many of Merle's hits. His son, Tommy, would appreciate any email and/or cards in care of me, Michael Henson, at either sideman@prodigy.net or P O Box 567, Sallisaw OK 74955 and I will make sure that Tommy, Jr., recieves them. (The funeral services are set for Thursday)." Michael Henson



Ace Cannon recently agreed to record three albums, of which one has been completed and is at distributors, the second is scheduled for release mid year 2000. The third is to be finished by late 2000. The first album completed is titled "Blues Sax For The Millennium", this album may also be purchased online at amazon.com , cdnow.com, cdworld.com, cduniverse.com. and most record shops.



Vintage live Louisiana Hayride CDs now available! ... representatives of Scena Records, who have a new series of vintage CDs made from the famous Louisiana Hayride broadcasts in the early-late 1950s ... the real deal, not later 1960s or '70s polyester stuff! This is some of the "mate" material to the recent Big "D" Jamboree Double-CD release, and the sound quality is comparable. To contact Music Mill Entertainment, please call their Toll Free number 877-542-5844 or e-mail: dawn@musicmill.com - (Dave Dennard sez "Check it out!").



Fans and Friends of Gene Vincent, Tina wishes to sincerely thank all those who sent messages of condolance regarding the recent loss of her (and Gene's) sister, Evelyn (Craddock) Butler. It has not been easy for Tina these days, as she and Evelyn were extremely close and spoke daily on the phone. Tina lives with her daughter Brandi on the east coast. If you would like to send a message to Tina, please e-mail: tina@rockabillyhall.com



Steel Player for Country Legends Dies. Gary Boggs, a pedal steel guitarist who toured with Connie Smith, George Jones and Hank Williams Jr., among others, died Monday, Feb. 28, in South Charleston, W.Va., of cancer. He was 60. Boggs' many credits include playing on the album Hank Williams Jr. & Friends, released in 1976. Boggs appeared on the TV shows Hee Haw and Pop Goes the Country, and he performed on the Grand Old Opry. A memorial service was held Thursday, March 2nd in his hometown.



Pee Wee King Has Heart Attack Wednesday March 1 - Pee Wee King, a singer, bandleader and songwriter who co-wrote the "Tennessee Waltz," is in guarded condition after suffering a heart attack, a hospital spokeswoman said Wednesday. King, 86, who was born Frank Kuczynski in Milwaukee, Wisconsin, suffered a serious heart attack Monday and was brought to Jewish Hospital, where he was resting with his family, spokeswoman Linda Jackson said. King began his music career as an accordion player for Milwaukee polka bands but gradually moved into country music through his association with Gene Autry when both performed on the same Chicago radio station. His greatest successes came in songwriting, and besides the "Tennessee Waltz" he wrote such hits as "Slow Poke," "Walk Me By the River" and "Napoleon's Retreat." King wrote the "Tennessee Waltz" with Redd Stewart in 1947 and it became a smash hit after Patti Page recorded it on a disc with "Santa Claus Boogie." King first began on radio in Knoxville, Tennessee, in 1936, appearing as a regular on the "Mid-Day Merry Go Round" show. He then joined the "Golden West Cowboys," becoming leader of the group that helped launch the careers of crooner Eddy Arnold, honky-tonk singer Cowboy Copas and singer Ernest Tubb. King's group became the first full-time band for the Grand Ole Opry in 1937 at a time when Opry performers often held other occupations that ranged from doctor to tobacco twister. In 1947, King started a TV show in Louisville, which ran for a decade. He was inducted into the Country Music Hall of Fame in 1974.



Sorting Out the Real Comets. An Atlanta-based music magazine called Creative Loafing has just published a story about the cancellation of a concert by Al Rappa's edition of Bill Haley's Comets in that city, once the promoter learned they weren't the originals. The story features interviews with both Rappa and Marshall Lytle, and is an interesting chapter in this ongoing name controversy saga. The magazine has also posted the story online, and it can be viewed for the next month (March, 2000) at this address.



Lookin' for great music online 24/7? Check out: http://www.kdav.com - non-stop rockabilly, doo-wop, r&b, and country exclusively from the 1950s and 60s - live streaming audio, and limited commercials! Join the Texas Heel Grinder Mailing List! - http://www.onelist.com/community/texasheelgrinder



.
Photos from the Wildfire Willie and the Ramblers gig that took place in Cambridge, MA, on 2/19/00. It was a fabulous night. Wildfire Willie blasted through a rollicking set and the two other bands on the bill - the Raging Teens and the Bourbonaires - nearly brought the house down before the Swedes even took the stage. The Bourbonaires now have a CD out (their release party was that night) and it's well worth checking out. The day after that gig (2/20) there was a rockabilly jam session at a local bar in Cambridge, MA. Members of various local bands--the Racketeers, the Speed Devils, the Raging Teens--played informal sets for a few hours. It was really fun. To top it off, Wildfire Willie and the Ramblers showed up later and played for over an hour. But the best part was when 50's rocker Ricky Coyne (Ricky Coyne and his Guitar Rockers) dropped by and took the stage for a short set (with Wildfire Willie on bass and JJ on guitar). Ricky did his hit "Rollin' Pin Mim" and several other songs. He looks great and was in good voice. Photo below. -John Fuller. Photos by John Fuller - john.fuller@awl.com

The Hag on a Hog! As a tribute from one country pioneer to another, Merle Haggard fashioned his newest single and video after Jimmie Rodgers' famous "Blue Yodel" series. Hag's "Motorcycle Cowboy/Blue Yodel #13" picks up where Rodgers left off 66 years ago and it is the only new song on Haggard's current Live At Billy Bob's album. Though the album was recorded last year, a music video for "Motorcycle Cowboy" was recently completed and features "biker Merle," his wife Theresa, "preacher" Ray Benson and famous fiddler-singer-songwriter Johnny Gimble. It is currently airing on Great American Country (GAC) "Over the last year, the song has done real well," Haggard recently said, "so the record company wanted to do a video on it. I thought, 'Well, young as I am, I don't know about that.' We went ahead and did it‹we took some motorcycles out to a Western town and had a wedding. It looks real neat, all the motorcycles riding around a wild west town...and a biker's wedding going on in the midst of it all. It's very energetic and we did it with a bunch of New York cats who knew what they were doing. It might well be something that could bring Merle Haggard back on the current playlists."



News About Charle Lamb. As you may know, Charlie Lamb is seriously ill. He has been diagnosed with cancer of the throat and is undergoing treatment for the disease. He has just finished chemotherapy and now faces radiation treatments. Though weakened by the ordeal, his spirits are high and he has expectations for full recovery. We're sure Charlie would be cheered if he were to get a card or letter from you; or better yet, an audio or video taped message. Here's the address: Charlie Lamb P.O. Box 24396 Nashville, TN 37202. Several people have inquired about helping Charlie with medical expenses. Arrangements have been made with the non-profit organization GIFT (Giving in Faith Together) to take contributions. Your gift is tax deductible if handled this way: make your check payable to "GIFT." In the space marked "for" on your check write "Contribution." Do not write Charlie's name on the check so that it will qualify as tax deductible. Send to "Charlie Lamb Project," CIO Gary and Peggy Walker, The Great Escape, 1925 Broadway, Nashville, TN 37203. Call us at 327-0646 (Work) or 665-0857 (Home) if you have any questions. You will receive a receipt for tax purposes.



Paul Peek Song. You can listen a beautiful song singing by Paul Peek and the Moutain Fever "Caught Between Love" at this link (if you have the realaudio plug-in): http://www.moneda.com/sound/real/btwluv28.ram
"Paul Peek is the vocalist. He has that gravelly country voice I wanted for this song. Paul was the guitar player with Gene Vincent & the Blue Caps. Thanks, Paul! Bill Lowery put this record out on his Southern Tracks label. The strings in the middle were 'wild tracked' from the WKRP session. Atlanta Symphony strings should not go to waste! Wrote this in 1982 but took awhile getting around to recording it. This copy came from a mixdown to cassette." For more information, see: http://www.moneda.com/ And choose "music" section



Wildfire Willie. Boston Globe reports (2/17/00): Jan Svensson's been gone on early American rock 'n' roll since he was 8 and first heard Bill Haley's "Rock Around the Clock." After that, the Swede, who has fronted Wildfire Willie and the Ramblers for 14 years, was destined to grow into a passionate proponent of primitive late-'50s musical goodies. Svensson mines that treasure trove for inspiration - he writes most Ramblers' songs, many of which could double as Sun Studios time-travelers. The Ramblers also covers songs by Roy Orbison and Charles Feathers, among others. By phone from Sweden, Svensson characterizes the Ramblers' style as "1956, 1957 rockabilly," but the band burns it up beyond those confines: Sometimes it's hard to decide when the "-abilly" morphs into "'n' roll." Svensson first visited the United States in 1993, when he and some friends plowed through Arkansas, Tennessee, and Texas, soaking up the culture that begat the music. His second visit was in 1995, when he won a trip to Memphis through a Swedish newspaper contest for "best-dressed '50s style"; there wasn't much competition. "On that trip I made a point to meet as many of the old guys as I could," he says. By that he means guys who were present at the genesis: Feathers; singer Doug Poindexter (who was with Bill Black and Scotty Moore before they played with Elvis); Jimmie Lott (drummer for Warren Smith, and the first to record with Elvis); and Roland Janes (a guitarist with Billy Lee Riley's Little Green Men and with Jerry Lee Lewis). "When I come to the States," Svensson says, "the main thing to me is to meet all the old guys, because they're not going to be around forever."



Kay Wheeler Reviews Dave Crimmen's New Single Release: "Rockin' Bop Baby". "Keeping the dream alive" -- Dave Crimmen cuts loose in full blown rockabilly hurricane style -- sweeping you away with his new single, "Rockin' Bop Baby". Crimmen flat out delivers the goods in a 2000-shot mix of undiluted Gene Vincent with hints of Jerry Lee Lewis in this zooming dance tune. Dave Crimmen's powerful, rocker voice is smooth like Vincent and powerful like Elvis. Crimmen rocks with the purity of the originals and is backed up with a band with unstoppable grooves. The backside of the new single is "Been There, Done That" which is a rockabilly twist with a message that speaks for itself! This new single will be premiered live by Dave Crimmen and his band at the upcoming "Viva Las Vegas 2000" ROCKABILLY HALL OF FAME STAGE at the Gold Coast Hotel. Don't miss it!



From: KenKeene@aol.com - Sorry to be the bearer of bad news, but thought you'd want to know that Johnny Vincent, the legendary founder of Ace Records, died February 4, 2000 in the hospital at Jackson, Mississippi. Funeral Services for Johnny Vincent will be on Tuesday (Feb. 8th) at Wright Ferguson Funeral Home in Madison County, Mississippi with visitation on Monday from 3:00 to 7:00 pm and on Tuesday beginning at Noon with burial at 2:00 pm.
Press release: JACKSON, Miss. (AP) - John Vincent Imbragulio, who produced the classic rock 'n' roll single "Sea Cruise" and other songs during his half century in the music business, died Friday at age 74. Imbragulio owned Ace Records, Ace Music Publishers and Avanti Records, his latest venture. His first record label got him noticed in the 1950s by Art Rupe of Speciality Records. From there, he would work with Rupe and soon after make Ace Records his next label. "Ace Record Co. was New Orleans' only independent record company at the time," said close friend Woody Sistrunk. "It was with Ace Records that he produced Huey 'Piano' Smith's 'Rockin' Pneumonia and the Boogie Woogie Flu' and later, Frankie Ford's 'Sea Cruise,' which has remained one of the most requested rock 'n' roll songs of all time."



Rik Hull has posted his review of the new Comets' CD to his Bill Haley webpage. You can find it at: http://www.billhaley.co.uk/news.html



LOOKING for BUDDY HOLLY INFO? Johnny Vallis suggests you try these links:
Discography - http://206.151.68.40/kdwilt/discog.html
CD's - http://www.geocities.com/SunsetStrip/Amphitheatre/9791/page2.html
Recordings - http://home.sol.no/~smp1000/ind-bud.htm
Another cool site if you don't mind that it's half Japanese - http://www3.justnet.ne.jp/%7esallypro/Welie.htm
Looking for that Vigotone boxset, ask here! great site - http://www.angelfire.com/mn/pdp/index.html
Need more info about Buddy, ask from these guys - http://www.buddyholly.freeserve.co.uk/holly/index.htm



Memphis Elvis Wedding Chapel. Fans of the King will soon be able to wed next door to EP's resting place, if trustees get their way. Elvis Presley Enterprises wants to build a wedding chapel next to Graceland. The company will need zoning approval from the city of Memphis before it can handle weddings on Elvis Presley Boulevard. According to Presley spokesman Todd Morgan, the former gift shop building would include a chapel with room for 100 people, dressing rooms and restrooms. If approved by the city, the wedding chapel could be open this summer. More than 1,000 couples have got married at a wedding chapel that overlooks Presley's birthplace in Tupelo, Mississippi, since it opened in 1979.



COOL SITE: Eddie Sulik, former lead singer of the rockabilly recording duo "The Echoes," featured on the Columbia label in 1959.



The Morning Edition interview with Scotty Moore is now available for download at the National Public Radio website. Here's the direct URL:
http://search.npr.org/cf/cmn/cmnpd01fm.cfm?PrgDate=01/20/2000&PrgID=3
If that doesn't work, go to http://www.npr.org/programs/morning/ click on "Latest Show" and scroll about 1/3 down the page. He's sandwiched between "Bettino Craxi Dies" and "Beyond.com CEO Steps Down." -Lydia Ash



"Stars 'n' Cars" Submit your favorite photo(s).



Check out this great new Rockabilly compilation featuring the best of Jackslacks! Who Ever Said the Curse of Rockabilly is Dead?, (http://www.geocities.com?SunsetStrip/Show/3146). The disc includes original from: Waycools, Forbidden Pigs, Hot-Rod Lincoln, Nobody's Business, Tommy Byrnes, and others.



CROCKETT FRIZZELL FAN CLUB NEWS: (Lefty's son) Due to popular demand, the Crockett Frizzell fan club is being established! 2000 is here and it's the year! Crockett will be touring across our lands, honoring and keeping the sound of traditional country music. Yes, "If It Ain't Lefty, It Ain't Right" is Crockett's motto! BECOME A CHARTER MEMBER TODAY
Being a fan club member includes, but is not limited to:
* An autographed certificate of membership and name tag
* A quarterly newsletter of "Frizzell" happenings (includes any Lefty news)
* An update on tour dates, etc.
* Discount tickets
* 10% discount on products: CDs, tapes, tshirts, etc.
* Fan club "meet and greet" party opportunities
MEMBERSHIP FEE: $10.00 annually
CROCKETT FRIZZELL FAN CLUB
P.O. Box 218014
Nashville, TN 37221



Evelyn (Craddock) Butler, Gene Vincent's sister passed away January. 14, 2000 in New Mexico. She had been on oxygen support the past few months. Her sister Tina was with her. The Craddock family would appreciate your prayers. Evelyn, too, had a beautiful voice. Now Gene's got a singing partner in Rockabilly heaven. E-mails for Tina may be sent to - tina@rockabillyhall.com




VINCE TAYLOR (1960) In a coffee shop in old Campton Street in London a young lad is singing Rock with a bunch of madmen as backing band. He's ready for the fray, he's nearly there, he's on his way. He's just recorded his first record, he's 21 yeard old He is: VINCE TAYLOR!



Alvis Wayne's Westport release on LP - Order information.



Willie Nelson's Outlaw channel. (a tip from: jon_erik@juno.com) - It's not exactly rockabilly, but I know there are more than a few fans of '50s and '60s country here, so there's probably some interest anyway. According to Chris DeBarge, Willie Nelson's Outlaw channel has started broadcasting on the net; '50s and '60s country TV shows 24 hours a day. I just caught a bit of Porter Wagoner's '60s show on my T1 line here at work and it looks great. The suits! The guitars! The hair!
http://www.broadcast.com/concerts/willienelson/nationtv/



Little Richard sings about Macon, GA. One of Little Richard's latest gigs is singing the praises of his hometown, home of the Georgia Music Hall of Fame and what a new ad campaign calls the "song and soul of the South." "Macon, Georgia, is the place. They got it all right there," he says in a testimonial taped for the upcoming advertising blitz. "Tell them the architect of rock 'n' roll, Little Richard, sent you." The plugs by the 67-year-old entertainer, known for his piano-pounding renditions of such songs as "Tutti Frutti" and "Good Golly, Miss Molly," will appear in radio spots, video promotions and even the Convention & Visitors Bureau's voice-mail system.



JOHNNY VALLIS HEARS "BELL"S RINGING.
Singer, RHOF staff member Johnny Vallis has asked his girlfriend Melanie Bell to Marry. The couple exchanged rings on Christmas Eve in front of close family. Johnny and Melanie will entertain friends and family at an engagement party - Jan 8, 2000 - Wedding date TBA soon.



Update Jan. 5, 2000: Great Stars of the 1950's is a site which features many country music favorites from the 1950's and 60's. "If you are an old time country music fan, you might even call it Heaven." Here you will find dozens of videos featuring Grand Ole Opry Stars of the 1950s. All videos are in full color made from 35 MM masters from the Al Gannaway collection.



GOOD ADVICE! Here is my suggestion to help the Rockabilly scene's in the US. . .Plus, remember that the US is big so you can't judge the rockabilly scene by every place and club in the US. First: you have to become active in your area. Make a webpage, a event schedule, mailing list and get the show information out to the people that are interested in Rockabilly. Second: You talk to the club owners and develope a good relationship with them and let them know that Rockabilly isn't dead. Make sure that you contact and talk to people in your area that love Rockabilly. Make sure that you welcome anyone new that shows up at Rockabilly shows. Introduce yourself to them and introduce them to your friends and make sure that everyone is having a great time. Get online and e-mail Rockabilly bands and ask them to play in your city and send them club information for booking. . . If you need to flyer every tatoo shop, record store, college etc. do so. Anything to get the word out. Start up a Rockabilly onelist for your city so people can meet and have someplace to talk about shows ... Just a few things that I have done in the past. --Mary, SLC Billy Girl - slcbillygirl@yahoo.com



Question: "Why does "break a leg" mean good luck in show business?
Answer: Believe it or not, this is the expression in its milder form. In Germany you would say "Hals und Bein bruch" - break your neck and your leg. It's not hard to see why an understudy might mutter this behind the star's back. But if friends wish this on you, why would you need enemies? There are two explanations given for this bizarre custom. The first is that you're hoping the person to whom you say it will "injure" themselves--not really, of course--while taking an enormous number of curtain calls. The other, and more likely, is that wishing someone good luck is tempting the gods. Superstition dictates that you say the opposite from what you really hope will happen.



AUTHOR TELLS ALL: Jerry Eden, author of "Against the Wind," offers the true-life story of an insider's look at some of Hollywood's best-known legends, including Elvis, Frank Sinatra, Marilyn Monroe and others. Eden has chosen to offer this book as an ebook created by eBookstand of Auburn, California. Eden recounts the wild parties and illicit activities he witnessed. This book reveals the "dirty little secrets" that the stars kept hidden until now. In the case of Elvis, the book recounts the time he was renting a spectacular house in Bel Air, which had previously been rented by the Shah of Iran and the notorious playboy Aly Khan. The house was always full of women, and the parties went on twenty-four hours a day. Often, these women were the main entertainment, although they didn't know it. There was a special room set up inside the house that seated ten people, theater style. The seats faced a plate glass installed on one wall that looked like a mirror, if you were in the bedroom on the other side. Anyone sitting in the "theater" room could see everything that went on in the bedroom, but the people in the bedroom were oblivious to the fact that they were being watched. The book goes on to describe how Elvis used this room and names some of the young starlets that experienced the room with him. "Against the Wind" also recount penthouse parties with Frank Sinatra. One in particular was a wild orgy with Frank being ridden like a horse by a naked party attending female. The book goes on in detail to describe this party and others with as much color and excitement. FYI: eBookstand service is the "dirty little publisher."



Cari Lee has become a Pin-Up Gal for the Lucky Shot Year 2000 Pin-Up Calendar. As Miss December, Cari Lee trades in her cowboy boots for red velvet and joins 11 other bombshells for a photo calendar that's currently out on the market. For more details, interviews, photos go to www.startonerecords.com



"Hot Rod Lincoln" Song History Updated - courtesy Joe Wajgel



Larry Lee Phillipson Book Available. The autobiography is $12.95 + $1.05 postage. Larry also has a CD available for $15.00 + $1.00 postage and 2 volumes of cassettes at $10 per cassette plus $1.00 for postage. The autobiography is called "From Rocks to Rockabilly -- A Wisconsin Boy's Dream" and the CD is "Bitter Feelings" after the title track. Contact information:
Larry Lee Phillipson
1027 85th Street
Amery, WI 54001
e-mail: lphillip@spacestar.net



See the Sammy Masters Interview, Dec.99



THOSE WE LOST IN 1999:
Charles Brown, 76. California blues pianist, singer and composer whose "cool blues" style influenced such artists as Ray Charles. Jan. 21.
Lili St. Cyr, 80. Premier stripteaser in later years of burlesque. Jan. 29.
Huntz Hall, 78. Star of more than 100 "Bowery Boys" and "Dead End Kids" films in the 1930s-50s. Jan. 30.
Buddy Wayne Knox, 65. Rockabilly singer who led the charts with "Party Doll" in the 1950s. Feb. 14. Cancer.
John L. Goldwater, 83. Creator of the comic book characters Archie, the red-haired, average teen-ager, and his friends Jughead, Betty and Veronica. Feb. 26.
Dusty Springfield, 59. Husky-voiced soul singer of '60s hits such as "Son of a Preacher Man" and "Wishin' and Hopin'." March 2. Breast cancer.
Joseph "Mighty Joe" Young, 71. Guitarist who helped introduce blues to mainstream America. March 24. Complications after spinal surgery.
Brock Speer, 78. Patriarch of gospel music's Speer Family and sometime backup singer to Chet Atkins and Elvis Presley. March 29.
Joe Williams, 80. Grammy winner who sang with every great jazz artist of last half-century. March 29. Respiratory ailment.
Jesse Stone, 97. Wrote "Shake, Rattle and Roll"; helped develop many hits for Atlantic Records. April 1.
Red Norvo, 91. Credited with introducing xylophone to jazz; performed with such greats as Charles Mingus and Frank Sinatra. April 6.
Al Hirt, 76. "King of the Trumpet" in the 1960s who won a Grammy for his hit "Java." April 27.
Rory Calhoun, 76. Hero of Western movies of the '40s and '50s and in "The Texan" TV series. April 28.
Mel Torme, 73. Singer of jazz and pop known as "the Velvet Fog" for his warm vocals; co-writer of "The Christmas Song." June 5.
Allan Carr, 62. Produced "Grease" the movie and won a 1984 Tony award for producing "La Cage aux Folles" on Broadway. June 29.
Roberta Sherwood, 86. Torch singer known for "Up a Lazy River" and "You're Nobody 'Til Somebody Loves You." July 5.
Helen Forrest, 82. Sang with big bands and with Dick Haymes on recordings and long-running radio show. July 11.
Anita Carter, 66. Featured performer with country music's legendary Carter Sisters. July 29.
Glen Payne, 72, long-time lead vocalist of the Cathedrals gospel group. Oct. 15.
Ella Mae Morse, 75. Her classic 1942 recording "Cow Cow Boogie" sold a million copies and was a precursor to rock 'n' roll. Oct. 16.
Thomas Durden, 79. Wrote lyrics to Elvis Presley's "Heartbreak Hotel" after reading of a suicide note that said, "I walk a lonely street." Oct. 17.
Hoyt Axton, 61. Singer-actor who wrote song hits such as Three Dog Night's "Joy to the World." Oct. 26. Heart attack.
Donald Mills, 84. Last of the singing Mills Brothers. Nov. 13.
Doug Sahm, 58. Led rock band the Sir Douglas Quintet and Grammy-winning Texas Tornados. Nov. 18. Heart disease.
Charlie Byrd, 74. Versatile guitarist who fused Latin, classical, and jazz styles Dec. 2.
And, in December, we recently lost<
Bobby Marchan, 69, singer for Huey Piano Smith - AND -
Don "Sugarcane" Harris, 61, a pioneering rock violinist who played with Little Richard - AND -
Rick Danko, 56, died in New York, a country boy from Canada who once played with Ronnie Hawkins> - AND -
Rex Allen, Sr., 78, killed in a auto mishap in Tucson, AZ, Dec. 17, 1999 - AND -
Hank Snow, 85, Passed away Dec. 19, 1999



Not sure how many of the ladies are interested in cars and such, but a fan (Sandra - sinkttn@gurlmail.com) found this fun site featuring stuff on cars, races, bikes, etc. Maybe even the boys can learn something from a girl site! You can find the site at http://www.greasergrrls.com/defaultpage.asp



Ken Davis' New CD - "ECHO ROCK" - Over the past several years "Shook Shake" and "Gone Again" have appeared on numerous rock'n'roll compilation CD's around the world, including England, Holland and Germany. In 1997 and early '98 some friends in the music business suggested to Ken to think seriously about going back into the recording studio and doing some of the songs he never got the chance to record years ago. It was always Ken's dream to put out an album, and this could lead to the opportunity of releasing a CD featuring the "old" and "new." Those "friends" included Rocky Kruegel, of Rocky's Records in Oak Creek, Wisconsin; Mike Muskovitz, Mean Mountain Music in Milwaukee, Wisconsin; and Paul Kosel, Eagle Records in Germany. So, "just for the fun of it," Ken put together a group of musicians: Dean Lange, lead guitar; Maggie Lange, electric bass; and Jon Bolton, drums. In August of '98 they went into the recording studio of Miracle Sound, Oak Creek, Wisconsin, and put down 11 songs. Engineers, Paul Dry and Tom Williams assisted in recapturing the "raw sound" of the '50s. The result is a CD released by Eagle Records in Germany for world-wide distribution: "Ken Davis - Echo Rock." It consists of 24 original songs: 10 re-mastered recordings from '58 - '62; 3 unreleased demos; and the entire Miracle Sound session. The CD can be purchased by sending a check or money order for $15 plus $3 shipping and handling ($5 S&H on foreign orders) to: Ken Davis, 4352 Woodview Lane, Racine, WI 53404-1220



JOHNNY CLARA & THE HOUND DOGS. From St. Feliu de Guixols (Spain), a 7 piece rock'n'roll and boogie-woogie band formed by pianist (ONLY 9 YEARS OLD!!!) Johnny Clara. The band is:
JOHNNY CLARA (9), piano and vocal
PEPE CLARA (35 -his father), drums and vocal
ENRIC AGUILA (55), rythm gt and vocal
ALBERT PASCUAL (31) lead gt.
JOSEP GUI (47), bass
TAVI VIADER (54) alt, tenor and soprane saxes
EUGENI BIGAS (11), trumpet
For further information, mail at bluecap@jazzfree.com



KATS LIKE US two new websites. (702)-432-0099 - Booking Rockabilly in Las Vegas
http://community.webtv.net/VivaLasVegas_3/PREPOSTVIVALASVEGAS
http://community.webtv.net/KatsLikeUs/KATSLIKEUS



Hi-Voltage - a Hot new Rockabilly band from Edinburgh. They are a showcasing at HEMSBY in October 2000 and are booked to play the next ROCKABILLY RAVE.



Billy Lee's Riley's new special CD is available. He really hopes all his fans will consider getting a copy - he thinks it came off better than "Hot Damn!" Please spread the word on this. If you want place an order now for a copy of the special limited edition (1,000 copies only) of "Shade Tree Blues", please send a check for $20 ($22 outside the U.S.) made out to "Billy Lee Riley" to:
Billy Lee Riley
302 Marchand St.
Newport, Arkansas, 72112



THE STARGAZERS - "Grove Baby Grove" CD - Also available on Bluelight Records. 19 super rockin', swingin' tracks from 1981-82. If you like The Comets, Jodimars, Freddy Bell and Treniers ... you'll "love" this album.



Two excellent articles from Denver's westwood.com site: Sleepy LaBeef and Deke Dickerson



Take tine visit BOTH SIDES NOW Album Discographies by Mike Callahan and David Edwards. This "super-site" lists hundreds of LPs and discographies from the past.



Ray Condo's new homepage:
www.raycondo.com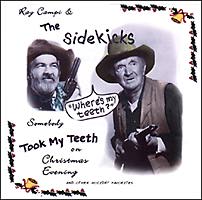 Ray Campi & The The Sidekicks have their CD out just in time for Christmas. It's a 5-track disc with "Somebody Took My Teeth on Christmas Evening," a great novelty number, as the title cut. Contact Ray at Real Music, P.O. Box 250425, Glendale, CA 91225-0425. 323-255-7868.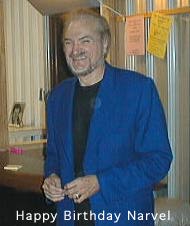 Narvel's Birthday Party. On Saturday, November 13, 1990, Narvel appeared at the Eddie Bond Country Club at Big Pond Hill, TN on Hwy 57. Everybody had a great time at this birthday bash, including both Bob Timmers and Rodney Pyke from the Rockabilly Hall of Fame. Narvel called both Bob and Rod to the stage and gave the Rockabilly Hall of Fame quite a few mentions. Narvel did his usual mixture of seventies country hits and rockabilly numbers: Back In The USA / Funny How Time Slips Away / Lonely Teardrops / I Miss You Even Now / Mountain Of Love / Great Balls of Fire / Medley: I Trade All Of My Tomorrows - Blue Eyes Crying In The Rain - Before The Next Teardrop Falls - I'm Thinking Tonight of My Blue Eyes / Pink And Black Days / One Run For The Roses / Drift Away / My Prayer / Medley : Long Tall Sally - Rip It Up - Long Tall Sally / Somebody Hold Me / You Gave Me A Mountain / I'm Headin' Home / Reconsider Me. Narvel stayed around after the show to talk to fans, sign autographs and read a large birthday card signed by people in the audience. A full review of the show will be available at the Rockabilly Hall of Fame shortly. --Adriaan Sturm



Billy Swan's 23-track CD "Like Elvis Used to Do" was released in Europe on the Castle Select label. This disc has more songs than the US release on Sun Studios' 706 Union label.



Frankie Ford's Christmas Album! For more information on Frankie, visit his web site at www.frankieford.com



Rock oldies battered in TV ratings. Judging from the ratings performances of two recent television movies about the early rock 'n' roll era, the '50s may not be so fabulous anymore. "Shake, Rattle & Roll," depicting the rise of rock through fictitious '50s band the HartAches, was CBS' most heavily promoted miniseries in years. But the 13 million viewers it drew was well below the season average for the network's typically strong Sunday movie. NBC fared much worse with its "Mr. Rock 'n' Roll: The Alan Freed Story." The tale of the '50s disc jockey credited with coining the phrase "rock 'n' roll" has been NBC's lowest-rated movie of the season, drawing 8.6 million viewers, according to Nielsen Media Research. Its performance can be attributed partially to its original airdate being pre-empted by postseason baseball. Both telefilms were in production after NBC saw terrific ratings last season for music-related miniseries "The '60s" and "The Temptations." ABC also scored with "And the Beat Goes On: The Sonny and Cher Story." But those films tapped into a baby boomer audience that still hears '60s music on the radio and in numerous television commercials.



Sweet Gene Vincent - The Bitter End, by Steven Mandich Due December 1999, price 10 pounds. A detailed account of the last two years of Gene's life. The book highlights concert appearances, tv and recording sessions. Includes interviews with managers, fans and close friends. Illustrated with rare documents and photos. 200 pages. (From the latest A&R catalog - www.arbooks.com)



Barbara Pittman is anxious to do some live gigs. She has already enlisted the participation of several top notch Memphis area musicians including Sun veterans like J.M. Van Eaton. She asked me if I could suggest some festivals coming up around the U.S. Where better to find information such as this than from the members of this list? If you can supply festival dates and contact information, Barbara will be most appreciative. E-mail me privately if you prefer. Thanks in advance. Steve Lester, Wix Records - LESTERSD@aol.com



Britt Hagarty, as may you know, the author of "The Day The World Turned Blue a biography of Gene Vincent" was killed by a car in the early hours of a dark, rainy morning recently as he crossed a Vancouver street on his way back from a Halloween party. He was just 51. He was a regular contributor to The Vancouver Sun and his last piece about his recently formed jazz band and his newfound love of opera was handed in just hours before his death and ran November 6 99. Ironically his previous writing, August 7 99, was about his old friends who had met untimely ends and how he was the last one left. He was hoping that "The Day etc" was going to be re-published just as soon as the missing parts had been located. The last piece in the Sun was accompanied by photos of Britt and you would swear that you were looking at Gene Vincent! A memorial for Britt will be held on Rockabilly night at the Railway Club, Vancouver on November 20 99.



Brigitte Handley & Red Hot & Blue. Australian Rockabilly. A four-song CD from this fine vocalist. "Go Like 60," "Gonna Back Up Baby," "Rockin' Lady" and a cover of Josie Kreuzer's "Wildman." Interested? Contact: Brigitte Handley, 101 Evans Rd., Dundas, 2117, NSW, Australia. E-mail: rockafilly@hotmail.com - website: http://members.tripod.com/~rockafilly



Since Reba McEntire demolished the home of Hank Williams, Sr. on Music Row to make way for her proposed business venture she has been making a dream list of other future accomplishments she hopes will continue her contributions to country music.
10. Tear down the Ryman Auditorium to build a helicopter landing pad.
9. End a live performance by smashing Hank Williams' guitar.
8. Get all that country music off of TNN. Whoops, TNN beat her to that one.
7. Tear down the Country Music Hall of Fame to build "Reba's Country Cookin'" restaurant.
6. Take credit for firing the Opry staff band
5. Buy the rights to "Fan Fair" and re-name the annual event "Reba McEntire Fans Fair."
4. Burn Minnie Pearl's hat.
3. Turn Opryland into a parking lot. Whoops, Opryland beat her to that one.
2. Act.
And the number one Reba McEntire goal that will endear her to country music fans everywhere:
1. Appear on the CMA Awards next year to perform a duet with George Jones, and before he can sing his first line, knee him in the groin.



Billy Lee Riley Award. I'm pleased to announce that the board of the "Arkansas Walk of Fame" located in Hot Springs Arkansas, has voted in favor on my nomination of Mr. Billy Lee Riley. Billy will be inducted in an official ceremony in Hot Springs which should take place sometime in the Spring or Summer of 2000. I'll keep the Hall of Fame posted with more details as they develop. --Steve Lester



Larry Cordle's Song Covered. Two of country's greatest singers - George Strait and Alan Jackson hit the recording studio last week. Together. (Let's hope they received permission to do so.) The superstars recorded "Murder on Music Row," the title track of the brand new album by bluegrass group Larry Cordle & Lonesome Standard Time. The song is slated to be on Strait's greatest hits album due out sometime in 2000. MCA President Tony Brown produced the song, which condemns the lack of traditional country music today. Look for a story (with photos) on Larry's Tues., Nov 3rd CD Release Party to be posted here soon. Rockabilly Hall of Fame Bob Timmers, along with fan Jerry Weigand, drove from Wisconsin to Nashville's Station Inn to join in the event. Larry also knocked 'em dead at the Grand Old Opry last weekend, Oct. 29, 30!! It sure looks like Tennessee country radio is behind Larry Cordle and Lonesome Standard Time 100%. Another minor victory for the comeback of roots music.



The Rock n' Roll Truckstop Magazine is now for sale at $1 per issue (+ $.35 shipping) per issue. INCLUDED in ISSUE #1 are interviews w/ Lee Rocker, The Paladins, Highway 13, The Big Barn Combo, The Cadillac Angels, The Reach Around Rodeo Clowns + cd reviews and an article on the closing of the Pittsburgh rockabilly bar The Next Decade. Send requests to: The Rock n' Roll Truckstop; 720 Water Street; Charleroi, PA 15022. *Next Issue: The Twistin' Tarantulas, The Starlight Drifters, The Rumblers, The Polish Hillbillies, The Fleabops and more........*
Also, they are searching for writers, bands wanting publicity, advertisers and most of all some one to write guitar lessons for each issue. You can write or email them at milfordgirl@hotmail.com



New Sonny Burgress CD. "They Came from the South" by Sonny Burgess and the Legendary Pacers is available direct from:
Sonny Burgess
PO Box 215
Diaz Newport, AR 72043 USA The cost is $20.00 and Sonny will add an autographed photo as well.



Sleepy LaBeef On-Line. Linda LaBeef has an e-mail address for "The Best Legendary Performer on the Road Today." It's thehumanjukebox@yahoo.com - Drop her a note and welcome "The Beef" to cyperspace.



Now Dig This has just published its 200th issue, there's also a free superb Rollercoaster sampler cd with a few unissued cuts like Carl Perkins' Thats All Right Mama live on the Big D Jamboree. There`s a 12 page special photo supplement that`ll blow you away. Congratulations to Trevor and his team for keeping up an amazingly high standard for so long, Kevin Coffey's second piece on Lew Williams is brilliant!



Live BR5-49 Album Planned; Band Hits Road. Although details are far from set in stone, Arista Records is putting together a live album by hillbilly alt-country rockers BR5-49, scheduled to tentatively surface in the spring of 2000. From which shows the songs will be culled from remains to-be-determined at press time, but the band did spend a healthy portion of this year on the road with the Brian Setzer Orchestra as well as a jaunt through Europe. Meanwhile, one of the band's ditties from their 1996 self-titled debut, "Honky Tonk Song," appears on the Arista/Nashville soundtrack to Happy, Texas. The band is taking most of the reminder of 1999 off, but will gather in brief spurts for mini-tours around the South and Southeast in December and January.
Here the BR5-49's upcoming tour dates: Dec. 31, Lawrence, Kan., Liberty Hall
Jan. 1, Alexandria, Va., Birchmere Music Hall
Jan. 20, Annapolis, Md., Rams Head Tavern
Jan. 28, Morristown, Tenn., Rose Center
Jan. 29, Athens, Ga., Mahler Auditorium, University of Ga.




LARRY CORDLE & Lonesome Standard Time
Keeping It Country ... with their "Murder on Music Row" Hit Single



PAUL PEEK APPEAL Dear Gene Vincent fan, For those of you who don't know, Paul Peek joined Gene's Blue Caps in 1956 as a rhythm guitarist replacing Willie Williams. He made a short but spectacular appearance in the film "The Girl Can't Help It" playing guitar and chewing gum behind Gene in Be Bop A Lula. He went on to become one of Gene's "clapper boys" [along with Tommy Facenda] in 1957 and appeared in the film "The Hot Rod Gang" with Gene. He left the Blue Caps to pursue a solo career and his first record was "Sweet Skinny Jenny" b/w "The Rock-a-Round" on the NRC label, The other musicians on this record included Ray Stevens, Joe South, Jerry Reed and the fabulous Esquerita.
Paul continued working in the music business and although extremely talented never hit the big time [unlike some of his band members]. Any of you who met Paul on the Blue Caps tours of the 80's and 90's know what a genuine person he is. He always made an effort if any fans visited Georgia to at least meet up with them, and often put them up in his home.
Now to the point of this letter, some of you will know that Paul couldn't make the recent Blue Caps gig at the Eddie Cochran weekend. This is because he had just come out of hospital he has a serious liver disease. He is still in a bad way, but is slowly getting stronger. As with all these type of letters this is an appeal for money, unfortunately Paul had no health insurance. For those of us lucky enough to live in a country with a health service that is free at source it may come as a bit of a shock that Paul and Barbara Peek are facing a massive bill, and that is with Paul unable to work and Barbara working as a hairdresser.
The local musicians in the Atlanta area have had an appeal out for him and we felt that all his friends and fans may like to help. We have opened a special bank account for the appeal and will transfer the money directly to Barbara Peek's account. For those of you that can't afford to send anything I know that Paul really would appreciate a get well card things like that really do pick him up. Send donations to:
Phil Whyte
c/o Rock-A-Round Vintage Clothing
Unit 8 Bristol and West Arcade
Friar Street
Reading, Berkshire,
RG1 1JL [England]
Telephone enquiries: Phil [0] 118-956-0588, 10.30 to 6.00 Mon - Sat.
USA: Please make cheques payable to Barbara Peek.

6276 Cathedral Lane
Lithonia, Georgia, 30058 USA
Thanks



Red Moore's New CD is available. Red Moore and the Rhythm Drifters present a great selection of remastered Red early recordings. The CD, "50's and 60's Rockabilly and Country Sounds," kicks off with the legendary track penned by Red, "Crawdad Song." That cut alone is worth getting this disc. The remaining tracks are country flavored vintage Red Moore. Contact: fatrab@ipa.net or Red Moore, 17237 N. Hwy 71, Mountainburg, AR 72946. The Rockabilly Hall of Fame has a few copies available, but for airplay, review or distribution purposes only! Contact RedMoore@rockabillyhall.com



Press Release: Hoyt Axton Dies. Victor, Mont. (Oct. 26, 1999) - Hoyt Axton, the folksy singer, songwriter and movie actor who penned Three Dog Night's "Joy to the World" and other pop and country hits, many of them showcasing his singular sense of humor, died early today. He was 61. Axton suffered a severe heart attack two weeks ago and was struck by another while undergoing surgery in Missoula, said Jan Woods, a longtime friend in Nashville. He had never fully recovered from a 1996 stroke, using a wheelchair much of the time. Axton died peacefully at his ranch home in Victor, surrounded by family and friends. He moved Montana's Bitterroot Valley after playing a sheriff in the movie "Disorganized Crime," filmed there in 1988.
Axton wrote hits for Ringo Starr ("No No Song"), and an array of others, including Elvis Presley, Joan Baez, Waylon Jennings, John Denver and Linda Ronstadt. Axton's singing hits include "Boney Fingers" ("Work your fingers to the bone, what do you get? Boney fingers, boney fingers") and "When the Morning Comes." Three Dog Night's recording of his novelty "Joy to the World" ("Jeremiah was a bullfrog...") was No. 1 on the charts for six straight weeks in 1971, making it the top hit of the year. Axton had pitched the song to group members when he was their opening act in 1969-70. He also wrote "Never Been to Spain" for the band, a song that was also recorded by Presley.
A large man, Axton as an actor specialized in playing good ol' boys on television and in film. He appeared in many movies and television shows, including "Gremlins" and "The Black Stallion." He sang the "Head to the Mountains" jingle used to advertise Busch beer in the 1980s. Born in Duncan, Okla., he began singing folk songs in the clubs of San Francisco in 1958. A song he co-wrote, "Greenback Dollar," was a 1963 hit for The Kingston Trio. Axton's mother, Mae Boren Axton, had her own spot in popular culture history as the songwriter of Elvis Presley's "Heartbreak Hotel." "When Mae died three years ago, she left me Hoyt," said Woods, a longtime friend of the singer's mother. "He was probably one of the most honest, humorous kids that never grew up." "He just loved music," Woods said. "I don't think he could pick a favorite song." Survivors include Axton's wife, Deborah, and five adult sons and daughters.



A tip for Skiffle fans: "Lonnie Donegan - The Originals" and "The Lonnie Donegan EP Collection" on See For Miles Records, SEECD 331 and 346 respectively; "Putting On Styles", a 3-CD set on Sequel Records NXTCD 233, and yes, there's an 8-CD set on Bear Family called "More Than Pye In The Sky". Lonnie was - and is - great. There was a 40th anniversary concert last December. He was kinda doing English rockabilly in Skiffle - things like "Cumberland Gap" were just so wild and loose.



"The Ritz Brothers" featuring Ken Neilson on vocals, and Pat Holley on keyboard, will be performing every Friday, Saturday and Sunday night beginning in November (6 PM to 10 PM) at the Americana Restaurant and Tavern, on the Golden Mile (Highway 7) in Sarnia, Ontario, Canada. When you're driving thru Sarnia (60 miles from Detroit MI and 70 miles from London ON) and looking for some good music, good food and a place to relax, maybe have a dance or two. "The Ritz Brothers" and the Americana Restaurant extends a very warm welcome to you. ken.neilson@ sympatico.ca



Looking for a gig in Brazil? Read this:
My name is Carlos and I'm from Curitiba Brazil where I have a club. Along with other four clubs all over the country, we are asking you to send us audio and video promo package for we to study with our financial supporters a way of bringing you in a tour. The average capacity of the clubs vary from 1000 to 2000 people and they all have advertisings on radio and TV. Thus, I would like your cooperation. My address is:
CARLOS RENATO CAETANO VIEIRA
RUA CARLOS PERRINI 266 SBR. 03
jahrlos@zipmail.com.br



The Hag for Mayor? As would-be New York senatorial candidate Hillary Rodham Clinton was celebrating her 52nd birthday with a fund-raising dinner just one block away, country legend Merle Haggard was having some fun at her expense last night during his performance at New York's Town Hall. as a tribute to those who make their living on the road, including such professional nomads as "Bill and Hillary," who recently announced their intention to move to New York. "I've been thinking about moving to New York and running for mayor," quipped Haggard, adding quickly, "Well, maybe not." As a reaffirmation of his true roots, Haggard, 62, was later joined onstage by opening act Kris Kristofferson for a rousing rendition of his 1969 chestnut "Okie From Muskogee." (Haggard, of course, is a native of Bakersfield, Calif.; his late father was the "Okie" of the title.)



RIP Earl "Joaquin" Murphey. Oct. 26, 1999 - From: Brad Bechtel (wellvis@macromedia.com). I received the unfortunate news this morning via Michael Johnstone on the Steel Guitar Forum that Earl "Joaquin" Murphey, steel guitarist with Spade Cooley, Tex Williams and others, passed away on Monday evening. Earl "Joaquin" Murphey was discovered by Spade Cooley's band as a teenager. His approach to chord melodies and single string soloing was unprecedented for the time. One could hear overtones of Benny Goodman and Django Reinhardt in his style. Working with Cooley, he contributed outstanding solos to numbers such as "Three Way Boogie" and "Oklahoma Stomp". He also recorded incredible instrumental solos on tunes like "Honeysuckle Rose" and "Sweet Georgia Brown" as part of the cowboy vocal group Andy Parker and the Plainsmen, where he was a featured soloist. Joaquin Murphey is held in the absolute highest regard by all who have followed him on his chosen instrument: lap steel. He did some recording on pedal steel guitar, but his reputation was formed in the mid 40s to mid 50s. He was an instantly recognizable stylist on the recordings of T. Texas Tyler, Spade Cooley, Tex Williams, Roy Rogers, Andy Parker and the Plainsmen, Smokey Rogers, and a few others. Murphey is a major inspiration to Buddy Emmons, Vance Terry, and others who have attempted to put some jazz/swing feeling into their playing. His extended improvisations on single strings are astonishing. He was inducted into the Steel Guitar Hall of Fame in 1980 and has recorded very little since the 50s (effectively just one LP, on pedal steel guitar). It's a shame he did not record more, but he spent all of his career in Southern California working primarily with dance bands rather than playing a million recording sessions like Speedy West. Staying in Los Angeles and the lack of solo recordings affected his visibility with the average country fan and casual steel fan. Probably only Jerry Byrd among mainland artists is held in similar regard as a lap player - and Byrd had a totally different style and background, with virtually no work in dance bands.



Hank Willians III: "Offspring of country legend carries on rowdy tradition, awaits big break."


Ways To Save Rock And Roll Museum -- Cleveland - Leaders with the Rock and Roll Hall of Fame and Museum met Oct. 25th to figure out ways to increase profits and tourist traffic. Board of Trustees chairman Lee Howley says the hall might not be able to keep running if it doesn't bring in more money. Executive Director and C-E-O Terry Stewart wants to develop a fund raising strategy. He also wants to find ways to maintain membership and attendance. The museum plans to add a restaurant and a performance hall to help increase its income.



Bill Woods' Bakerfield CDs. Titan Group has released two CD'S on Bill with various artists he has played with.Bill has many more masters of music he has recorded with many artists he has recorded with that we will be releasing worldwide over the coming years. Bill was the band leader too at The Famous Blackboard Club in Bakersfield from 1950 to 1964. He also booked everybody at the Blackboard. He gave Merle and Buck their first jobs playing. Bill was instrumental in helping the careers of such artists as Jean Shepard, Ferlin Husky, Lefty Frizzel, Tommy Collins, Bonnie Owens, Billy Mize, Red Simpson, Gene Moles and many more over his illustrious career. He is a legend in Bakersfield. Check out the site: http://www.thetitangroup.net. The Titan Group has also has recent video that was shot with a high quality camcorder of some of the above artists performing recently at a show in Bakersfield. Titan President, Glenn J. Pogatchnik, has many rare photos of Bill and many artists too. His intentions are to present all that wonderful music that Bill has that has been sitting in his garage for over 35-yrs and present it to the world. Glenn has many tapes with Bill performing live with famous country recording artists.



JODY REYNOLDS 53-track Double CD is available. See Jody's RAB HOF website



Tony Crombie the UK jazz drummer who founded one of the UK's first rock 'n' roll bands Tony Crombie and the Rockets died recently and there's an excellent obituary in Monday's (Oct. 25th) Daily Telegraph, they may have an on line edition/archive, try www.telegraph.co.uk


Question: Is there any difference between a cowboy and a cowpoke?
Answer: Celebrated in song and portrayed in dime novels and movies, the cowboy--a job description that began with the Mexican vaquero--has achieved mythical status around the world. This most vivid symbol of the American West is also known by several other names, including range rider, buckaroo, wrangler, and cowpoke. Whoa pardner! Cowpoke is not exactly a synonym for cowboy. While a cowboy's workday was dirty and often dull when it was not dangerous, cowpokes had the dreariest job. These fellas didn't ride tall in the saddle, they road the rails on cattle trains, tending to the stock. Periodically they had to poke the cattle with a rod through slats in the side of the cattle cars to make sure the animals were up and still breathing, which is how cowpokes got their name. Hardly the stuff from which legends are made.



Leon Bass checked in recently reminding us that the song he penned was in the current pay-per-view movie "Varsity Blues." "Love-A-Roma" was performed by Southern Culture on the Skids. The song was featured on their "Plastic Seat Sweat" CD. Leon can be contacted at P.O. Box 543, Bonnieville, MS 38829, 662-286-6141.



Make Your New Years Eve Plans Now. The package for Elvis fans at the Heartbreak Hotel in Memphis. Guests can choose from theme suites such as Burning Love. Amenities include free in-room Elvis movies and a heart-shaped outdoor swimming pool. The Graceland Millennium Package includes the millennium's last Graceland tour and a New Year's Eve party at the Elvis Presley's restaurant in Memphis. Guests can choose from four gourmet dinner entrees including herb-crusted prime rib or grouper with a pecan cognac butter. What! -- no peanut butter and banana sandwiches? The cost of the package is just $950 for two people in a room and goes up to $1,500 for four in one room.



A NEW CD WORTH A PLUG. The rockabilly trio named Spo-Dee-O-Dee has just released "Nite-Out in Coolsville." This 15-track disk was issued on On the Hill Records, a Japanese label. There's a nice raw sound to this CD and, on some cuts, you can almost hear echoes of Elvis' first RCA LP. The band's e-mail contact is spodeeodee@hotmail.com - Maiko a/k/a Mike Millett, drums; Ralf Summers, double bass/backing vocals; Any Warner, lead vocal, all guitars. Check it out!



Barry Klein speaks with Larry Cordle about Larry's "Murder on Music Row" song and CD.


RELATED TO ABOVE: Nashville, TN - David Frizzell has just recorded his version of "Murder on Music Row".



LEGEND MAKERS TALENT AGENCY Eddie Bond and other traditional music artists. Now booking Western Tennessee, Eastern Arkansas, and Northern Mississippi



Eddie Bond recommends that you visit and support the Sheriff BUFFORD PUSSER Home & Museum Website. Eddie is releasing a song new dedicated to Bufford.



Blue Cap Paul Peek will not be with Dickie Harrell, Johnny Meeks and Tommy Facenda when the band appears in the UK Oct. 2nd. Paul is ill and resting at his home in Atlanta. Albert Lee will be making a guest appearance with the 3 remaining Blue Caps at Chippenham next week.
Write to Paul, send him a get well card or a greeting. He would really enjoy hearing from his fans all over the world. Send all notes and cards to:
Paul Peek
6276 Cathedral Lane
Lithonia, GA 30038




TIDBITS: ARCHIVE #1
A BIG FILE with LOTSA GOOD STUFF!!
WANT TO CONTRIBUTE TO THIS PAGE?
E-mail Bob Timmers (USA)
E-mail Rod Pyke (UK)
Rod Pyke and Dave Tayler give an in-depth view of the
UK and Euopean Rockabilly Scene. Click here.
MCG, presenting the Rock´n´Roll label Vampirella Music
Posted 10/18/99 Frank Frost dies: former blues artist, recorded by the one and only Sam Phillips during April 1962. Frank died in Helna, Arkansas after an heartattack, aged 63. He was widely known for his Phillips International LP "Big Boss Man" (PLP 1975), after his sole single release "Jelly Roll King" b/w "Crawlback" (Phillips Int. 3578. The LP has become a true collector's item, despite Charly's re-release during the '80's.



Cadillac Hitman guitarist "Jeff" picked up an artist endorsement of Reverend Guitars! They're anew guitar maker with some forward-thinking ideas and they sound great. You can visit their website for more info at http://www.reverendmusical.com



Click Here to view.
Elvis Presley Home for Sale - Kileen, Texas - It's a house fit for a King. The home Elvis Presley had while he was a soldier at Fort Hood is for sale again on the Internet auction site eBay. The auction closes Saturday. One prospective buyer already has matched the minimum bid of $200,000, said the home's owner, M.J. Craig. Ms. Craig said two previous auctions closed with high bids of $126,100 and $75,000 - not enough to part with the one-story, three-bedroom brick home she's lived in since 1987. Presley was stationed at Fort Hood when he was 23. He lived in the home for 25 weeks, said Deborah Garrell, Ms. Craig's daughter. Ms. Garrell said Presley's parents also lived there for a time.



Rockabilly Hall of Fame CD's Reviewed in GOLDMINE. Rockabilly Hall of Fame, Volumes One and Two, and Voice Tracks are reviewed in the latest issue of Goldmine Magazine, issue #502, October 22 (the cover featuring the group Styx). The CD's were reviewed by Michael B. Smith, who obviously enjoyed the wide variety of great musicians featured. The review begins on page 60. It was accidently classified under Reissues instead of New Releases, but hey, it's good publicity!
Smith also reviewed the MuSick Recordings release, "Vibrate with" by The Cranktones, an excellent rockabilly band who cover two songs by Joe Bennett & The Sparkletones, "Rocket" and "Cotton Pickin' Rocker." Another great record, according to Smith. That review is on page 103.



Carl Bunch. Who's that you ask. He was Buddy Holly/Ritchie Valens' drummer on the Winter Dance Party February, 1959. And no, he didn't die. The RAB HOF has discovered him in Calfornia and will soon do HOF web page him.



"Daddy-o Dilly" Mark Dillman: "I am posting this to cats who might be interested in joining an e-mail discussion group on rock 'n' roll guitar legend Link Wray. To become a member go to - www.onelist.com - and register w/ the Link Wray community. As a registered member, you will receive an e-mail every time a fellow member sends an e-mail to - linkwray@onelist.com> - This is a great way for Link Wray fans to share information about Link's concerts, songs, records, CDs, life story, band members, guitars, and just plain ol' rumors! This is all free. Also, if there are topics of greater interest to you than Link Wray, there are hundreds of other e-mail discussion groups to join at onelist.com. Please share this information w/ other on-line friends of yours. Thank you and keep on RUMBLIN'!"



TwangBox Radio Network The TwangBox Radio Network is your source for classic country, bluegrass, rockabilly, and y'alternative music. TwangBox presents a plethora of crooners and pickers sure to get your toes tapping like no country station available on broadcast radio.



Rockin' Roary's Homepage has been updated and ready to view. Now you can read the press reviews in English. On every article has a a translation. http://members.aol.com/kingroary



BEST OF TEXAS AWARD SHOW. The Lone Star State Country Music Association of Texas, hosted by Col. Billy and Helen Foster of Beumont did a wonderful job presenting the Best of Texas award show! Crockett Frizzell (Lefty's son) was awarded with TRADITIONAL COUNTRY ARTIST OF THE YEAR and MODERN COUNTRY SONG OF THE YEAR with "Tammy's Theme" (Daddy's Little Girl). Accepting the HALL OF FAME INDUCTION for LEFTY was granddaughter, Tammy Lisa. Also, congradulations to Col. Buster Doss of Stardust Records, who was presented the LIVING LEGEND award!!
Thanks for the continued support and encouragement.
Crockett and Vicki Frizzell and family



College Radio Statio looking RAB CDs for airplay. Interested? Send your CD to Sean "Freaky Kat" Mattner, 1197 High St., #3, Oshkosh, WI 54901 - 920-426-1749.



Be sure to read Dr. Iguana's Exclusive Johnnie Johnson Interview - very well done and interesting!
A Tip from Tom Simon: For those of you who are not familiar with newsgroups, you are missing out on some great discussions on the Internet about the great rock-an-roll acts of the 50's and 60's. These discussions are carried out every day on the newsgroups that are found on the Internet. It is entirely free. There are thousands of newsgroups covering an almost infinite variety of topics. Some of the best that I have found -- and I have been participating in them for the past 5+ years -- include these:
rec.music.rock-pop-r+b.1950s
rec.music.rock-pop-r+b.1960s
How do you participate in newsgroups? Well, find a good book about the Internet and look up newsgroups. Or go online to Deja at http://www.deja.com



JOE'S BENNETT'S MONTHLY COLUMN.
Please take a moment to read this month's feature. Joe is writing some great stuff these days, don't miss it!


MUSIC TRIVIA: Q. Why is taking the consequences for something "facing the music"?
A. This expression almost sounds like the name of a quiz show, but what it describes is hardly entertaining. When you face the music you've either done something wrong and now have to "pay" for it, or you've made a tough decision that will result in some negative consequences for you. Either way, you're not headed for an evening of dining and dancing.
The phrase originates in a military tradition. You've probably seen a soldier in the movies "drummed out" of the service. He's done something dishonorable so he's stripped of his rank and has to pass through columns of other soldiers who may look away from him while drum beats mark his passage through the ranks. The drums are the music he's facing and the source of the phrase.



IMPORTANT "VIVA LAS VEGAS" NOTE - (September 26, 1999). Tom Ingram has announced that Viva Las Vegas has changed their mailing list. If you would like to be on their mailing list then please send a blank message to: vivalasvegasnews-subscribe@listbot.com
or fill out the form at their website at: http:/www.vivalasvegas.net/. - With over 6 months to go the Gold Coast Hotel is now completely sold out. There are still rooms available at a special rate in The Orleans. Phone 1 888 402 6278 from USA 1 702 367 7111 from outside or book online via the vlv website.
BANDS ADDED TO VLV 2000
Skinny Mcgee & Mayhem Makers Blue Ribbon Boys Chester Everett & The Ranch Rhythmaires King Memphis Del Bombers Wild Wax Combo & more to be added to THE GREATEST ROCKABILLY SHOW ON THE PLANET



Johnny Cash's next album will have several spirtually related songs. One actually recorded in a cathedral. Not all the songs will be of a religous nature tho. There is no title for it at the present time. Musicians involved on the project are Marty Stuart, Norman Blake, Laura Weber, & John Carter Cash. It is being recorded at the Cash Family Compound "Cedar Hill Refuge" (Johnny Cash's cabin in the woods) accross the street from his Hendersonville, TN home. The cabin is set on a 80 acre fenced-in parcel of land that has many exotic animals. Such as a peacock, and even a ostrich. At one time (in the mid to late '70's) there were even some buffalo's on the property. The last recording sessions were scheduled for the week beginning September 13th. '99. The last recording sessions were held in late July at Johnny Cash's farm in Hickman County, TN when the recording sessions were postponed after three days of recordings due to June Carter Cash's sisters (Anita Carter) illness. The farm has a recording studio, and library, and is surrounded by 100's of acres of fields, and woods.



GUILD: IN THE NEWS - "Guitar maker fine-tunes a comeback."




Also needing your prayers, cards and letters is Nebraska's first rock 'n' roller, Bobby Lowell. Bobby, who has become close friends with rockabilly gals Kim Lenz (pictured here) and Josie Kreuzer, is fighting a tough battle with cancer. As fans, we need to support and show veterans, like Paul and Bobby, how much their contribution to the music mean to us. Bobby had planned on appearing on stage at the Rockabilly Hall of Fame West Lounge during Viva Las Vegas 2000. With the help of your prayers and encouragement, maybe he'll have a shot at it. He is one of the most kindest, warm-hearted legends you'd ever want to meet. Just ask Kim or Josie. Please direct all cards and letters to:
Bobby Lowell
2833 Torchlight Lane
Lincoln, NE 68521



Remembering Darren "Lucky" Lee Spears (Go Cat Go singer) Memorial page by Wendy LeBeau



The New York Post interviews Hank Williams III



Country Music Lovers, Here is one of the first reviews of the Roy Acuff / RC Cola project: http://www.country.com/music/news/feature/vintage-f.html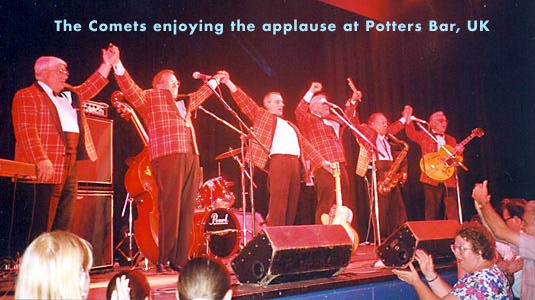 Frankie Ford has been signed to headline The Winter Rock n' Roll Party in London (Reading) UK on January 15, 2000. More info will be coming from Ian Wallis and Willie Jeffery soon.



The Continuing Saga of Dr. Iguana / Ken Burke First feature: THE PALADINS. Dave Gonzales does a great interview for Ken and the Rockabilly Hall of Fame!



From ROCKIN' ROARY:
Hey, Buddies, many thanks, for believing in music!!
Last days I wrote a song about my rock'n'roll life and I guess a lot of the listed HOF folks had the same feelings and impressions some times, and so when the CD will release in November/December, I like to dedicate the song to all HOF members and staff. And here are the lyrics:

Rock'n'Roll Devil (GEMA/ASCAP/BMI/BIEM)
Sittin' here and remember, things that I did in my life
I wasn't real bad, I wasn't real good, I just tried to survive
now I'm on the crossroad to share a family life, do a job that'll drive me insane
but the rock'n'roll devil inside myself says,"Run ahead for fortune and fame".

Since the sixties I was on the road with a rock'n'roll or country band
had lots of success, was a rising star, but then I fell down 'til the end
bad record deals, mismanagement, I was out, folks forgot my name
but the rock'n'roll devil inside myself says,"Run ahead for fortune and fame".
Well, this little rock'n'roll devil has a high grade level controlls my chips and bits,
makes my brain his CPU, his hard disk is my soul and my heart's his power switch,
my nerves are his internet highway, my blood pressure his modem to connect
and when I try to get away from all this rock'n'roll horror, he sends a e-mail, sayin', "Fatal error".

Then I came back in the nineties, some say the come back of the year,
got awards for my music and a golden CD, was invited for shows on TV
but like a straw fire things died out, step by step on the road again
but the rock'n'roll devil inside myself says,"Run ahead for fortune and fame".

SOLO

'98 a tv-actress came said, "I'll bring back to you the crown",
but like a stupid with a flaregun, she burned things down to the ground
and now I'm sittin' here, millennium in front, write a song about what drives me insane
but the rock'n'roll devil inside myself says,"Run ahead for fortune and fame".
September '99 it was the sixt, I got a message, makes the song the theme
as Legend of Rockabilly I was a member on the Rockabilly Hall of Fame
with Elvis Presley beside me, Lou Hobbs, Ritchie Valens, Narvel Felts and Alvis Wayne,
and the rock'n'roll devil inside myself says,"Run ahead for fortune and fame".

Well, this little rock'n'roll devil has a high grade level controlls my chips and bits,
makes my brain his CPU, his hard disk is my soul and my heart's his power switch,
my nerves are his internet highway, my blood pressure his modem to connect
and when I try to get away from all this rock'n'roll horror, he sends a e-mail, sayin', "Fatal error".

Save on disk my blues and my rock'n'roll pride, clean my hard disk format c:,
I'm gonna change the CPU and the memory board, disconnect the old modem to be free,
year 2000 I'm coming, I'll do techno-pop, with a new server on the internet scene,
but a virus on net, the rock'n'roll devil says,"Run ahead for fortune and fame".

Well, this little rock'n'roll devil has a high grade level controlls my chips and bits,
makes my brain his CPU, his hard disk is my soul and my heart's his power switch,
my nerves are his internet highway, my blood pressure his modem to connect
and when I try to get away from all this rock'n'roll horror, he sends a e-mail, sayin', "Fatal error".

Well, I hope you agree with me, that Rock'n'Roll/Rockabilly is a generator that drives your life, and if you once began it, I'll be with you, 'til you die.
--Rockin' Roary



Michael B's Rockabilly Weekend, in Lincoln, Nebraska



Butch Wax & The Flat-Tops
MEMPHIS, TN - Could this be a sign of the beginning of the end? What started in Memphis in 1954 is back again with a brand new rockabilly trio! That's right - a rockabilly band that's actually from Memphis! Many people come to Memphis to visit Graceland and Sun Studio, but are disappointed when they try to find live rockabilly bands. A few places in town do a great job bringing in bands from all over the United States & Europe, but there were no Memphis rockabilly acts to be found - until now!



100 Years of Sunshine: Jimmie Davis turned 100 September 11th!



A REMINDER: Sonny Burgess and the nucleus of his original band "The Legendary Pacers" have a new CD out. They Came From The South is a 14-track mix of standards and original rockers featuring each member of Sonny's band (Bob Crafford, Jim Aldridge, Kern Kennedy, plus a guest appearance by Teddy Redell) as well as Sonny himself. There's some solid production values here, and while each member of the band has a strong moment or two on the disc, Sonny himself comes out as top dog with such cool rockers as "T For Texas," "It Came From The South," and the anthemic "Little Bit Of Money Lotta Rock'n'Roll." There is no label name and this is something Sonny and the Pacers had made to sell at live shows (and these guys are heavily BOOKED), but fans can purchase one from Sonny himself by writing: Sonny Burgess
P.O. Box 215
Diaz, AR 72043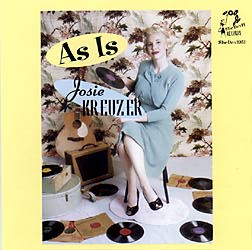 SIZZLING ROCKABILLY HONKY TONK WITH A SWITCHBLADE BEAT
"AS IS" Announcing the release of Josie Kreuzer's long-awaited follow-up to her critically acclaimed "Hot Rod Girl" (SheDev1950) CD. With "As Is", Josie digs deeper into her rockabilly, honky tonk roots, unearthing the rawer side of her restless soul. These 13 self-penned tracks exhibit Josie's unique vocals and powerful songwriting talents, utilizing her sardonic wit, humorous perspective on life, and "no bull" attitude. The driving, catchy guitar and solid rhythm section of her band add fuel to the fire resulting in a fierce and torrid tour de force. From "Just Lookin' Pretty", a sarcastic "tell 'em off" song with attitude about the harsh reality of a female entertainer, to "Hey Sheriff, a fast rockin' vigilante tune, "As is" takes you on a soul-stirring journey, bringing forth the imagery of crackling vintage neon, dusty wooden jukeboxes and smoky honky tonk hardwood floors- oh, and lets not forget the rye whiskey! For Booking and Management contact:
SheDevil Records
PO Box 151736
San Diego, CA 92175
Ph. (619) 229-9338
Fax (619) 229-0774
E-mail: SheDevRecs@aol.com
web site - http://www.josiekreuzer.com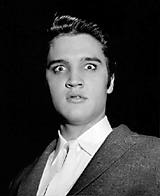 "Holy TCB! The Rockabilly Hall of Fame finally has a page on ME!"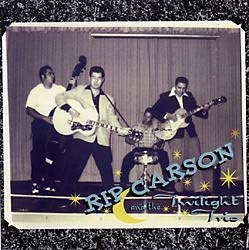 RIP CARSON & THE TWILIGHT TRIO's new Rollin' Rock CD-102 is out now, so if you like frantic Johnny Burnette Trio type rockabilly with a few moody Western-tinged tunes for variety, you'll probably like this record.
Track Listing:
1. Don't love my baby
2. Full of sin
3. So long
4. Come on back
5. Green in my pocket
6. All alone & blue
7. 2 Timin' woman
8. You can find another man
9. Gamble my life away
10. Keep your pain
11. I gotta rock
12. Down that line
13. Get it through to you
14. I'm gonna drink
14. Tornado love
16. Whiskey 'n water
WANT A COPY? You can send $14 + $2 s&h to: Ronny Weiser, 2460 Casey Drive, Las Vegas, NV 89120.



REVIEW: Ronnie Dawson, The Mezcal Brothers at The Zoo Bar, Lincoln, Nebraska - Sunday, August 22. The Mezcal Brothers are destined to be huge rockabilly stars. This Lincoln based trio is one of the first opening bands I've seen in quite some time to receive two encores. And that's just the beginning. Tony stands up to play his drum kit, which is adorned with a painting of a skull in a sombrero. His percussive stylings are enthralling. Along with Marty's doghouse bass slappin,' and Gerardos lead vocal and Danelectro guitar, The Mezcal's rock the house. Performing a mix of originals and obscure covers, the band assaults it's audience from the first note of the set, and doesn't let up at until the end of the encore. In this case, that encore was Buddy Holly's "Not Fade Away," and The Mezcals smoked it, complete with Tony's bongo solo at the end.
The stage was set following the Mezcals, for "The Blonde Bomber," Ronnie Dawson, who's talented three piece backing band rocked through a number before introducing him from the stage. Dawson entered from the back of the Zoo Bar, walking through the audience, his wireless guitar strapped on, and shaking hands and smiling at fans, a huge smile pasted on his face. Jumping atop one of the tables down front, he began a set that included "Good at Bein' Bad," " Yum Yum" (which he performed in the movie "Primary Colors"), "Toe Up from the Flo Up," "Veronica," and "Run and Jump." One of the highlights of his show was "Cats Started Jumpin'," a full-tilt rock and roll romp, featuring Michael Mohawk's lead guitar work.
After hearing Dawson rock, I had a better understanding of him as an entertainer, and I could see why Bob Timmers, who was a special guest at the show, had included him in The Rockabilly Hall of Fame. I'm sure even an old rockabilly like Dawson has to feel honored to be inducted into the same Hall of Fame that has Gene Vincent, Bill Haley & The Comets and The Mezcal Brothers. After all, when you strip the artist naked of his adornments, image, and stage costumes, the music is what matters, and Dawson has some mighty wicked riffs left in him.
-Michael B. Smith



RME MUSIC now has volume 1 of the Roy Acuff / RC Cola radio transcriptions available for shipment! Volume 2 is now available also. Please visit their web site for new information on this 10 volume series. http://www.rmemusic.com
You can place an advance order from Ernest Tubb record's, County mail order or through their web site. http://www.rmemusic.com




ANOTHER ROCKABILLY HALL OF FAME PROJECT: Rockin' and Stompin' CD by The Convertibles, LuLu Records, Milwaukee. This "swingabilly" band celebrated their first anniversary in June, recorded these 14-tracks during the winter. Simply put: "An excellent CD!" Leader/vocalist Paul Barry has worked long and hard to create a great album ... very bouncy, danceable, and a must for your rockabilly and/or swing collection. Contact information: Paul Barry 414-481-3959 - www.theconvertibles.com - www.exepc.com/~lulurec/index.htm - Samples copies, for review and airplay only, are available from the Rockabilly Hall of Fame, P.O. Box 70, Kimberly, WI 54136 USA. e-mail: bob@rockabillyhall.com - or Contact Paul Barry


Celebrity Addresses Online - Features complete & accurate celebrity contact information for fans, businesses, & organizations.



KIM LENZ NEWS: If you go to the HighTone Records website, www.hightone.com, you can listen to three MP3 extracts from her upcoming album (produced by Big Sandy and due to be released on September 14).



Blues Great R.L. Burnside Underwent Surgery. Seventy-two-year-old bluesman R.L. Burnside recently underwent angioplasty surgery to correct clogged heart arteries in Memphis on Tuesday. Burnside had been experiencing exhaustion and shortness of breath and recently had to cancel two shows on his current tour. Doctors expect Burnside to make a full recovery. It is not known whether Burnside will make up the missed tour dates or if/when he will resume the tour. Burnside's most recent release was 1998's "Come On In" on Fat Possum Records.



Welcome to Cash Stuff Etc., the only official site for Johnny Cash merchandise.



E-NEWS FROM BILLY BACON AND THE FORBIDDEN PIGS. Also, at long last, their new CD has arrived and will be available at their shows or through their website. Billy Bacon and the Forbidden Pigs - Home Page For those of you in their home town of San Diego - they'll be leaving on tour Sept. 14 for the midwest and eastcoast.



Sue VanHecke's biography of Gene Vincent is scheduled to be published by St. Martin's Press in May of 2000.



Exciting News from Nashville! Mercury Records is releasing a 2 CD set next month (September 28th) with live Hank Williams recordings from the stage of the Grand Ole Opry. The first disc will consist of 19 cuts from AFRS transcriptions including four never-before released cuts from newly discovered discs at the Library of Congress. They are "Moanin' The Blues," "Nobody's Lonesome For Me", "Jambalaya" and "Half As Much." The second disc will consist of one complete Opry show recorded on February 18, 1950. The 2-disc set will retail for $19.95.



Mike Armistead is president of RME Music in Nashville and has released some really nice projects in the past and will be releasing a 10 volume set of Roy Acuff from the early fifties. Most of the songs on this series were never commercially recorded by Roy and out of some 150 plus songs, they NEVER repeat a song!! These shows were originally produced by RC Cola and were distributed to southern and western radio for advertising for their soft drink. Volume one will be ready by the end of September to find in stores but you can already get a copy by visiting the web site. http://www.rmemusic.com - If anyone has questions Mike is available most anytime via e-mail but very busy and hard to catch on the phone. - marmist@bellsouth.net



Graceland is Home of a New Elvis Hotel. A 128-room hotel honouring Elvis Presley has opened close to the site of the late staršs Memphis home, Graceland. With an address like lonely street, itšs no surprise that the hostelry is an unashamed celebration of the life and work of Elvis, with not a scrap of schmaltz or tack spared. Much like the man himself then. Pride of the hotel is the Graceland suite, modelled on the house itself, which apparently boasts a mini waterfall and a green shagpile carpet. Other attractions ­ should disappointed punters failed to book the Graceland suite ­ include a heart-shaped swimming poll with a crack down the middle and animal print furniture throughout the establishment.



MERLE HGGARD CANCELS TOUR DATES. Aug. 16, 1999 - Merle Haggard has canceled his August tour dates after contracting pneumonia, his booking agent said. Haggard, 62, is under doctor's orders to rest for two to three weeks, Bobby Roberts said Wednesday. Haggard was at his home in Palo Cedro, Calif., and was taking antibiotics. "He's exhausted," Roberts said. "He's been touring nonstop and recording three albums whenever he gets a break."



Note from a Club Owner in Brazil - "My name is Carlos and I'm from Curitiba Brazil where I have a club. Along with other four clubs all over the country, we are asking you to send us audio and video promo package for we to study with our financil supporters a way of bringing you in a tour. The average capacity of the clubs vary from 1000 to 2000 people and they all have advertisings on radio and TV. If anyone is interested, the address is:
CARLOS RENATO CAETANO VIEIRA
RUA CARLOS PERRINI, 266 CASA 03
82120-300 CURITIBA-PR BRAZIL"
defposto@pr.gov.br



DAVE CRIMMEN UPDATE: These were the peak chart posistions for Dave's "Where He Left Off" CD - proof that rockabilly is gaining popularity on college and other US radio stations.
1) K.C.W.U. Ellensburg Wa. - No.37
2) K.K.F.I. Kansas City Mo. - No.5
3) K.M.X.T. Kodiak Ak. - No. 2
4) K.N.L.U. Monroe La. - No. 34
5) K.N.S.U. Thibodaux La. - No. 34
6) K.W.S.B. Gunnison Co. - No. 17
7) W.D.C.V. Carlilse Pa. - No. 29
8) W.E.I.U. Charleston IL. - No. 29
9) W.F.Y.N. Farmingdale N.Y. - No. 22
10) W.F.S.E. Edinboro Pa. - No. 27
11) W.M.H.B. Waterville Me. - No. 31
12) W.S.D.P. Canton Mi. - No.29
13) W.S.U.C. Cortland Mi. - No. 23
14) W.T.P.S. Millwaukee Wi.- No. 25
15) W.V.U.A. Tuscaloosa Al. - No. 20
Current chart data for "The Son of Sun" (Including peak posistions on all charts) is as follows.
1) K.C.U.R. Kansas City, Mo. - No. 3
2) K.D.U.R. Durango, Co. - No.19
3) K.N.W.D. Natchitoches, La. - No.17
4) K.S.U.B. Seattle Wa. - No.25
5) W.D.C.V. Carlilse, Pa.- No. 5
6) W.E.I.U. Charleston IL. - No. 9
7) W.F.M.W. Frostburg MD. - No.21
8) W.L.U.W. Chicago,IL. - No. 6
9) W.R.P.R. Mahwah, N.J. - No.25
10) W.R.T.C. Hartford Conn. - No. 17
11) W.V.Y.C. York Pa. - No. 30
12) W.Y.R.E. Waukesa, Wi. - No. 7
Both albums released by Dave are availabe at Hep-Cat. Epic records is showing interest in him. Dave and his band will be featured on the PBS TV show "CD Highway" this fall. Rumor has it that their segment will be paired up with one on Little Richard. Good news, it couldn't happen to a better guy.
MORE to COME



Charlie Daniels' Guitar Finally Found. Once upon a time (circa 1961) in North Carolina, a young picker named Charlie Daniels bought a custom Gretsch electric guitar. It had orange-metallic flaking on the bindings and his name inlaid in mother-of-pearl on the fretboard. Then a member of The Jaguars (pictured above), the picker, who would eventually become the most influential country rock musician of all time, was separated from the beautiful instrument when it was stolen after a club gig in Maryland around 1961. Flash forward to 1999, when The Charlie Daniels Band office received a call from Donnie Barbra of Maryville, TN. Barbra, who collects and restores guitars, had purchased the 1959 Gretsch from a friend for $100. While attempting to restore the guitar, he cracked the fretboard and realized that "Charlie Daniels" had been inscribed in the neck and filed down. Charlie purchased the guitar from Barbara and is currently attempting to have it restored to its original condition.




Patsy Cline received a star on Hollywood Walk of Fame, Aug. 5, 1999. More than 150 fans gathered to witness the unveiling of the 2,141st star on the famed Hollywood Boulevard in honor of the legendary country singer. Charlie Dick, her husband accepted the honor on behalf of the family. Patsy's hits included Crazy, I Fall To Pieces and Sweet Dreams. She died in a plane crash on March 5, 1963.



Rockin' Ronny / Rollin' Rock Records Report: Sat., Aug. 7th) Bill Haley's original COMETS finished their first session here at the home of Savage Western Rock, Rollin' Rock Records, Las Vegas, Nevada. They re-recorded 8 of their classic Haley/Jodimars numbers, with more to come, including new originals in the next few days. Jocko, Marshall and Dick doing the vocals. Ronny sez: "The stuff came out smokin', that's for shure! It amazes me to think that the first two 78 rpm records I ever owned included 'Rock Around The Clock', 'Mambo Rock', and 'Thirteen Women', and now 43 years later, I am recording these same songs with the ORIGINAL cats who played on them in the first place! Wow, what a miracle!"



Attention WISCONSIN AREA ROCKABILLY FANS! The Rockabilly Hall of Fame will assist in putting on series a shows in the Appleton area - about 25 miles southwest of Green Bay. We are talking about acts like: Link Wray, Sonny Burgess & The Original Pacers, hot new acts and many others! Please send us your e-mail address so we can personally keep you posted on all the dates and locations. Add my name to the Wisconsin Rockabilly Show Schedule E-mail List



ORIGINAL COOL MAG. As promised, the August/September issue of Original Cool - the rockabilly, swing, rock 'n' roll 'zine - features an eight-page cover story interview with Ms. P. in which she reminisces about everyone from the Burnettes, Perkins, Cash, Lewis, Riley and Presley to Lash Larue and Smokey Joe Baugh of Clyde Leoppard & His Snearly Ranch Boys. Good stuff. Plus there's a lengthy review of a recent Jerry Lee Lewis performance; a zingy tribute to Orion, king of the ersatz Elvii; part two of the Johnny Legend interview and reviews of new releases from the Frantic Flattops, Ace and the Ragers, Hot Club Of Cowtown, James Richard Oliver, Cigar Store Indians, Gene Vincent and Bob Kelly. Go to http://members.aol.com/OrigCool/ochome.html for more info...



Mac Curtis Sez: "Technology marches on. Even the Aggies at Texas A&M computer research have overcome the Y-to-K calendar problem. Beginning 2000 their calendar will show the daks as Sundak, Mondak, Tuesdak ... well you get the picture." Direct all kour comments right to Mac: MCurtis626@aol.com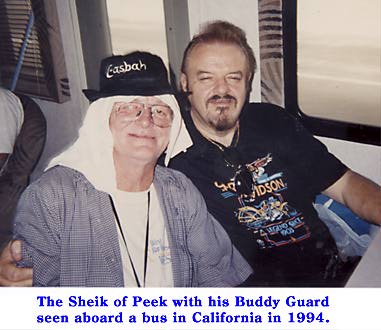 For all the new rockabilly fans, it's actually Paul Peek and Dickie Harrell from Gene Vincent's Blue Caps band.



A special thanks to Wisconsin Public Radio and host Jean Feraca for featuring the Rockabilly Hall of Fame website on the first hour of her show July 23rd. Bobby Joe Swilley was kind enough to join in the conservation and added some real authentic southern history and flavor. We received close to 500 hits during that one hour! Public radio works.



"ROCKABILLY 2000" MP3 SITE to be running soon. Your chance to post your songs and get paid.



HOT GRITS ON-LINE MAG Webmaster Michael B. Smith ventures deeper into the rockabilly scene by reviewing some HOF CDs. Visit this site, you're bound to find information other artists that interest you.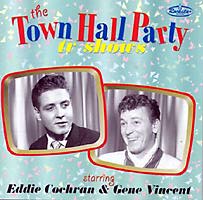 UK TOWN HALL PARTY CD. For people in America who wish to purchase the Gene Vincent & Eddie Cochran CD. Cds were shipped out to Hep Cat on Friday 16th July, for 48 hour delivery, so they should have them by now. This is the only American Distributor that has ordered them from Rockstar. Phil Davies' review of this CD




LEE ROCKER'S NEW CD IS DYNAMITE! "'Lee Rocker Live' finally captures that kick-ass sound we've all longed to hear from Lee on a CD. Highly recommended by the Rockabilly Hall of Fame. Get yours today, you can't live without it." -Bob Timmers. Lee's CD is available by mail here at the HOF. Shaun Mather will soon interview Lee for this site.



EDDIE BOND FAN CLUB INFO
c/o MR. BURL BOYKIN, PRESIDENT
333 COUNTY ROAD 215
ABBEVILLE, MISSISSIPPI USA 38601
PHONE (662) 234-5090
FAX (662) 236-3463
E-MAIL: BURLBOYKIN1@YAHOO.COM or BURLBOYKIN@DIXIE-NET.COM
The Eddie Bond Rockabilly Hall of Fame page is up. www.rockabillyhall.com/EddieBond.html



August Ragone and Greaseball Productions will be presenting the fifth annual "Greaseball '99: Rockin' On The Bay" at locations to be announced shortly! Bands are already being signed, and those acts interested in the event should send press-kits to: Greaseball '99, 1726 Divisadero, San Francisco, Ca. 94115. Companies and organizations who are interested in sponsoring or vending at the show, should also contact the above address. There will be more information to follow, as our website is being overhauled, and the booking process is in mid-swing. So, please stand by!
August Ragone
Greaseball HQ
San Francisco



Johnny Cash has a new double album coming out in late August. It's a recording of nearly 400 of his favorite Bible passages...being released by Franklin Electronic Publishers in conjunction with its new line of electronic Bibles, which feature a selection of Cash's recorded verses. The passages will be grouped into 26 devotional categories...and will include personal introductions by Cash. Customers will be able to go to Franklin's Web site (www.franklin.com) and listen to sample passages. Cash says working on the recordings was "a great source of inspiration for me and my family."



CLICK to visit the HEMSBY webite
NEW! The Official Brian Setzer Orchestra web page, lauched on Friday 9, 1999. Brian wants you to spread the word!



Rollin' Rock artist Mack Stevens is looking for a drummer. A fall tour begins in August. Interested folks should send info. to mackstevens@email.com
Rockabilly Syndicated TV Show #2
The second "The Lou Hobbs International ROCKABILLY HALL OF FAME Show," to be aired July 31st in 225 cities in all or portion of Illinois, Tennessee, Kentucky, Arkansas and Missouri, is in production. Artists to be featured on this 30-minute program, are: Mack Stevens, Sonny Burgess, Curtis Gordon and The Rimshots. The reaction to Lou's first show, broadcast in June, has been very positive. For more information regarding syndication or interviewing/performing contact: Timberwolf Productions, P.O. Box 821, Cape Girardeau, MO 63702 USA, (573) 335-5712 Phone, (573) 335-7365 Fax. E-mail: twolf@1dd.net e-mail - Originating station, KFVS, Cape Girardeau, MO.


URGENT! Isabelle Birot (a French student) is looking for rock'n'roll specialists, amateur and professional musicians, music teachers, or simply people having a knowledge of sol-fa. She is writing a thesis on R&R techniques, a sort of bilingual dictionary (English-French) with definitions and explanations. Her work has to be finished before late September and many questions are still to be solved. In order to know how to help, contact: ISABELLE BIROT/117,rue St Exupe'ry/59139/Wattignies/FRANCE or send email to: isabellebirot@minitel.net



TIPS ON GIGGING. You need to work your music career like a politician works his campaign. Musicians are a lot like politicians. Getting to know your potential fans on a personal basis is still the way to get people to do what you ask. It's easy to think you're working hard by sending out 500 unsolicited packages to labels or sending a bulk email to about a new gig to fans, but that's just a waste of time for the most part. If you want to make a living in music, you need to do something every day to put things in place so that it will happen for you. Sitting around and waiting for that A&R guy to hear you on a European radio station and phone you up with a $1,000,000 contract isn't going to work. Having the next show you do come off great will.
TWO STEPS TO INCREASE ATTENDANCE AT YOUR NEXT GIG:
1. Start visiting the clubs you play a couple of weeks ahead of time and get to know the people in the audience. Hand them a demo tape, a flyer, or a matchbook. Make sure it has the number for your band's info line on it! Spend a little time with them and get their address to add to your mailing list if they seem interested in local music.
2. A week before your gig, send out postcards* to the people that you met with a personal note thanking them for supporting live music and reminding them about the upcoming show. Even something small like "Hey, Tina!" will work wonders. Just make sure it's personal!
*About postcards: You can make them very cheap at Kinkošs. Print out all the info on a single sheet, have them reduce everything to four per sheet, print everything on postcard stock, and have them cut. They should run you no more than a few cents each. That's it! A hundred or so postcards and a few bucks for stamps and blank tapes might not sound like a lot, but I promise you any money invested in a promotion like this will come back to you in the form of increased gig attendance and merchandise sales. Then you can do it again next week!
The music business is not rocket science. You make a product, you distribute the product, you promote the product, and people purchase the product. Don't be afraid to be aggressive. If you are, you'll be ahead of 90 percent of the bands out there. -Dave Hooper: dave@kathoderaymusic.com - http://www.getsigned.com/dave08.html



The upcoming Elvis Presley three-CD box set Artist of the Century contains 75 of the rock icon's career-spanning hits. The liner notes include comments about the King by rockers Rod Stewart and Bruce Springsteen, late conductor/composer Leonard Bernstein, late Beatle John Lennon and former President George Bush. Slated for release July 13, the RCA Records set will retail for $49.98 for CDs and $39.98 for tapes.

Elvis Presley Hawaii Shows Due On Video. Elvis might be dead, but his market will probably never be. Two 1973 Hawaiian performances -- including Presley's televised Aloha from Hawaii, Via Satellite special -- are being re-released on video by Lightyear Entertainment (distributed by Warner Home Video) on Aug. 31 with remastered audio and video. The Aloha video will also feature a performance of "No More," which has never previously aired or appeared on video. In addition to the Aloha special, Lightyear is reissuing the Alternate Aloha Concert, an 18-song dress rehearsal taped two days prior to the TV special at the Honolulu International Center. The audio and video enhancement of the two tapes, supervised by the Presley family, includes remixed and digitally mastered sound as well as frame-by-frame digital correction and optimization of the picture.



BRIGITTE HANDLEY RED HOT & BLUE CD AVAILABLE NOW. $13-00 Aust, plus postage. E-Mail sixty@geocities.com or write Brigitte's CD PO Box 758 2795 N.S.W Australia



HEY LOOK! Sleepy has a new booking agent: Marc Mencher.



Intel and M-TV are joining together and will be broadcasing audio and video world wide on www.digitalclubfest.com every show from LEGENDS LOUNGE here in LAS VEGAS that means that since KATS LIKE US put shows on there every thursday night that all of our shows will be broadcasted too. This can mean alot for those bands that are serious about there music and band. They can be seen on a very big scale not to mention the sells of there CD's over the internet. This all will start on JULY 22nd. so if you can tune in you will see DRAGSTIP 77 , THE GRAVEYARDFARMERS & THREE BAD JACKS. For more info, e-mail: TheTexasGonzo@webtv.net



George's Wreck Update: NASHVILLE, Tenn. (July 1, 1999) The smashed-up sport utility vehicle formerly owned by country music singer George Jones was dangled from a crane near a highway Thursday to remind people that drinking and driving don't mix. Jones nearly died when he smashed his 1999 Lexus into a bridge in March, and later pleaded guilty to driving while impaired. The wreck was bought for $22,000 from a scrap yard by a local physician, who was persuaded by the group Mothers Against Drunk Driving to hoist it near Interstate 40 with a sign saying, "Don't Drink And Drive." "A lot of people crowded around to look at it when they raised it up," said Ed Jordan, a salesman at a nearby carpet store. "You can't miss it from the highway."



Quesion;Why are artists and writers often called Bohemians?
Answer: Take an offbeat lifestyle, long hair, and poetry. Mix it with a little wine, sidewalk cafes, maybe some wild music and a desire to wander. Add a dislike for the nine-to-five world of "squares." We might call people who live that way hippies or beatniks, but years ago they were just Bohemians. Well, actually, they weren't. The French called them that because they likened them to Gypsies, thought to have come from Bohemia, part of the Hapsburg Empire that later became part of modern Czechoslovakia. However the French were mistaken. Gypsies originated in the Caucuses. But by the time this became known, Bohemians had become the conventional name for unconventional people, and who but Bohemians can buck convention?



June 29, 1999 - Country music singer Vern Gosdin is recovering from his second stroke.  The 64 year old singer suffered the stroke on Wednesday while driving home. He remained hospitalized over the weekend, but is said to be in stable condition and doing great. Gosdin suffered paralysis on his left side after his first stroke in 1995.  Gosdin is expected to return home sometime this week.



New book in tune with 'Grand Ole Opry' - Music show serves up 'songs from the soil' When hard-drinking fiddler "Uncle" Jimmy Thompson drove out of the Cumberland Plateau and into Nashville to perform on WSM Radio on November 28, 1925, he had no idea he would be ushering in a country music tradition that has lasted to this day. Click here for the complete book review



Here's the initial listing of artists that are scheduled to perform at VIVA lAS VEGAS 2000:
From: Amos Clarke - amos@studio28.net - http://www.vivalasvegas.net
&nbspThe Barnshakers - Finland
&nbspBig Boy Bloater - UK
&nbspBovine - New Mexico
&nbspRip Carson & the Twilight Trio - California
&nbspRay Condo - Canada
&nbspDeke Dickerson & the Ecco-Fonics - California
&nbspDragstrip 77 - Nevada
&nbspEddie & the Flatheads - Sweden
&nbspVernon Green & the Medallions - California
&nbspDarrell Higham - UK
&nbspHaystack Hitones - Holland
&nbspRaging Teens - Boston, MA
&nbspRonnie Hayward -Canada
&nbspHigh Noon - Exclusive Appearance - Texas
&nbspNo. 9 - UK
&nbspThe Planet Rockers - Exclusive - Tennessee
&nbspStarliners - Australia
&nbspAndy Starr - Arkansas
&nbspJimmy Sutton's 4 Charms - Chicago
&nbspTexas Shakedown - UK
&nbspThree Bad Jacks - California
&nbspLew Williams - Texas




Miss Red Hot Dixie has a few of the official shirts from RRW #7 for sale. She has several styles to choose from. For info please contact her at REDHOTD@juno.com
Tanks and Baby tees, $8.00
Mens T's, $8.00
Workshirts, $12.00
Shipping, $2.00
Limited Quantities, First come first served.



Johnny Dilks is featured in the June HighTone Newsletter



THE FIRST INDY '99 REVIEW we will publish. See Del Villarreal's look at RRW#7.



Red Peters and her Solid Senders News Up-Date for July and August 1999
DOUBLE BASS BLUES!
Red and the boys need a new double bass player, pretty darn quick! If you can play the bass and dig 50's R&B then give Red a ring; (01252) 617923. The successful cat needs to be professionally minded and have a cool haircut, you dig?
RED PETERS MEETS BIG BOY BLOATER!
The forthcoming 6 track C.D release featuring the teaming up of Red Peters and Big Boy Bloater should be ready for release by August this year. This hot R&B C.D will be released on the Spindrift label; SChap88729@aol.com Check it out cats, it's a killer diller!!
RED PETERS ON TV!
Apart from shoutin' the blues Red Peters also works as a background actress. Watch out for her in I.T.V's Bad Girls and also the new film called "Nottinghill". - (RedPeters@Culshaw.dircon.co.uk)



Authentic Zombie Hotrod Wear's 1st Annual Sideburn Circus August 21, 1999 12:00 noon, Travel Lodge Hotel, Bakersfield, California, info: 661-281-4864.



ROD PYKE e-mailed Sammy re the questions people were asking yesterday and Sammy was only too pleased to provide the answers. Sammy is very keen to do a tour of Europe and if anybody is interested in booking him please e-mail me and I will forward your e-mail address to him.
SAMMY'S REPLY: Hi Rod, I would like for you to forward my answer re Pink Cadillac. I wrote Pink Cadillac in 1955 and recorded it for 4-Star records in early 1956. During that same period I wrote and recorded on 4-Star, Some Like It Hot, Whop-T-Bop, Flat Feet, 2-Rock-a-4, Angel, My Heart Is a Hobo, Jodie, If I could See The World Through The Eyes Of A Child, and Tall Grow The Sycamore. Prior to 4-Star I wrote and recorded on 78rpm, Lost Little Nickel In The Big Jukebox, May I Call You Darling, Crazy River, and Aint Got You. After 4-Star I wrote Rockin' Redwing, Lonely Weekend, Charlotte In Her Pink Corvette. I recorded these songs plus Never written by Terry Fell who owned Lode Records. Johnny Todd was an alias the record company wanted to use because of contractual concerns. Sammy Masters and Johnny Todd are one and the same.
I am still playing and writing and have new recordings of songs I wrote in the 50's and early 60's.I hope to be able to tell you when they will be released in the near future.I am purging my garage files filled with many tapes and acetates from the 50's.I believe you will find them very interesting.Keep on Rockin' and keep on asking questions.. the answers you get may be good for your soul and great for rock'n roll (rockabilly that is). Best Regards, Sammy Masters



QUESTION: I was hoping that one of you kats could give me some information on a 78 I just found. It is a Rhubarb Red on Montgomery Ward numbers 8012 with Just Because and Deep Elem Blues. The credits for both the songs include J. Attlsey so I was wondering if he was Rhubarb Red or if the guy just took two songs from the same guy. Also any information on the age, first recording of those songs, or anything else about the record would be helpful. -Thanks Aaron Pope
ANSWER: Hold on to your hat, because Rhubarb Red was (and is) none other than Les Paul! Les was 18 when he made those records (his first sides as a solo performer), which were supposed to be issued on the Decca Champion label but never got out, except on the Montgomery Ward disc you found. The J. Attlesey you find as the author of the songs is Joe Shelton of the Shelton Bros. The records were made on May 20, 1936 in Chicago. Les Paul was using the pseudonym Rhubarb Red on WJJD radio at the time in deference to his friend Claud Moye, who was known as Pie Plant Pete. Shortly after this session, Les joined Fred Waring, got exposed to Django Reinhardt, and his own familiar style began to emerge. -Cary Ginell



Hardrock Gunter Returns to the Stage




Preview of November's "Rhythm Riot"




FROM KEN KEENE: "We were saddened to hear of the death of our dear friend and client, Screaming Lord Sutch. David Sutch was a real rock n' roller with a bizarre twist. He was also the founder of the Britains's Official Monster Raving Loony Party. He committed suicide, and was found in his home in Northwest London. A spokesman for Prime Minister Tony Blair said, "Screaming Lord Sutch will be much missed. For many years he made a unique contribution to British politics. His recordings were released in the USA through Atlantic Records, and we at Sea Cruise Productions, Inc. were proud to have represented this great rock n' roll artist in the United States."



MARCO DiMAGGIO and BOB MOORE at Nashville's RCA Studio B, May 1999. Also pictured, Masha and Bob Timmers. A limited number of Marco's new Eddie Cochran Tribute CD is now available in the US.



GHOSTRIDERS. based Northampton, England, back together after 22 years away! The ghostriders were there at the begining of the 1970's rockin' revival, along with northampton buddies the jets, we were all young then. now back to haunt old friends and new, web-site now being organized. Peter Greenhow" - peter@ghostrider58.freeserve.co.uk



Phil & Shaun's DAVE EDMUNDS' page is another work of art! "I've secretly been a fan of Dave's music since I first heard it, enjoying every song he recorded. In my opinion, he too, helped carry the rockabilly torch through the 70's." -Bob Timmers



Rockin'50s...Everything You'd Like to Know... Bill Griggs now has a website. Bill started the Buddy Holly Memorial Society back in the '70s, and currently publishes a magazine called Rockin' 50s. He is also on radio in Lubbock, TX, nightly which you can hear on the Internet at www.KDAV.com. He had left the station but is back again.



ELVIS TRIVIA. Before he was king, in 1956, thirteen years before he became a star attraction in Las Vegas, Elvis debuted in the gambling mecca at the New Frontier Hotel, where he was billed as "The Atomic Kid." The supporting act to comedian Shecky Green, Elvis bombed.



Question: How did blue jeans get to be "blue jeans?"
The Answer: Jeans may be as American as apple pie, but the name comes to us from the land of pasta, via the land of croissants. The cotton cloth once used in work clothes was made in Genoa, a place that French weavers called 'Genes.' The name stuck to the pants, and all that was lacking was a designer label. During the nineteenth century California Gold Rush a young tailor named Levi Strauss sold his jeans to miners. (He made them from a French cloth called serge de Nimes, from which we get "denim.") Strauss died the jeans blue so that dirt wouldn't easily show on them. All this so you would have something comfortable yet stylish to wear to school or after work.



The fully updated and expanded edition of Modern Twang: An Alternative Country Music Guide & Directory has just been published by Dowling Press (they put out the No Depression anthology last year). The updated Modern Twang has over 100 new artist profiles and lots of new information on alt. country labels, publications, web pages, online mailing lists, venues, festivals, and radio shows world wide. Over 400 pages full of all things Alt. Country! Modern Twang is available through:
Dowling Press
1-800-243-9230 (US)
1-615-340-0835 (fax)
Mrygln@aol.com
Miles of Music
1-888-766-8742 (US)
1-818-992-8302 (fax)
Milesomusc@aol.com
or, check with your local book and/or record stores.



New in paper - GO CAT GO!
Rockabilly Music and Its Makers by Craig Morrison
This is the first comprehensive overview of rockabilly, beginning with its crystallization as a distinct style in 1954 with Elvis Presley's first release. Presenting the who, what, where, and when of the music, Craig Morrison's lively account will bring back memories of "Blue Suede Shoes," "Be-Bop-A-Lula," Jerry Lee Lewis, Buddy Holly, and more.



GENE VINCENT ON VIDEO
US suppliers:
Video Beat
351 Kiely Boulevard, Suite 301
San Jose, California 95129
USA (telephone 408 260 0266)
can supply NTSC (USA format only) videos of "The Girl Can't Help It", "Hot Rod Gang", "It's Trad Dad", "Sing and Swing"(original UK title "Live It Up"), "Don't Knock The Rock" (mid 60's UK TV Special featuring Gene, Little Richard, Jerry Lee Lewis, etc), and "The Rock 'N' Roll Singer" (UK documentary about Gene's '69 UK tour).
BETTER QUALITY "Hot Rod Gang" video, available in ALL formats, is available from:
The Fang
PO Box 3333
Main Post Office Floral Park
New York 10116 USA.
Anyone wanting to buy European format videos from a UK supplier get in touch with:
Marleigh Enterprises
PO Box 1553
London W7 1ZE UK
Tel 0181 423 3158 (UK) 44 181 423 3158 (outside UK)
They can supply "The Girl Can't Help It", "Hot Rod Gang", "It's Trad Dad", "Live It Up" and "The Rock 'N' Roll Singer". They can supply in ANY format including Betamax!
Courtesy: Derek Henderson (henderson_1999@yahoo.com)



Grady Martin / Bob Moore / A Team
Message Board




RIMSHOTS RECIOEVE MAJOR AWARD
Mega excitement here in UK because the Rimshots (and fellow hillbilly rockers Rusti Steel and Tin Tax) have won the prestigious Album Of The Year in the British Country Music Awards. This is for their superb album (lp and cd) Tribute To Hank Williams Bebe Records BEBE004. Since big names like Reba Mcintire also won awards this is a real big deal here (bit like if say Big Sandy won a CMA award). The award was announced on BBC national Radio tonight and there was an interview with Rimshots singer John Lewis. This is the first time any 50s bands have won an award like this. A Welsh band, an English band, recorded an album of Alabaman Hank Williams` songs (and two original tribute songs) on vintage equipment in Wales most famous live venue the Kings Hotel, Newport (where JLL, Carl, Sonny. Billy Lee, the Hawk, Mac, Jack Scott etc have played), and it was released on a German 50s label! It gathered great reviews in rocking and country mags and got airplay on the BBC and specialist indie shows. no wonder artists like Narvel Felts, Mac Curtis (who recorded with the Rimshots in Wales), Glen Glenn and Merrill E Moore ask for the boys to back them. Some of the Rimshots are involved in recording a country album with famous Irish rock star Van Morrison. All augurs well for the future for Europe`s top band. Both John and Paul Crosby (Rusti) have been hugely influenced by Hank and this project was a heartfelt labour of love. Congratulations to both bands for reminding all the dreaded line dancers of the hillbilly roots of the world`s best selling music form. check out the Rimshots HOF page.
A review of the cd is posted on the Phil & Shaun Show page.
-Phil Davies/UK HOF reporter



"CRAZY LOVIN' DADDY," NICK GILROY KOMBO
Contact: Nick at 52 Woodhall Lane, Welwyn Garden City, Herts, AL7 3TF, England. Tel/Fax: 01707 325533



Story on Mel Torme's Death - Also see Mel's photo w/Johnny Vallis.



The Atomics third CD 'Atomic Age' has just been released on Jungle Records with U.S. distribution through Hepcat! Custom Built Magazine (Finland) has already raved. "...excellent band!!! Very original sound and style...rockabilly of the 90's. And in that (or any other, really) category, they are one of the best...every song here is a gem. And they now how to rock..." while Original Cool (U.S.) adds "The Atomics just keep getting better and better...find out just why the Atomic Age is now!" Don't miss this great new release, and don't miss the Atomics at RRW #7 in Indy, June 17-19th!!!



Ex-Stray Cat Slim Jim has opened a bar on Sunset Strip "The Cat Club," 8911 Sunset Blvd, L.A., C.A 90069 (310) 657 0888. The Bar is open 7 days a week it is free admission plenty of parking in the rear. Monday nights starting June 7th will be Rockabilly night with drink specials and rocking sounds all night.



Frankie Ford and His New Orleans Dynamo Band Appearing at THE CHRIS OWENS CLUB, Bourbon Street at St. Louis, in the Heart of New Orleans' French Quarter. Phone (504) 523-6400. Every Sunday, Monday, Tuesday & Wednesday Nights. Starting Sunday June 13, 1999. Frankie Ford, the R & B and Rock n' Roll Legend Brings His Exciting Show To The CHRIS OWENS Club. Hear Him Sing All His hits including "Sea Cruise" "You Talk Too Much" "Time After Time" "Gone" "Whiskey Heaven" and so much more!



Lee Rocker will perform at The Fenix on Friday and Saturday, August 6 and 7. He will open for Royal Crown Revue. Info on advance ticket purchase, directions, etc. http://www.fenixunderground.com



FRANTIC FLATTOPS RELEASE THIRD ALBUM. Among the seemingly innumerable rockabilly, swing and roots bands to form during the past several years, many can be called good, but only a few can claim to be great. The Frantic Flattops fit squarely in that category. Rock 'n Roll Murder is the Flattops'"junior" effort, their third album, and it's another fully formed chapter in the band's fascinating and joyful evolution.
On Rock 'n Roll Murder rockabilly riffs morph into metal on "Lowdown," then careen into walls of Sex Pistol's style punk on "All I Wanna Do." Frantic Frank DeBlase and crew veer off into swing territory, complete with gorgeous horn arrangements, on "Sugar Daddy," while DeBlase's voice steers through the band's varied musical landscape like a teenager on a joy ride. He screams like Bon Scott one moment and croons like Elvis the next on the western ballad, "Trail of Tears." There's a story in the album's diversity that gives the listener the feeling this band has done some serious living and some serious playing. DeBlase finds beauty in desperation on hard-luck ballads like "Mark of the Squealer," and "Redemption Blues," where Sunday night becomes a time of serious reckoning." Check out the Flattops--live or on disc--and you'll know that while today's swing may be a passing fad, rock and roll, Frantic Flattops style, is here to stay. Contact: Stacey L. Duncan, sduncan@flash.net




Following is a copy of Lord Geoff's e-mail letter to the Country Music Hall Of Fame web site:
Yes this has the potential to be a great site especially for lovers like me of anything Studio B in the fifties and sixties. Regrettably one of the major blunders made by the people of The Country Music Hall of Fame is their total lack of recognition of the musicians who made Nashville recording the special thing it is and always will be. The team of musicians who comprised of Bob Moore, Grady Martin, Hank Garland, Harold Bradley, Buddy Harman and Ray Edenton are collectively known as The Nashville A Team. What saddens me mostly is that I am several thousand miles away in England and recognise this misjustice done by the people who administer the Country Music Hall of Fame. They still do not give the recognition due to the "Superb Six". Mind you the recording companies are no better. These gentlemen have been on over 15:000 recordings. I will just repeat that statement, "EACH OF THESE GENTLEMEN HAVE EACH BEEN ON OVER 15,000 RECORDINGS" and I think it high time their contribution be recognised by RCA, Decca, MCA or whatever the politically correct current name is at the moment. How about an honouree Gold Disc for each of them as a very belated gesture?. Or permanent Gold Stars in a walkway leading into the museum?. Not much to ask for is it after the years of service these guys gave not forgetting the hours of pleasure they have given to your and my ears!! I thank you for telling me about: http://www.halloffame.org and can I tell you in return about: www.nashvillesound.net - I would be very obliged if this site can be passed on to everyone you know and just tell them Rockin' Lord Geoff said to mention him when signing the Guestbook. and that's the bottom line because Rockin' Lord Geoff said so!



Lisa Marie Presley Working On First Solo Album Lisa Marie Presley is working on her first solo album in a Los Angeles studio with producer Glen Ballard (Alanis Morissette). The daughter of Elvis Presley is expected to release the effort sometime next year. A title has not been announced.



The lyrics to some of Buddy Knox's more popular records, as well as many, many other songs, can found on the excellent lyrics server at Lyrics World. Go to: http://lyrics.natalnet.com.br/



CLEANING 78s. If you want to do some serious cleaning there's a system called The Disc Doctor's Miracle Record Cleaner. You can use it on LPs, 45s, Shellac and Plastic 78s and Edison Diamond Discs. You get two brushpads and cleaning fluid. Fist you clean 'em with the fluid and then you rinse 'em. Their e-mail is lanyap@inlink.com



J-Bird Records will be releasing Lee Rocker Live on June 22. CD recorded live during several So. Cal. gigs last year. Produced by Lee Rocker.
Lee Rocker- Vocals, Bass
Adrian Demain- guitar
Brophy Dale- guitar
Jimmy Sage- drums
Tracks:
1) Restless (Carl Perkins)
2) Love Me Good (L. Rocker)
3) That's All Right/ Blue Moon of Kentucky/ Eastbound and Down (A. Crudup/ Bill Monroe/ Jerry Reed)
4) Mind Your Own Business (Hank Williams)
5) The Redneck Momma (Paine Bros.)
6) Miracle In Memphis (L. Rocker/ J. Phantom)
7) Everybody's Tryin' To Be My Baby (Carl Perkins)
8) Please Don't Touch (H. Robinson)
9) Little Piece of Your Love (Leon Russell)
10) Little Buster (L. Rocker/ Mike Eldred)



The Blue Moon Boys have posted a very hard to find track, Mean As Hell, to mp3.com, for all you guys to pirate... You can get to the song, and download a player at: http://www.mp3.com/artists/22/the_blue_moon_boys.html. The Boys have worked up a skull-bending entry to the Tom Petty contest that's sponsored by MP3.com, so we'll letcha know when it's posted, and you can vote on it. AND, here are a few nice cyber-words from Cub Koda @ AllMusic.com... http://www.allmusic.com/cg/x.dll?UID=3:46:31|PM&p=amg&sql=A352549



Crown Electric, of Lexington, KY, presents "Rockabilly Opera" (Rollin' & Tumblin'), a collection of 10 original songs and three covers, the latter so obscure as to seem original. Since the CD's release in May of 1998, it has received critical acclaim from near and far:
Blue Suede News says: "'Their Rockabilly Opera' is perfect, catchy songs with a variety from laid back Rockabilly to rockin' Rockabilly Boppers and neat Country songs." (Fall 1998, Issue #44).
Lexington's ACE Magazine describes it as, "No duds here, just a straight shot of 100 proof rockabilly" (June, 1998).
"Rockabilly Opera" is available through most online vendors, including Hepcat Records!



BILLY ADAMS, veteran rocker from Kentucky recorded at CD at Sun Studios last year. Billy's backup band is the "New Rock-A-Teers." The CD, on the Eagle label, will be released soon. The Rockabilly Hall of Fame will have Billy's website up within a few weeks. His reflections are refreshing, like using two doghouses on stage at one time and recording with a mike in a barrel to get the echo he wqnted. The Rockabilly HOF label may pick up Billy's CD for American fans. Bob Timmers had heard two tracks and says, "about the closet thing to capturing the 1955 Sun feeling I've heard yet. I can't wait to hear the remake of 'Rock Pretty Mama.'"



MALCOLM YELVINGTON, 83, Memphis, is recuperating from a broken collarbone.




DICKIE HARRELL is going commercial. He is offering is own brand of autographed drum sticks. For more information on ordering a set or two contact ol' "Be-Bop" himself at:
Dickie Harrell
4113 Raven St.
Portsmouth, VA 23702-1701


More on Dickie. The following can be found on the liner notes of Max Weinberg's "Let There Be Drums" CD (Vol. !, The '50s):
"In Gene Vincent's 'Be-Bop-A-Lula,' an undeniable rockabilly classic, Vincent's Blue Cap drummer Dickie Harrell demonstrated that it wasn't necessarily the volume of the beat that made it work, but the manner in which it was delivered. In 'Be-Bop-A-Lula,' a Top 10 hit in 1956, Harrell used brushes instead of drumsticks and created a sexy, circular snare drum rhythm. He moved the song along with innuendo and cool dynamics. A very hip drum part, it's a perfect example of the way restraint in drumming can give the music momentum and power."




The Skully Records CD release show is set for Saturday, August 7th at CBGBs, 315 Bowery, NYC (212) 982-4052 Bands will be announced soon.



Saturday, May 22 from 3:00pm to 6:00pm Pacific Standard Time, there will a three hours ROLLIN' ROCK radio show special on station KFJC, 89.7 FM, with your host Big Myke Destiny on his " The Big Guitar Show". Ronny Weiser will be interviewed live throughout the program. The program can also be found on the Internet at: www.kfjc.org - Myke is currently getting a lot of requests for tracks out of Mack Stevens' "Hardcore Texas Cat Music" on Rollin' Rock CD-101. The radio station KFJC covers the whole San Francisco Bay area, so Rollin' Rock fans there, and also fans of Savage Sensual American Rock, be sure to listen in!



Recently found photo from the Capitol archives. Courtesy: Harley and the R/Billy gang.



TOINI & THE TOMCATS: Going Wild is Norwegian rockabilly band Toini & the Tomcats' second CD. Recorded live in a studio in no more than two days it captures the true spirit of wild and untamed Rock'n'Roll. This unusual recording presents original material written and performed by Norway's finest, and one of the world's hottest rockabilly acts these days.Toini & the Tomcats are heading for their third trip to the States in October 1999, after having visited North Dakota, California, Nevada and New York earlier. This year they will be at the Greaseball in San Francisco. 1999 will also see Toini & the Tomcats appearing in Aitoo, Finland (59th Rock'n'Roll Jamboree), the first ever danish rockabilly festival in Randers, Denmark and on 50's Day in Breda, Holland. A gig update and lots more, you'll find at their webpage, http://home.sol.no/~aertnaes/ttchom.htm To order, contact Hepcat Records, customerservice@hepcatrecords.com



Wanda Lust Reports: (wandalust56@hotmail.com) - UK UPCOMING WEEKERS! I am spreading the word!

Hemsby 23 - 6-11 Oct 1999.
Marvin Rainwater, Bobby Wayne, Jack Earls, Glenn Honeycutt, Don Weise, Riley Mc Owen & The Sleazy Rustic Boys ,Don Caveli & The Two Timers, The Crystalairs, Round Up Boys & Spo-De-O-Dee, Rusti Steel & The Tin Tax, The Skiprats, Jumping Jacks, The Railmen, The Sureshots, The Avengers, The Bus Stop Boys, Big Rumble, The Rockabeats, The Skatterjacks.
Enquiries - 01522 509 067.

The Rockabilly Rave - 12-14 Nov 1999.
The Raging Teens, Jack Baymoore & The Bandits, Marti Bloom & her Jet Tone Boys, The Ranch Girls, The Smiths Ranch Boys, The Blooming Brothers, Little Boy Arnold, Jump Cat Jump, Hot Rhythm n Booze, The Wild Gonners, Eva Eastwood & The Major Keys.
Enquiries - 0181 642 2896

Cleethorpes 2nd Rockabilly Weekend Party - 18-22 Nov 1999
The Big 6, The Space Cadets, One Track Mind, Scatterjacks, Infernos, Wild Katz, Road Runners, HICKSVILLE BOMBERS, Sureshots, BLUE DEVILS, Bus Stop Boys, Hypa Jacks, Darrel Higham & The Enforces, Crazy Wolves, The Sundowners, The Rimshots, Skiprats.
Enquiries - 0117 955 3629

Rhythm Riot - 26-29 Nov 1999
Big Jay McNeely, Marvin & Johnny, Joe Houston, King Pleasure & The Biscuits Boys, The Tennessee Rhythm Riders, Da Gous Ket Ramblers, Nappy Brown, Big Sandy, Kenny Wayne, The Travellers, Imelda,The Rhythm Riot Session Men, Ray Stubbs & His Amazing One man Blues Band, The Del Rios, the Enforcers, Jack King & The Aces, The Avengers.
Enquiries - 0181 566 5226 or 0181 642 2896




The technology exists to play records with a laser turntable, which eliminates clicks, pops, and plays even worn records as if they were mint. The turntable is available to the public. (Even though the record is played with a laser, the signal is 100% analog) Read about it on: http://www.elpj.com/


NEWS ITEM: Old Pop Stars' Bill of Rights, Truth in Rock Act Takes On Impostors By Paul Farhi, Washington Post Staff Writer.



Rob Crowe has put a page together of links to all the rockabilly bands guestbooks he could find, so if you wanna leave a public message for one of your favorite bands, or the ones you hate, whatever, but don't wanna bother surfing to find them, visit Rob's page.



Glen Glenn Album. Dave Travis issued a new 10"lp on Stompertime at Hemsby. Glen Glenn Missouri Rockabilly 54-59, STEN 5, fab cover of glen and gary in check shirts on stage 54, and pics of Elvis, Fred Maddox and Mr. Cash with Glen on back.
14 tracks are (with rec. first pub. date)
Everybody's movin 99
Don`t You love me 57
Kathleen 99
Blue Jeans & a Boys Shirt 99
Alone With You 60
Jack & Jill Boogie 55
I Made A Mistake 57
Blue Jeans etc (alt) 99
One Cup Of Coffee 98
Laurie Ann 99
Would Ja 98
I`ll Never Stop Loving You 64
That's Allright Mama 55
John Henry 55
Dave says in notes "Glen's fans are in for a treat, as there are alts. of some of Glen's best known songs along with some earlier recordings of Glen and Gary as the Missouri Mountain boys". A review (eventually!) will appear on the P&S page RHOF in near future. Bim Bam has the lp in stock.



DEDICATION. Narvel Felts pictured with dedicated fan Faye Huffman at Hemsby 22, England. In the last year and a half Faye has seen over 40 shows and travelled over 40,000 miles to do so. Rockabilly needs more dedicated fans like this.



Rollin' Rock recording artist MACK STEVENS is currently on his US '99 Spring tour. Bring Mack and his unique stage show to your town and your venue. Contact The Hall of Fame Talent Agency (520-753-7693 or e-mail: wwhack@ctaz.com) for Mack's open dates. You'll be glad you did!



Rag Doll Prods. is seeking RAB bands for D'Lila, tragic love story, in the Romeo & Juliet genre, with a TWIST.. Shooting mid June... Looking for bands for club scene and for soundtrack... Lot's of exposure.. Those interested should send promo packs/CD's or Demos to: Rag Doll Prods., PO Box 1321, Studio City, CA 91614 - Attn: Crystal. Also looking for people for club/party scenes... Extra's and Under 5 lines. Please send photos to same address.



PAUL EVANS INFORMS: "I thought that you might be interested to know that "Midnight Special" has just wound up in a spectacular fifty-song, three CD set from BMG, 'Love, Peace and FOLK-ROCK HITS of the 60's and 70's'. It's loaded with "folksy" hits and, of all things,'Midnight Special' is probably the 'Rock-a-billiest' of them all. Anyway, with all the super hits and big stars involved, I'm flattered to have been included in it."
NOTE: The CD has been released by BMG Special Products and the CD ID# is listed as DRC32293 and DRC32293A.



GLEN GLENN REPORTS from the UK: "For the first time ever Hemsby was sold out! It was estimated over 4000 were in attendance." The Rockabilly Hall of Fame will post the full story within a few days.



Charlie Louvin of Louvin Brothers fame had an accident that severed the ends of some fingers on his left hand. We're sure he would appreciate a kind word or two from any of his fans. e-mail address is charlie@clouvinbros.com



Help promote and spread the rebirth of Pig Latin. Send a Pig Latin E-mail to someone. ankthay ouyay.



Double Wide Hayride Show. Gus and Mr. Lucky host this radio program that airs every Tuesday evening, 7-to-10 p.m. (PST). They play rockabilly, country, hillbilly boogie, western swing, bluegrass, shoot, tons of good stuff!



91.1 FM KNAB RADIO CHAPMAN UNIVERSITY presents ... ROCK-O-MATIC INVASION!! a new college radio show WITH SPECIAL GUEST DJ: SHORTY OF THE DAVE AND DEKE COMBO. HE WILL BE PLAYING HIS PICKS FROM FRIDAY 7 APRIL 1999 4:30-6:00pm PST, TUNE IN: ON CAMPUS: FM 91.1, WORLDWIDE: www.webradio.com/knab (preferred with Internet Explorer 4.0 or higher). CALL IN WITH REQUESTS TO: 714 516 KNAB or 714 516 5622. Note: this is a live audio stream, allow your computer a few mins to load the web-page!!



Razor & Tie's "west coast country" music contest. A trivia contest where the winners get free music and posters. The grand prize is the whole 'Swing West' collection. Three volumes of classic country music.



DO YOU WANT YOUR RECORDS FOR SALE IN FINLAND? Send information about dealer's prices & band + possibly a demo or a sample record to: CRAZY LEE RECORDS, Sami Savolainen, Gyttja, 21650 Lillandet. FINLAND. E- mail: kingdrapes@hotmail.com - Sami Savolainen



New photos have just been posted to the Big Sandy & His Fly-Rite Boys web site which were taken at the recent Bimbo's Record Release Party in San Francisco. They can be found at http://www.bigsandy.net/snapshot.htm



Ike Turners's biography (several years in the waiting) is finally being published. Scheduled for May release in Europe, from Virgin Publishing - supposed to be available in US sometime after that. The Ike Turner Article: For those of you outside the reach of the Daily Telegraph, Rob Crowe has archived a copy of the Ike Turner article at Rockabilly Central, read it at http://www.rockabilly.net/articles/iketurner.shtml



Johnny Cash has recorded more than 400 of his favorite Scriptures for an upcoming line of electronic Bibles. Cash will narrate the desktop version of Franklin Electronics' King James Bible due out in July. He has been a spokesman for the Burlington, N.J.-based company for six years. "I am honored to lend my voice and share my favorite, hand-picked passages from the Scriptures with other daily devotionalists," Cash said in a statement.



"Johnny Cash Carries On" By Brian Mansfield, Special for USA TODAY



NARAS, the Recording Academy, has added 186 recordings to its Hall of Fame, which now numbers 449 titles. This year's inductees include John Lee Hooker's "Boogie Chillin'," Johnny Cash's "Ring Of Fire," Chuck Berry's "Johnny B. Goode" and Ella Fitzgerald's album "Ella In Berlin." The Hall of Fame Awards were established in 1973; ballots are open to recordings at least 25 years old.



"Babe Society" at Viva Las Vegas '99 - a few photos!



The first upright bass pickup designed for rockabilly slap is now available. Bob Gollihur from K & K Bass in New Jersey has designed this phenomenal pickup with a specialized bridge and fingerboard pickups plus a two channel preamp that delivers your favorite balance of bass and slap to punch through the mix. Bob sent one to Lance "Romance" Bakemeyer of the Hillbilly Hellcats, and Lance shared these comments for Gollihur's ad: "I am a believer! After several more gigs with the K & K Rockabilly pickup, I am convinced that it is the BEST one on the market today for accommodating the rockabilly slap bass player." You can check out this fabulous pickup at www.gollihur.com/kkbass or for more information on this very reasonably priced pickup you can call 609-624-1470. You can also contact Bob at kbass@gollihur.com - snail mail is R. Gollihur, Seven Baywyn (D), Ocean View, NJ 08230 USA



JOE BENNETT REPORTS: "The Tones (Sparkletones) recently had the annual Rock n' Roll Bash at Cannons Elemetary School where we had our first gig many years ago. It is always so fun to play with those guys. They have great chops and there is no doubt in my mind that we could hold our own with any of the groups out there...we are a "Show" band and still have the old values of entertaining people (Show must go on, etc)...vocal harmonies are awesome...maybe a little old but we can still stroll...the guitars are smoking...know what I mean?"
By chance, does asomeone have a connection with anyone who knows, or can get to, Tony Bennett?" - joebsparkl@yahoo.com



Rob Crowe reports: There is a new live video of the Treniers available. I've not seen it yet but once I do I'll share my opinion with y'all. In the meantime, you can order yourselves a copy by sending a check for $19.95 (plus $3.25 s+h) to Ken Sands, 6231 W. Churchfield Bl, Las Vegas, NV 89103.



Labor Day weekend, Sept 05, 1999 Sunday at Legends Lounge in Las Vegas, NV. The winning band will be recorded at Rollin Rock records with Ronny Weiser. If you are interested in participating, please send TWO promo packs to: Kats Like Us, 450 N Nellis #105, Las Vegas, NV 89110



A DIFFERENT LOOK AT VIVA LAS VEGAS...from the Main Floor Dance Hall
From: LEGJAW@delphi.com - April 3, 1999
Hi, Everybody,
Well, about now the show is winding down at VLV#2. And I have a confession to make. Being the procrastanator that I am (big time, folks, ask anyone who's been waiting for tapes, etc), I failed to register early for VLV#2, thinking I'd take care of it this week. Well, guess what? Yeah, you guessed it, they sold out before I made my way up to the registration desk. As a result, I am not privy to the shows this weekend.
Now, this is not all bad. I had planned to spend most of my time at the Rockabilly Hall of Fame booth, anyway, which is what I did today. I had hoped to see Janis Martin last night, but left prior to her show, so I'll leave that review up to someone else. I know Ronnie was there, so maybe he can fill you all in. My other hope is to see Marti' Brom Sunday night, and I'm working on that, so stay tuned. What happened last night was that Bob Timmers managed, at moment's notice, to come up with two guitars, a standup bass, amplifier, microphones and speakers, and we were treated to a jam session. Dave Crimmen, Tony Maserati, Bill Mack, Bob Timmers and Dave Hermsen all, at one time or another, managed to provide us with some really rockin' rockabilly music, on stage, in the vendor's area. Bill, if you don't already know, played with Gene Vincent's Blue Caps in 1957,and was the bass player. He's still got it, which he proved all night. One of the most wonderful moments was when he and Dickie Harrellson (also a Blue Cap) were reunited after 42 years. Yes, folks, they had not seen each other in that amount of time, yet the moment Dickie saw Bill, it was instant recognition. You had to be there, I suppose, but what a treat to see these two musicians get together again. Dickie did not play on the jam session due to the lack of brushes to play the drums, which Bob managed to come up with. My mission today is to find a set of brushes so we can witness Dickie on stage with whoever joins in on tomorrow's session. I would suppose most of you have already heard of Tony Maserati, and probably Dave Crimmen, too. Dave Hermsen plays bass with Bob Timmers on a regular basis up in the Fox Valley in Wisconsin, and has been an active musician since 1957. He did a really nice version of Johnny Cash's "Folsom Prison Blues" during the jam. The activity at the RAB HOF booth was exciting. Kay Wheeler signed photos, Mac Curtis stopped by to say hello, and we visited with many fans. I actually became a celebrity of sorts, as one young wench asked me for my autograph! Kim Lenz was looking over the vintage clothing, and did a fashion show for us. Lots of this stuff was captured on digital camera, and will be posted on the RAB HOF website soon. I want to thank whoever it was who leant their instruments for the jam session (I neglected to ge their names). I am very confused as to how Timmers managed to come up with a standup bass, I guess someone brought it along as their carryon baggage?! Believe me, this was true rockabilly, just like it was back in the fifties when it was invented. No electronic enhancments (not even drums, since we did not have any drumsticks or brushes, Bill Mack provided the timing on the standup, an instrument he hadn't played in many years. You were great, Bill). I've lost the program for the weekend's events, but since I'll not be able to attend most of them, who cares. Both Bob Timmers and I felt that we had the best seats in the house last night, and tomorrow may be even better, if I can just find those bruses and we can get Dickie to play. More to follow.
Bob Timmers adds: Well Dickie did show up in the main floor dance hall Sunday night and jammed with Bill Mack and myself are a couple of other rockin' cats that came up on stage. We did "Dance to the Bop," "Bluejean Bop," "B-I-Bicki-I Bo-Bo Go" and "Be Bop A Lula". During the later tune the entire stage was jammed with musicans and singers as we all chanted, "Be Bop A Lula, she's my baby" over and over. It doesn't get any better that this!!



SMALL WORLD DEPT. Back in the 70's my (Bob Timmers) NRS publicity printing company printed issues No. 2 thru 13 of Goldmine as it broke on to the scene. Well, founder and original owner Brian Bukantis has been back in touch. That's when I first contacted Rocnny Weiser. Here's what Brian has to say:
Dear Bob,
I stumbled upon your site and was surprised at the level of dedication. EXCELLENT WORK! Don't know if you remember me or not, but I founded and published Goldmine from 1974-1983 back in the early crude days (the best days) when we regularly featured "Rockabilly Uprising!" by Rockin' Ronny Weiser. Do you know whatever happened to him? Secondly, I have climbed out of my cavern to open up a record collecting auction site called - surprisingly - RecordCollecting.com -Brian Bukantis
NOTE: Brian is "THINKING" of resurrecting a printed collecting 'zine, but wants to cater to early rock, etc., like the original Goldmine was. He's sorry to say that he's just not interested in KISS covers, etc. Brian believe the type of stuff that was originally in Goldmine has long been left behind in terms of the current collectible printed product (i.e., "Goldmine", "Discoveries" etc), so if he can get some help he might try again! Let's encourge Brian, e-mail him at: brian@mcwonline.com



SXSW with Bob Moore http://www.io.com/~jettone/



Toronto Record & Movie Collectable Show, Sun. Sept. 19th Thornhill Community Centre, 7755 Bayview Ave., Thornhill, Ontario Canada 10am to 4pm. Rare records, CDs, videos, movie posters, 45s, promos, radio charts, Beatle cards, TV items, Elvis, Kiss, James Dean, 50's to 90's rock memorabilia! Much more! Info: 705-324-9116 email: alawrenc@sympatico.ca



Marty Stuart was honored recently in Jackson, Miss., with the Governor's Award for Excellence in the Arts. Stuart is a native of Philadelphia, Miss. "These awards honor those who have made a difference in the arts and culture of Mississippi and who have made a regional, national or international impact," said Betsy Bradley, executive director of the Mississippi Arts Commission. A collection of Stuart's photos will be published in the fall by Rutledge Hill Press. His first solo album in three years, The Pilgrim, will be released by MCA in June.



Wynn Stewart News Flash! Bear Family of Germany is in fact working on a boxed set of Wynn's material. Release date has not been announced.


RRW#7 INDY '99



RUN WILD RECORDS has issued three new releases:
JACK SMITH & THE ROCKABILLY PLANET ("Can't Help Myself" - RW-906)
VERNON TAYLOR ("Daddy's Rockin" - RW-905
FRIDAY NITE RUMBLE, VOL. 3 - (RW-907).
Contact: Mike Lynam, Run Wild Records, PO Box 123. Lebanon, NJ 08833 - mike@blast.net



Blue Suede News is a quarterly magazine dedicated to American roots music such as Rockabilly and '50s Rock'n'Roll, R&B, Doo Wop, Honky Tonk, Western Swing, Surf... We're interested in pioneers and those who carry on these traditions. For $4.50 you get the latest issue, 68 pages packed with detailed articles, interviews, live show coverage and tons of CD, vinyl and book reviews. http://members.aol.com/Shakinboss



Mitch Woods & His Rocket 88's one of the first jump/swing bands on the West Coast. Four different swing compilations being released soon feature tunes by Mitch & the 88's -- Swing this Baby Vol 2, Swing Sucks, Next Generation Swing, and Metacom's Swing compilation. Contact:
Mitch Woods & His Rocket 88's
www.mitchwoods.com
P.O. Box 5145, Mill Valley CA. 94942
415-332-1882
email rocket88@gte.net


Cleopatra Records is proud to announce the release of the first Swing Cats release! Swing Cats is "Slim Jim" Phantom and Lee Rocker from the STRAY CATS, with guest vocalists Tim Polecat (POLECATS), and Danny B Harvey. Available in stores now!



The Shim Sham Club & Juke Joint. We are a new Rockabilly/Swing Venue in the French Quarter of New Orleans. Opening night was with Sam Butera April 16 and Other acts booked include, Big Sandy & The Fly Rite Boys, Kim Lenz & her Jaguars, Brian Setzer Orchestra, Asylum Street Spankers, Hadda Brooks, Royal Crow Revue, Keely Smith and The Flying Neutrinos. Morgan Higby, The Shim Sham Club - shimsham@bellsouth.net



A cover story on Rollin' Rock in the entertainment section of the Las Vegas Review Journal



The GRADY MARTIN / BOB MOORE FAN CLUB. Information, photos, guitar tabs and more about two of the most influential forces in rockabilly and early rock music. Watch our Front Page News for the big announcement. Meanwhile, visit: Grady Martin's Biography site hosted by his son Josh Martin AND/OR stop by Bob Moore's Message Board



Grady Martin / Bob Moore / A Team
Message Board



Vintage Clothing Stores An online list of vintage clothing shops and online stores.



Harry Eugene Vann Walls died in Montreal, Canada, on Wednesday, 24th February aged 80. Vann was famous for his peerless session work at Atlantic (Big Joe/Clovers/Ruth Brown/Drifters etc.) and for his work with Doc Starkes & The Nite Riders (Grand/Apollo/Teen/Sound/MGM/Swan/Sue/Chime/Cherry/Courtesy) as well as his own records on Atlantic (1950-53).



Big Brian and the Blues Busters are an exciting and dynamic high-energy reinvention of American Roots and Blues combining a wide variety of elements from Traditional, Classic and Contemporary Blues, R & B, Country, Rockabilly, Honky Tonk and Funk with a touch of Southern Rock for a unique new sound. Big Brian and the Blues Busters play from the soul, dedicated to the groove with a "make ya wanna get up and testify" honesty. Big Brian and the Blues Busters are currently seeking recording label interest, distribution, professional management/agent representation and live performance bookings. Their first independent full length CD release entitled "Size DOES Matter", is now available. Please contact: "Big Brian" Schuster, 160 S. Eucalyptus Ave. #31, Rialto, CA 92376 - Blues Buster Hotline: 909-920-1757 - Email: bigbrian@bigbrian.com - WWW: http://www.bigbrian.com



Keeping Bluegrass Alive after Bill Monroe's Death a news release.



Phil & Shaun present REVIEWS: SCOTTY & D.J



Filé Gumbo has been performing Tuesday evenings at the New Orleans Cafe in Seattle's historic Pioneer Square district for 11 years now. The band plays all sorts of Louisiana style music, including swamp-a-billy, swamp pop and a liberal dose of New Orleans style R&B, with a cajun/zydeco flavor. One of the band's original songs, "Sucker For A Cheap Guitar" was recorded by Ronnie Dawson. There's NO COVER CHARGE, the cajun & creole food is great, and the band starts around 7:30, playing til about 10:30. New Orleans Cafe 206-622-2563. Call ahead to be sure, the band has about 4 Tuesdays a year off.


DRAGSTRIP 77 - Jorge Harada (misterx@lvcm.com) -- stay tuned for our upcoming CD release party, as our first recording "Sin City Hotrods" will ship on April 9th on Rollin' Rock/Dionysus Records! We will keep you informed...



UPCOMING SHOWS at the FOUNTAIN SQUARE in INDY:
THE 1998 ROCKABILLY REBEL WEEKEND (RRW#7!) JUNE 16-19
David Loehr dl@jamesdeangallery.com
http://www.jamesdeangallery.com
The James Dean Memorial Gallery
425 N. Main St.
P.O. Box 55
Fairmount, IN 46928
Ph. (765) 948-3326
Fx. (765) 948-3389



Rockabilly HOF Volume #2 CD SOUND SAMPLES
If you have RealPlayer G2, you may be able to access sound samples of the first four tracks of this CD. This format may not work with some Macintosh computers. More files to follow - this is a test.
BILLY SWAN: Bop To Be
BUDDY KNOX: Too Much Fun
NARVEL FELTS: Headin' Home
WAYNE KEELING: So Long, I'm Gone



Dik de Heer has tried to select the most interesting books from this year's spring announcements.
Colin Escott is the editor of "All roots lead to rock : legends of early rock and roll : a Bear Family reader" (Schirmer Books, March, price not found, but probably something like $25, ISBN 0-02-864866-8 hardcover). I suppose this is a selection from Escott's numerous liner notes for Bear Family releases.
A book that I will certainly buy is "Backbeat : Earl Palmer's story" by Tony Scherman (240 pages). Due from Smithsonian Institution Press in April, hardcover $21,95. 32 black and white photographs. A biography of (arguably) rock and roll's finest drummer, who moved from New Orleans to Los Angeles in 1957.
The University Press of Kansas will publish "Elvis culture : fans, faith, and image" by Erika Doss in April (ISBN 0-7006-0948-2 cloth, $24,95).
Coming from the University of California Press in April is "Workin'man blues : country music in California" by Gerald Haslam with Alexandra Haslam Russell and Richard Chon (ISBN 0-520-21800-0 cloth, $29,95).
Previously issued in hardback, John Jackson's "American Bandstand : Dick Clark and the making of an American legend" will be published in paperback by Oxford University Press in April (ISBN 0-19-513089-8, $16,95).
Rick Kennedy and Randy McNutt (the author of "We wanna boogie", 1988) are the authors of "Little labels, big sound : small record companies and the rise of American music", which is due from Indiana University Press in May (ISBN 0-253-33548-5 cloth, $24,95).
The name of Charles Wolfe will be familiar to those who collect books on country music. His latest publication is "A good-natured riot : the birth of the Grand Ole Opry" (April, $29,95, cloth), from Vanderbilt University Press in Nashville.
Dik de Heer, Leiden, The Netherlands - heer@rulub7.leidenuniv.nl



Elvis Presley is alive and well and living in Houston, Texas. This 43-year-old data center supervisor was actually named after his father's best friend, not "The King." Presley says he always dreaded the first day of school, when the teacher would call out his name. He used to write checks but got so many double-takes when he signed his name, that he now pays for purchases with his debit card.



BUDDY KNOX: A special TRIBUTE PAGE


News Note: (Feb. 15, 1999) We have just been informed of the passing away of Miss Toni Fisher. She recorded "The Big Hurt" in 1958. Toni died from a massive heart attack in Hyrum, Utah. She was 70 years of age.



Cochran/Vincent "Town Hall Party". As reported in "Now Dig This" Rockstar Records have secured the rights to issue the recently discovered live performances by both Eddie Cochran and Gene Vincent. The complete performances are:
EDDIE COCHRAN
C'mon Everybody (Two Versions)
Have I Told You Lately That I Love You
Don't Blame It On Me
Summertime Blues
School Days
Be Honest With Me
Money Honey
GENE VINCENT
Be-Bop-A-Lula (Two Versions)
High Blood Pressure
Rip It Up
Dance To The Bop
You Win Again
For Your Precious Love
Rocky Road Blues
Pretty Little Pearly
High School Confidential
Over The Rainbow (Two Versions)
Roll Over Beethoven
She She Little Sheila
The material is being planned for an April release. Rockstar are also negotiating for video Rights. (Information taken from Now Dig This Magazine The UK's Top Magazine.)
NOTE: RE: Gene Vincent - Rebel Heart 6 CD is nearing completion and will be released later this year.



NEW - LAS VEGAS GRIND There will be a new 60's, surf, trash , garage, exotica weekender in October 1999. If you would like to be added to the Las Vegas Grind mailing list then please visit the site.



"HELLO BABY!" It's Paul James Kruse, from San Deigo, as The Big Bopper along with HOF's Bob Timmers. Paul did an excellent job on the recent "The Day The Music Died" tour. He actually stole the show. The last stop for this package was in Green Bay, Wisconsin, just as was the case in 1959 with Buddy Holly, Ritchie Valens and The Big Bopper. This Mon., Feb 1, 1999 gig was very well received as nearly 2,000 fans packed the Riverside Ballroom.
The show flowed smoothly as it featured the likes of Buddy, Ritchie and J.P. Good sound sytem, lots of dancin' and guitar pickers laying on their back playing solos, just like it was back then. The Riverside Ballroom holds many, many memories for Bob as he used to play on the same stage with Jerry Williams and Rockets once a month from 1958-1961. Bob was just asked to appear on the Steve & Johnny all-night talk show, WGN-AM 720 midnight on Wed., Feb. 17th to discuss this show and the rapid growth of the HOF.



Then and Now: A Look at the Times




The Gals of Rockabilly




ATTENTION - ALL ROCKABILLY BANDS, "ROLLIN' ROCK, KATS LIKE US, LEGENDS IN LAS VEGAS" ...are having a battle of the bands here in Las Vegas on September the 5th labor day weekend. the winner gets to record at ROLLIN' ROCK IN THE YEAR 2000. To enter to get invite send two thats TWO promo packs to: Kats Like Us, Texas Mike & MayBee Baby, 450 N. Nellis #105, Las Vegas NV 89110. (702)-432-0099 - KatsLikeUs@webtv.net - Webstore - http://www.inergy.com/katslikeus - Booking the Rockabilly Circuit, The Southwest and Beyond, Part Records Representative-USA



Dr. Leon's Radio Show Access. The show is being broadcast at the KCMU Seattle Website at http://www.kcmu.org . Just follow the navigation at the site to listen to the show. However you will have to download and install Real Networks' Real Player, you can get it at http://www.realaudio.com. Once you've installed it, go to the KCMU website, click on the link "Listen to the shows" locate "Shake The Shack" on the list and if everything's gone well, the Real Player should launch automatically.



Sun Studio in Memphis, TN - known throughout the world as "The Birthplace of Rock 'N Roll!"



Recommended new website BILL WOODS "The Bakersfield Guitar Man"



JAMBOREE. Just in case you're not aware, the movie "Jamboree" (1957) is now available again on video from Music Blvd on the internet. Jerry Lee does "Great Balls of Fire" and Carl Perkins does "Glad All Over."



Hot Tip Dept. IU Press has a forthcoming book, Rick Kennedy and Randy McNutt, LITTLE LABELS-BIG SOUND: SMALL RECORD COMPANIES AND THE RISE OF AMERICAN MUSIC. (May 1999), including chapts. on Gennett, Paramount, King, Sun, Riverside, King, Dial, Duke-Peacock, Ace, Monument, and Delmark.



Old Preacher Ken, a veteran Canadian rocker that has found the Lord. Please stop by and say "hi", 'cause he's a real cool guy! Tell him the folks at the Rockabilly Hall of Fame sent ya. www.geocities.com/~preacherken



Rock Book Author, Barry M. Klein is looking for some information on a couple of topics. #1. The recordings of Sonny Fisher - #2. A copy of the video "Rock 'n' Roll Heros". Contact Bary at sdklein@worldnet.att.net if you can help.



Great Stars of the 1950's is a site which features many country music favorites from the 1950's and 60's. "If you are an old time country music fan, you might even call it Heaven." Here you will find dozens of videos featuring Grand Ole Opry Stars of the 1950s. All videos are in full color made from 35 MM masters from the Al Gannaway collection.

Alton & Jimmy recommend you visit the The Mississippi Musicians Hall of Fame, a non-profit corporation. Its major activities include researching successful Mississippi musicians, distributing information over the Internet about their work, education school children about Mississippi's musical heritage and sponsoring a writer's contest for school children on Mississippi musicians. In the future, the Hall of Fame will exhibit memorabilia collected from famous Mississippi musicians and publish a text on their achievements.



UK Mail Order Stock In Catagories offered by the UK office of the Rockabilly Hall of Fame



Rockin' Ronnie Weiser comments on the Rockabilly Hall of Fame Vol. #2 CD:
The Rockabilly Hall Of Fame Numero Due CD, that's number two for you hillbillies :-), is packed with 27 tracks of real gone rockin' music, and it's hard to pick favourites, there's too much good stuff here, but I'll try nonetheless:
Too Much Fun - Buddy Knox: could possibly be the best track Buddy ever did.
I'm Heading Home - Narvel Felts: great Rocker by this heavenly singer.
Rock'n'Roll Record Girl - Bobby Poe & The Poekats: man alive, a crazed ragin' original Rocker, a true classic of Savagery!!
Wrapped Up In Rockabilly - Johnny Meeks & The Blue Caps: this sure was a surprise!! I even recorded Johnny Meeks (playing guitar), but I never realized what a strong greasy voice he has, much reminiscing of Carl Perkins!!! I love this track!
Hip Shakin' Baby - The Convertibles: cool, cooooool, unique style with this bunch!!
Take Me Baby - Dave Crimmen: A threatening switchblade-type vocal moves this one along, yeh, this dude wails!
Take These Chains - Piper Vincent swings nicely on this one.
King Of Saturday Nite - The Bughouse Five: very infectious sound, excited vocals, one of my faves.
Real Gone Daddy - Tony Maserati: this cat got style and a voice to go with it!
Studebaker Blues - Chuck Owston: all acoustic, raw Soul here, tuff.
Hot Chicks - Nick Gilroy Combo: fancy pickin' on this high energy stomper from Nick!
Sad And Blue - DiMaggio Bros: a cowboy Rockabilly possibly the best track on the CD, then again I may be prejudiced to favour other Paisanos!



J.R.
HOT TIP: Jan. 16, 1999. Remember you read it here first ... Dean Mitchell has just fimished recording a 109 song box set of the entire Jimmy Rodgers catalog. The product (with great liner notes) will be available within a month on cassette and CD (4), at the super low price of only $29.95. Watch the Rockabilly Hall of Fame for a press release and more information soon. We may have the CD sets available through this web site.



Jan. 16, 1999 - A fan of Elvis Presley has just received a letter from him 39 years after asking for his autograph for her 11th birthday in 1960. Karen Golz, who was living in Oberhausen in then West Germany where Presley was doing his national service with other American GIs, admitted she "cried a little" on her birthday when no reply came, the British newspaper the Mirror said on Saturday. In fact, Presley had replied but the letter was mislaid by the landlady of his army accommodation. When the landlady died, relatives gave Presley memorabilia to the local Presley club who found the letter and spent weeks tracking down the little girl to whom it was addressed. The Mirror quoted Karen, now 50, as saying: "My eyes filled with tears when I received the letter and realized that Elvis had written back to me after all." She added: "I never stopped listening to his records and even today he is still my number one."



Doris Gallup dies. The wife of legenary guitarist Cliff Gallup passed away in Virgina on Jan. 8th. She was 66. The Gallups had one child, a daughter, Bonnie. God bless the family.



Ronnie Dawson has a new album "More Bad Habits" (apparently his first recorded in stereo according to the webpage below) due out on March 16 on Yep Roc records. The record release party is at the South by Southwest music Convention (SXSW) on 3/18 at the Continental Club in Austin. Ronnie's tour dates.



Boys Keep Swinging, PULSE article: A neo-swing summit with Brian Setzer, Royal Crown Revue's Eddie Nichols and Scotty Morris of Big Bad Voodoo Daddy


THE COMETS' 1999
For more information contact: ROCK-IT CONCERTS, Bruno-Hofer Platz 1, 80937 Munchen, Germany. Call 089/311 39 18, fax 089/311 29 31



Live recording of Ernest Tubb now on special CD. In 1965 Ernest Tubb and his Texas Trubadour band recorded the only true live recording for release. Now the recording is available on CD or cassette.  This is one of those true country music collectibles.  The CD is available in record stores now including the Ernest Tubb Record Shops. Not sure about this historic recording, no problem, check out some samples and relieve the true era of country music. To listen to samples, get more information about the album check it all out at Camelot Media and see for yourself. (http://www.camelotmedia.com)



Gene Vincent EP. Norton Records (NYC, NY) will be releasing a Gene Vincent vinyl EP in February entitled "Blue Gene", which will feature previously released tracks from the "Lost Dallas Sessions" CD (Dragon Street Records/Rollercoaster Records), including a new, extended version of "The Night Is So Lonely" (versions 1 & 2 edited together to create a 2:32 song). Also included are "My Love (In Love Again)", "Lonesome Boy" and "In My Dreams". Picture sleeve with a cool cover photo of Gene on the couch in Yakima, WA by Liggett Taylor (1958). $3.99 + postage as advertised in the new Norton Records catalog. Norton Records, P.O. Box 646, cooper Station, New York, NY 10276. 718-4789-4438.



Crockett Frizzell's CD Includes a four song tribute to his hero and dad, country music great, Lefty Frizzell. You can also enjoy one of his mother's ballads. The other five are Crockett's originals. The traditional sound continues! To order CD's, send: $15.00 (includes tax and S&H) To: CVF Music, P.O. Box 71852, Tuscaloosa, AL 35407



Radiogram is now handling the booking for The Star Bar in Atlanta GA. So take note all original rockabilly/western swing/roots rock bands or artists. Contact: Gayle Thrower/Cole Skinner - radiogram@prodigy.net - 404-627-8203, or mail kits to: Radiogram Booking, c/o The Star Bar, P O Box 5226, Atlanta GA 31107


The Blue Caps have signed to appear at the Eddie Cochran Weekend at Chippenham, UK on Saturday 2nd October 1999. More info to follow.



The Commercial Appeal Newspaper, Memphis had a fine archive section containing any photos and articles on Elvis.



The US Postal Service announced December 29th that during 1998: "Elvis Presley retained his crown as the most popular stamp of all time." 45 years ago (week of Jan. 3-9): Elvis Presley recorded two demo records at Sam Phillips' Memphis Recording Service. The studio was operated as a sideline business by Phillips, who later contacted Presley about a formal recording session for Sun Records.



SUNRISE - Elvis and the Blue Moon Boys 07863-67675 (2 CD) now available.
- Deluxe packaging with essay by Grammy Award Winner Peter Guralnick.
- Includes the unreleased 1954 acetate: IT WOULDN'T BE THE SAME WITHOUT YOU.
TRACKS:
Disc 1 - That's All Right; Blue Moon Of Kentucky; Good Rockin' Tonight; I Don't Care If The Sun Don't Shine; Milkcow Blues Boogie; You're A Heartbreaker; Baby Let's Play House; I'm Left You're Right She's Gone; I Forgot To Remember To Forget; Mystery Train; I Love You Because; Harbor Light; Blue Moon; Tomorrow Night
Disc 2 - My Happiness; That's When Your Heartaches Begin; I'll Never Stand In Your Way; It Wouldn't Be The Same Without You;I Love You Because (alt take); That's All Right(alt take); Blue Moon Of Kentucky(alt take); Blue Moon(alt take); I'll Never Let You Go(alt take); I Don't Care If The Sun Don't Shine(alt take); I'm Left, You're Right, She's Gone(slow version - alt take); Fool, Fool, Fool; Shake, Rattle & Roll; I'm Left, You're Right, She's Gone(live); That's All Right(live); Money Honey(live); Tweedle Dee(live); I Don't Care If The Sun Don't Shine(live); Hearts Of Stone(live)
(source: http://www.elvis.com.au/)



LEON BASS SONG "LOVE A RAMA" - This Rockabilly classic was a part of the sound track for Paramount Pictures movie "VARSITY BLUES". The version of the song that they chose to use was the cut by the group SOUTHERN CULTURE ON THE SKIDS. It is an album cut on "Plastic Seat Sweat" CD On the GERRIF/MCA Lable.It is good to see the rockabilly hits still in demand. My congratilations to Leon Bass a true music pioneer. -from: Tom Mathis - t.mathis@ns.nsai.com
UPDATE (Dec. 21, 1998): Tom is currently Playing guitar for the Bellamy Brothers. He was inducted into the Songwriter` s Hall Of Fame in 1995. He Has written 23 top 10 country hits.



LATEST NEWS FROM MAC RECORDS:
Being released in springtime 1999 a new hot rockabilly 45 rpm record by BOBBY LOWELL & the ROCK-A-BOOGIE BOYS from LINCOLN, NEBRASKA on MAC - 140.
Being released in springtime 1999 a new rockin' platter on 45 rpm by DENNIS HUNT & his HUNTERS from WICHITA, KANSAS. Two unreleased tracks from l957 on MAC - 139. At present DENNIS HUNT is still a DJ as he also was in the late fifties in WICHITA, he is a journalist too in LAS-VEGAS, NEVADA.
Rockabilly singer PAT CUP who did his last LIVE performance in HEMSBY, ENGLAND in October 1995, HEMSBY WEEKENDER 15, had a serious accident last August 1998 and still suffers from a severe burn on his right leg from just below the knee to the top of his ankle. The doctors have operated once and did skin grafts. The skin grafts have done well and are growing, but he still doesn't have skin over the shinbone. The shinbone is exposed and is expected to be for quite some time. The doctors are hoping that the skin grafts will grow and cover the shinbone within the next two or three months. If this does not happen they will have to operate again and use other methods to cover the shinbone. However, as PAT told me he's doing very well under the circumstances and we send Pat our best wishes that he will recover real quick and starts rockin' again!
GENE MALTAIS and his wife, who are both retired now, moved last November 1998 to the state of FLORIDA permanently. In 1999 there will be released on the GERMAN based CASTLE-ED label a new 45 rpm record by GENE MALTAIS with one new penned song by GENE called "FOREVER IN MY HEART", a great fifties style and sound rockin' ballad and the flip side will be a new recorded version of his fifties original DECCA-release called " DEEP RIVER BLUES" A great classic rocker.



Rob Finnis, Sue and Adrian Owlett (UK) have a new enterprise: VINYL 2000. This is an "electronic" spin-off of Rob's famed AT THE HOP record shop. They have thousands of singles, EP's and LP's as well as a pretty large selection of CD's. The period covered is from the '50's in all musical styles. We have a lot of Gene records. The site is located at: http://www.vinyl2k.k2net.co.uk with e-mail: vinyl2k@k2net.co.uk



1999 will be a big year for us at Blue Moonshine Concerts - we'll celebrate our 10th anniversary (watch out for our party on March 20!) The following dates are available for gigs at our club here in Switzerland in 1999: 10.4.99, 22.5.99, 11.9.99, 13.11.99, 11.12.99.
If you'd like to rock this stage, please drop us a line on fax no ++41 61 313 53 32 (phone, too) or mail on cheeyaz@access.ch
The following artists got this house-a-shakin', so it's high time for YOU to join in: Sonny Burgess, James Intvelt, The Stargazers, The Sure Shots, The Skip Rats, Howlin' Lou and the Starliters, The Rimshots, Wildfire Willie & The Ramblers, Red Peters & Her Solid Senders, Big Boy Bloater & The Southside Stompers, Deacon Jones & The Sinners, Johnny & The Roccos, The Ricardos, Kim Lenz & Her Jaguars, The Barnshakers, The Jets, Running Wild, The Hound Dogs, The Rhythm Kings, The Wild Goners, 5 in love with Betty, Betty & The Bops, The Jive Aces, The Be Bops, Billy & The Lucky Boys, Steve Hooker's Rumble, Handsome Hank & His Lonely Cowboys, Spo-Dee-O-Dee, The Rover Boys, Sonny West and many more.




From: Jerry Phillips:
"I just received a dub of Bobby Lowell's latest studio venture. Where has this guy been hiding? After hearing Bobby at last year's Nebraska Rock 'n' Roll Hall of Fame induction in Lincoln, Nebraska, I became a fan. His sound is right out of those classic Sun releases that I was so fortunate to be associated with in Memphis. His self-penned, "Caddillac Man" and "Baby Bunny Tail" would have topped the charts back in the 50s, and the gospel flavored, "I'm Cryin", will rock you to death. His ballad, "I Miss You", is right out of the back seat of a '56 Chevy. Anyone looking for a genuine rock-a-billy genius, will love Bobby Lowell!" -Jerry
EDITOR'S NOTE: Jerry Phillips is a multi-talented songwriter and performer from Memphis, Tennessee. His life-long involvement with music started as the son of legendary Elvis producer and Sun Records founder, Sam Phillips. Jerry's own group, "The Jesters", hit the charts with the very last release for Sun Records. His Nashville company, Power Diamond Music, is involved worldwide in music publishing, media production, and broadcast development.



Gene Vincent with Buddy Knox.
See the larger version of this rare photo when you visit the Buddy Knox RAB HOF Website.



"The Complete Sun Singles, Volume 6, Bear Family Records, the sixth and final boxed set in the Complete Sun Singles series, was released November, 1998. This beautifully done boxed set contains the final 48 singles issued on the Phillips International label and includes Charlie Rich, Carl Mann, Bill Justis, Sonny Burgess, Thomas Wayne, Barbara Pittman, Eddie Bush, Jeb Stuart, Ernie Barton, Brad Suggs, Mack Self, and others. Of course, it includes the stunning 76 page book with bios, discography, and rare pix. In the back of the book you will find "UNTOLD SUN STORIES: A POSTSCRIPT" by Colin Escott, co-author of "Good Rockin' Tonight: Sun Records and the Birth of Rock 'n' Roll." Mr. Escott tells the story of Alton and Jimmy, original Sun Recording artists, for the first time. This boxed set can be ordered from Collectors' Choice Music http://www.ccmusic.com - as well as other sources."



View Some Great Vintage Guitar Photos, by Collectors Choice




Mac Bouvrie from Belgium's Mac Records.



Wayne Hancock Interview by DJ Johnson





FRANKIE FORD Cruisin' With Frankie Ford, ACE - CDCHD 696


NEW DRAGON STREET RECORDS RELEASE:

"Groovey" Joe Poovey - Greatest Grooves
(DCD-70199) CD-only
Suggested Retail List: $13.99
Release date: Tuesday, January 12th, 1999
Categories: Rockabilly/Country/Oldies
24 tracks of authentic Texas rockabilly and honky tonk country by the incomparable "Groovey" Joe Poovey, who recently passed away last October 6th. This is the ONLY full-length Joe Poovey CD available anywhere in the world. This complete restrospective contains all of his original Starday and Dixie Records releases, live performances from the Big "D" Jamboree and the Grapevine Opry, and recent rockabilly recordings. It also includes a deluxe 12-page booklet packed with unreleased photos, a biography and complete discography. A long overdue masterwork on Joe Poovey and his early rockabilly sound. Distributed exclusively by Hep Cat Records and Distribution, Orange, CA. Also available direct from DSR. Contact David Dennard at 214-369-5972 ph/fax.



The ROCK'N'ROLL BLAST of the CENTURY is coming. Twenty-four original Rock'n'roll artists from the 50's & 60's on one spectacular show. Camping... Cars and Rock & Roll... July 23,24,25, 1999! Artists... Fans... Managers & Agents...CHECK IT OUT...




Alton Lott`s (Alton and Jimmy) composition "You Don`t Know," recorded by Harry Lee is available on a new CD entitled "(not just) A Pretty Face And A Pompadour." This CD also includes Jimmy Clanton (who had a big hit with `Just A Dream`), The Emeralds, Ike Clanton, Bat Carrol, and more who recorded for Johnny Vincent`s Ace Records, Jackson, Mississippi. This CD is available now at Hep Cat Records www. Hep Cat.com on the Westside label (WESM 555).


Alton Lott and Jimmy Harrell (Alton and Jimmy) are now included in the Mississippi Musicians Hall Of Fame which honors the achievements of nationally and internationally known Mississippi musicians. Jimmy says, "It`s an honor to be included with such fellow Mississippi musicians as Elvis, Jerry Lee Lewis, B. B. King, Muddy Waters, Bo Diddley, Faith Hill, Marty Stuart, and many others." You may visit the Mississippi Musicians Hall Of Fame website at www.msmusic.org.


Send an e-mail to ALTON & JIMMY Sun #323.



Johnny Clara and the Hound Dogs

...a 50's Rockin' band from Sant Feliu de Guixols, SPAIN! The leader is the piano player Johnny. HE'S ONLY 8! His father, PEPE, is the drummer. Albert is 30, and he's the lead guitar. Enric is 54, and plays the rythm guitar. Josep is only 22 and plays the electric bass. They only play 40's and 50's, such "CALDONIA", "LONESOME TRAIN", "PRETTY, PRETTY BABY", "SMOKE, SMOKE, SMOKE THAT CIGARETTE", GREAT BALLS OF FIRE", "LONG TALL SALLY" and all that kind.



Meet JANICE K, The Lady Elvis



From John Matter, operator of Matter's Ballroom, Decorah, Iowa, USA says he has posted two photos of Gene Vincent on my web page that fans would enjoy seeing. These are two of a series of ten photos taken the night he performed here. You can view the photos at www.nbea.com/matter's.htm then go to Hall of Fame Induction for photos on bottom. MORE TO COME LATER!



Rudy Grayzell's "LET'S GET WILD" - Sideburn 1001 - Release Date: 11/10/98
Rudy Grayzell has hardly led a boring life. His band, the Texas Kool Kats (including a pre-teen Doug Sahm) blazed a trail through the Southern half of the U.S. and Mexico in the early to mid I950's, fuelled by Pearl beer and Tequila. Elvis Presley himself gave Rudy his nickname of "Tutti" at a show in Tulsa, OK. Undaunted by trips to jail for stunts that would rival only Keith Moon, Rudy developed a rockin' sound unique amongst his peers. His 1956 single "Duck Tail" is regarded as one of the seminal rockabilly tracks. Let's Get Wild recorded in June 1998, finds Rudy in great spirits and voice as he tears through a fourteen song program of his hits, some well chosen covers, and a new song or two. Aided by the energy and the musicianship of The Skeletons, find out why Rudy says "It's the REAL me, AMEN"!
THE SONGS ARE:
You're Gone
Judy
Why, Why Why
Duck Tail
One Mile
If You Want To See Me Cry
Hearts Of Stone
FBI Story
There's Gonna Be A Ball
Let's Get Wild
Will You Love Me
Do The Rudy Tutti
Big Blon' Baby
Tell Her I'm Gone
A Rockabilly Legend who recorded for Sun Records, Starday and Capitol in the Mid to Late 50's. Strong Cult following in the USA and overseas. This is Rudy's first full length record in his 40+ year career and his debut for Sideburn Records. Rudy will tour to support this record both in the USA and Europe.




A CD containing 30 versions of "High School USA" by Gene Vincent's Blue Cap/Clapper Boy Tommy Facenda has been released by the Legrand label of Norfolk, VA. The catalog number is 17002-2. "High School USA" peaked at #28 on Billboard's pop singles chart in 1959. The original version came out on Legrand and mentions area high schools by name. Other versions were recorded for most other areas of the US and were released on the Atlantic label. Those versions are heard on this CD in this order: 1-Virginia (the only stereo version on this CD), 2-New York, 3-Nashville, 4-North & South Carolina, 5-Los Angeles, 6-Indiana, 7-Washington, DC/Baltimore, 8-Philladelphia, 9-San Francisco, 10-Chicago, 11-Detroit, 12-New Orleans, 13-Texas, 14-Pittsburgh, 15-Minneapolis/St. Paul, 16-St. Louis, 17-Florida, 18-Newark, 19-Alabama/Georgia, 20-Boston, 21-Cleveland, 22-Cinncinatti, 23-Memphis, 24-Buffalo, 25-Seattle, 26-Hartford, 27-Denver, 28-Oklahoma, 29-National version, 30-original Legrand version (with a distinct Bo Diddley beat). I got my copy from: Rock Classics, 1511 E Babydoll Rd., Port Orchard, Washington 98366 USA, telephone: (360) 769-0456, fax: (360) 769-0441, website: www.portorchard.com/rockclassics.

DISTRIBUTORS:

GOTHAM RECORDS
2324 Haverford Road
Ardmore, Penn. 19003
1-800-446-8426

VINTAGE RECORDS
8211 Cloverleaf Road
Millersville, MD 21108
1-800-523-2036




TOM INGRAM WEB SITE - Check out which clubs he is at



The Nick Gilroy Kombo is featured on the "Friday Nite Rumble", Volume 2, doing the rockin' "Teenage Bug", w/ Boz on guitar. On the same disc will be Boz & his Bozmen, doing a brand new cut, "Sabre Tooth Tiger With A Rockabilly Quiff". There's a few other "listers" on the disc...including "Shawnbo33", rockin' with his boys, Chadd Thomas & The Crazy Kings, & kickin' it up with "Rockin At The Dragstrip". So, anyone who got Vol 1, you are in for more of the same volatile stuff with Vol 2. Run Wild Records - mike@blast.net - Mike Lynam, Run Wild Records, PO Box 123. Lebanon, NJ 08833 - mike@blast.net




The Spanish version of That's All Right Mama as sung by El Vez, The Mexican Elvis. Courtesy: Luis Dom'n - b21075@ba3.aluar.com.ar - Radio Texas - www.geocities.com/Nashville/Opry/3959/radiotx.html

Esta bien Mamacita
Esta bien pa' ti
Esta bien mamacita
Como lo queres
Pues esta bien, (esta bien)
Esta bien (esta bien)
esta bien mamacita
como lo queres.

Mi madre me dice (No)
mi padre me dice tambien (Si)
Hijo, esta chica
ella es mala, no es bien
But that's allright
Esta bien (esta bien)
esta bien mamacita
como lo queres.

Yo salgo de este pueblo
Yo voy voy hoy
No soy tu juguete
No soy tu little toy
But that's allright
Esta bien (esta bien)
esta bien mamacita
como lo queres.

Cu cu ru cu cu cu ......
Need your loving, (need your loving)
Su amor (su amor)
Esta bien mamacita
como lo queres.




Of interest to Hillbilly/Country Fans: The Encyclopedia of Country Music, a monstrous, 634 page doorstop that is quite simply, the finest, most complete book on country music ever published. There are 1,300 biographical entries contributed by 137 writers, historians and researchers that constitute just about everyone in the country music literary field today (I didn't notice Nick Tosches name, surprisingly.)
The book is published by Oxford University Press in conjunction with the Country Music Foundation and lists at $55.00. But whether you are a country music scholar, or just an occasional fan looking to find out the basic facts of the lives of everyone from Eck Robertson to Billy Ray Cyrus, this is the book for you. It doesn't gloss over the pioneers, either - full, well-researched entries are given for folks like Charlie Poole, Uncle Dave Macon, Art Satherley, Bob Dunn, et. al. Each alphabetical letter section is illustrated by a record label (Bradley Kincaid on Polk for "K", Ernest Tubb on Bluebird for "T".) Plus there are essays, recommended reading lists, a history of awards, inductees to the Hall of Fame, and lots more.



PAUL EVANS has updated his site. For those of you with links to his page, the address remains the same, http://www.paulevans.com - The site includes information about his new CD, "I Was a Part of the 50's" (just released) and Paul's version of "Happy-Go Lucky Me" being used as the theme for the new John Waters film, "Pecker". Also on the pages - a new midi file of "Happy-Go-Lucky Me" and some RA samples of tracks included in the new CD. (The CD, by the way, includes his original masters of "Seven Little Girls", "Happy-Go Lucky Me", and "Midnight Special", as well as some never-before-released and hard-to-find tracks and an interview by Gary Theroux, the voice of "the History of Rock 'n' Roll".) e-mail: paul@paulevans.com



A look at back at HEMSBY 21



from: Mark "Daddy-o Dilly" Dillman, Topeka, KS, USA -- Great news! Bill Griggs, the longtime Buddy Holly fan club founder, researcher, and author is now a DJ on a radio station in Lubbock, TX. You can hear this station on the Internet! He is on KDAV (1590AM) weeknights from 6:00pm-9:00pm, central time, and 8:00pm-midnight, Saturdays, central time. The station's website - The station's email address -
You need to download an audio server called Windows Media Player or on Netscape. Both have links on the KDAV site. This is a great sounding rock'n'roll radio station!!! Support this station and Bill Griggs commitment to el primo rock'n'roll! - Daddy-o



The last Rockabilly + Garage-radioshows in Switzerland/EUROPE Indie-Team Radio LoRa/Radio Kanal K, Leo Niessner-Switzerland, P.O.BOX 1139, CH-5400 Baden/Switzerland, Tel./Fax: +41-56-221 72 31 - www.keks.ch/djleo (for some more information and playlists!)



Join the BUDDY KNOX mailing list. Get on line with other fans of Buddy and his music.



Remember Ronnie Haig? Of course you do. Well, why not pester "The Haig" by sending him an e-mail. He loves playing rockabilly trivia, so try and stump him.


Doghouse Info:
The Interstate Music Catalog and it lists the following Engelhardts: C1 Concert $788. 3/4 size; M1 Maestro $1195. 4/4 size; Supreme $1195. 4/4 size; Swingmaster $1225. (this is the cool blonde one) 3/4 size. Theses prices are for brand new instruments. TInterstate is in Wisconsin. They are a supplier mainly to schools. (Engelhardt bought Kay several years ago) They have a free catalog, phone # is 800-982-2263.

1-800-246-BASS - Lemur music in California has brand new Englehardts for between $800-900.



I'M LOOKING FOR CDs TO REVIEW! I'm the music columnist for the River Reporter, a progressive weekly newspaper in upstate New York, USA. Also write for No Depression, Blues Revue, and many others. I'd like to get some newer releases for review on CD, including the Kaisers latest, and rockabilly reissues. I specialize in an Americana format. I will send tearsheets, and will provide ordering info for prospective buyers. My address is: 25 Wenatchee Road, Highland Lakes, New Jersey 07422, USA. Any questions, contact me via e-mail. Bob Cianci/River Reporter - bcianci@warwick.net



House of Blues Hotel Sponsors Eddie's HOF Page
The new House of Blues Hotel in Chicago, IL is the sponsor of the Eddie Cochran legends page in the Rockabilly Hall of Fame. The hotel opened October 1st, downtown Chicago with the decor being "Vegas" style and hase a very comfortable feel. To find out more about the House of Blues and this hotel, please visit their website now.




ABOVE: Ronnie Dawson rocks at the Arcade Cafe in Memphis, August, 1998.
BELOW: Lisa Pankratz does her magic while Ronnie sings.

Swing Music A Rockabilly Hall of Fame Extra Feature


THE PIRATES. May we take this opportunity to inform you that members of Johnny Kidd's Pirates (Circa 1958-1964), have reformed the group and are available for tours, concerts, festivals, weekenders and clubs. All Enquiries To: 01255 852341 - 73 POLEBARN LANE, FRINTON ON SEA, ESSEX, CO13 9NQ. UK.



See Tony Wilkinson's review of Bobby Wayne's "Hot Rod Motorcycles." CD on our "What's New OFF-Site" page.



Rockabilly Australian Style





BOBBY WAYNE CD
Bobby is back! Yes! Rock n' Roll, Rockabilly originator, Bobby Wayne, remember (SallyAnn/Warpaint, SRC Records, 1955) is back with a hot new CD, titled "Hot Rod Motorcycles". Six songs about motorcycles, (motorcycle rallies, etc.) To our knowledge, the first and only CD dedicated to motorcycles and their riders. It doesn't make any difference what kind of a bike you ride, even if you don't ride a bike, you are going to love this CD. Also, "Nifty Lil' Chevy", "Long Black Train" and many more, plus two unreleased songs by legendary, "Rockabilly Artist" who has been rockn' since the mid 50's and is still rockn' on forever, Andy Starr, plus two unreleased songs by Don Weise. Bobby has two other great CDs. "Go Rockabilly" features ten original songs recorded, 1955 - 1956 including Sally Ann/Warpaint. Another great CD by Bobby is, "Bobby Wayne and the Jordanaires," "Ballad of the Appaloosa" with twelve great songs." Order from:



HEP CAT RECORDS
PO Box 1108
Orange, CA 92856 USA
Phone/Fax: USA 1-800-404-4117
World phone: 714-532-2095
World fax: 714-532-1474
E-mail: hepcatreco@aol.com.



"BLASTERED" - A Musical Tribute To The Blasters. EXCELLENT CD!! Great lineup on there, including Josie Kreuzer, The Blacktop Rockets, Lucky 7, Sloe Gin Joes, Hot Rod Lincoln, Highway 13, The Sabrejets, Libbi Bosworth, Billy Hancock, and many many more. "For any fan of the Blasters, this could be the album of the year". This CD is receiving many good reviews.
To order the BLASTERED CD, send $12 (ppd) to:
Mike Lynam, Run Wild Records, PO Box 123. Lebanon, NJ 08833 - mike@blast.net




A Special Feature on the Tennessee Club's RITCHIE GEE



Please take a minute to e-mail Bobby Austin, a great verteran rocker who is not in the best of health and really enjoys reading messages from rockabilly fans from around the world. After-all, that's what this Hall of Fame is truly about - people! Thank you. -Bob Timmers



Visit the NEW "Rockabilly Radio" Page An up-to-date listing



Carl Dobkins Jr. offers this exclusive report on his recent show in Austria.
"Rockabilly and 50s Rock and Roll are alive and doing well in Europe. I just returned from a gig at the Donauinselfest in Wien/Vienna Austria. It's a 3-day annual outdoor event, held every year on an island in the Danube River. The billboards and ads had the logo of XXL (extra-extra-large). There were 750,000 people on Friday night and by Saturday they had broken the previous record for attendance. I didn't get the final tally but it was between 2 and 3 million people. We had a great time. Among the other US performers were such greats as Buddy Knox, Johnnie Allen, Big Al Downing, Ray Campi, Frankie Ford and The Coasters. There were many great European acts as well, including the popular Andy Lee Lang (a terrific young rocker from Vienna). Later all of us did recording sessions that will be released on CD along with Andy's voice and musical talent, doing duet tracks with us. It'll be a blast! The fans were terrific. They really dig the old music and we all appreciated their enthusiasm. Thanks to Ken Keene, Klaus Kettner and Angela from the Star Club for putting it all together. Our Thanks to Rock'in Werner Lee Oschmann, his lovely wife Renate and Karl Fuhrmann for showing us the sights while in Vienna."


Left to right: Ken Keene (Frankie's mgr.), Carl Dobkins Jr., Frankie Ford and Klaus Kettner (promoter from Germany).




Southwest & Tropical Interiors has the very best in affordable home accessories. They "Rock Around The Clock" with Marshall Lytle of Bill Haley & The Comets who is also known as Tommy Page. This site is an extension of Tommy's store which he owns and operates with his wife, Jeanne, in Largo, Florida where you will find hand-crafted and meticulously hand-detailed accessories in your choice of colors to match your ongoing decor, FREE.




EXCLUSIVE! Tattoo Lady meets a Comet!

Alternative Country Music Guide & Directory. 300+ page book covering: No Depression, Insurgent Country, Country Rock, Roots Rock, Cowpunk, Singer/Songwriter, New-Old Time, Progessive Blues, Hillbilly Bop, Honky Tonk, Western Swing, Cajun, Tex-Mex.
Profiles of 500+ Artists (biography, personnel, discography, contacts, web pages) Annotated sections for Record Labels, Mail Order, Publications, Web Pages, On-Line Mailing Lists and News Groups, Venues and Festivals, Radio Stations and Shows.




JO-ANN CAMPBELL INFO (Thanks Paul) - Born: July 20, 1938, Hometown: Jacksonville, FL.
Jo-Ann was a drum majorette at Fletcher High School in Jacksonville. At sixteen, she traveled through Europe with the USO as a dancer. When she came to New York in the mid-1950s, she decided to quit dancing and try her luck at singing. She was a smash success at New York's Apollo in Harlem. This led to a recording contract with Eldorado Records, where she recorded a song she wrote called "Come On Baby" in January 1957. She then went to Gone Records where she premiered with "Wait A Minute" in December of 1957. Her biggest hit, "Kookie Little Paradise," was with ABC Records in the fall of 1960. Today [note: the book is (c) 1974], Jo-Ann lives with her husband, Troy Seals -- a record producer for Atlantic Records -- in Hendersonville, Tennessee. These days she does not do any singing. Add these to her discography:
August 1960 - Kookie Little Paradise - ABC Records
August 1962 - I'm The Girl From Wolverton Mountain - Cameo Records
April - 1963 - Mother, Please - Cameo Records




WANT TO CONTRIBUTE TO THIS PAGE?
E-mail Bob Timmers (USA)
E-mail Rod Pyke (UK)
---
<!!-- BEGIN Music HyperBanner CODE --!!>


Member of the Music HyperBanner !


<!!-- END Music HyperBanner CODE --!!>