ROCKABILLY HALL OF FAMEŽ MERCHANDISE & SERVICES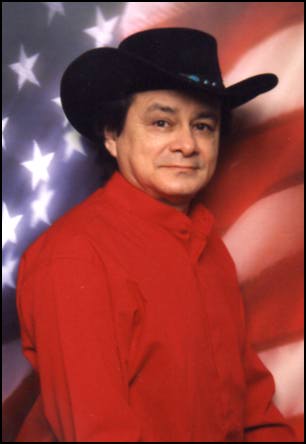 Jose Daniel is a name familiar to many in our sister-nation to the South. He was born in Mexico City, Mexico and his love for music was the driving force in his life. His extraordinary gifts for singing and song-writing were recognized early-on by the professional music industry, and he entertained in various tourist resorts and hotels around the country.

Jose Daniel spent more than ten years as a tourist "favorite," singing and working the hotel circuit in the well-known resort of Cancun, until he moved to the United States 10 years ago. He lives today in Saltillo, MS, a small town in the Northeastern part of the state, not far from the "hub" of the Country and Gospel music, Nashville, TN.

His primary focus is still "music," and he has continued to write and sing in both English and Spanish. His unique vocal quality and style quickly set him apart in the U.S., and his single releases have become a "standard" on both Country and Gospel charts world-wide. One of his first releases in the country, Alex and Me, spent many months on the charts and was tribute to the Smith children who were drowned by their mother in South Carolina a few years ago.

He recorded and released a CD for Spanish speaking Americans called Un Tibuto A Jesus (A Tribute to Jesus) which included traditional Gospel songs translated into Spanish. This CD is receiving air play in various parts of Europe as well as here in the U.S., and has proven to be an instrument used by God to carry the Gospel to Spanish-speaking countries world-wide.

Other full-project CD's, From The Heart - Better Run For The Border and There Ain't Nothing Like Love are being played world-wide, and singles from those projects have appeared regularly on both the Hot Country Singles chart and the Worldwide Major and Indie Chart.

His latest project, At His Best is a mixture of Country and Gospel songs (with original songs by such noted songwriters as Rhonnie Scheuerman, Dean Koon and James Simmons as well as Jose himself) features Spanish choral inserts. Take Two Aspirin and The Book My Mama Read are doing extremely well throughout the radio world.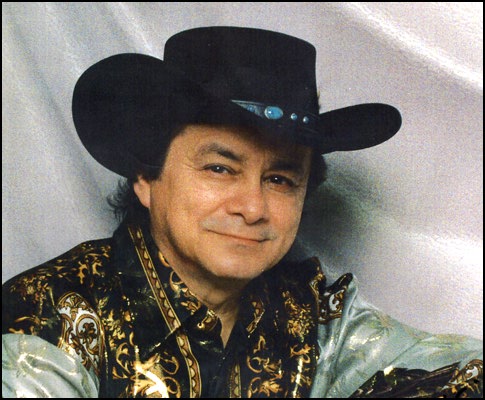 Jose received SILVER ELITE GOSPEL VOCALIST OF THE YEAR, 2003, GOLDEN ELITE MALE VOCALIST, 2004 from the Tennessee Country Music Alliance and various other awards including, Key To The City, Special Recognition, etc.

Jose appears regularly on Local Television, radio and is always ready to perform for School Groups, Civic Groups, Senior Citizen Centers and Festivals. Jose recently appeared on Nashville video Showcase with Jimmy & Lorraine Smart in Nashville and Country Corner in Fort Oglethorpe, Georgia with Jack and Sandra Blaylock.

Jose will be appearing in various festivals in MO,IL and TN throughout the remainder of 2004.

Watch for Jose's 7th CD as it will be released in the near future.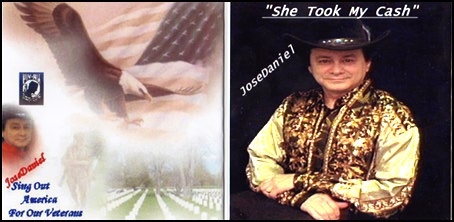 His latest project is the recording of SING OUT AMERICA FOR OUR VETERANS by award winning song writer Rhonnie Sheuerman. This song can be heard on http://www.usvwm.us/ and http://www.bigoradio.com/ ....Please stop by and give a listen!!!

LATEST NEWS: Jose Daniel has filmed a video, SING OUT AMERICA FOR OUR VETERANS in Cincinnati, Ohio in June, 2004 with J.P. Jones. The video can be viewed on Jose's site at http://www.josedaniel.us.

If you're looking for a crowd pleaser in a country concert environment or someone who delivers a Gospel song in a fashion that touches hearts and transcends the language barrier from Spanish to English, Jose Daniel will fill the bill in extraordinary style. Give him a call. You'll be glad you did.

To email Jose Daniel: BBojor5347@aol.com or drop by www.josedaniel.us

INDUCTED INTO TRADITIONAL COUNTRY HALL OF FAME -- June, 2004 http://www.talentondisplay.com/kicINartists.html

Jose's video, SING OUT AMERICA FOR OUR VETERANS has been nominated for Video of the Year by the Texas River Music Awards 2004. Also Jose has been nominated in other categories including Best Gospel Male. Awards show will be in Wichita Falls, Texas on August 21 and 22, 2004.



Posted August, 2004


"Traditional Country Hall of Fame" Home Page