ROCKABILLY HALL OF FAMEŽ MERCHANDISE & SERVICES
This Artist's Page is Available for Sponsorship - Click Here

Jimmy Bryant
The Fastest Guitar in The Country!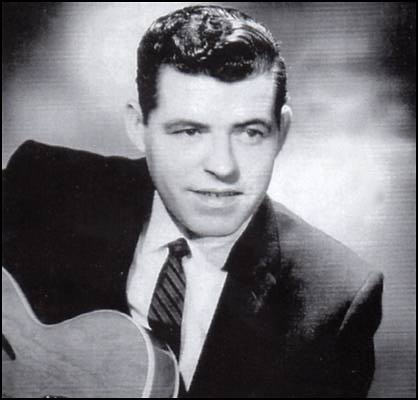 Jimmy Bryant was born March 5, 1925 in Colquitt County Georgia to Ivy and Lula Gray Bryant. Jimmy's first musical effort, at the tender age of 2, was a snuff box with rocks in it or beating on a tin can with a stick entertaining his baby sister while his parents worked in the fields. After his father realized Jimmy could keep time he started teaching him how to play the guitar by chording with a closed knife. Little did any of them know where this would lead.

Jimmy coluld also play fiddle, but was best know for his guitar work. As a child, age 5, he was taken all over the area and made to play all night with his father. During this time Ivy and Junior went to two World's Fairs, Govenor's functions, courthouse squares, and tobacco warehouses to entertain. This went on for seven years.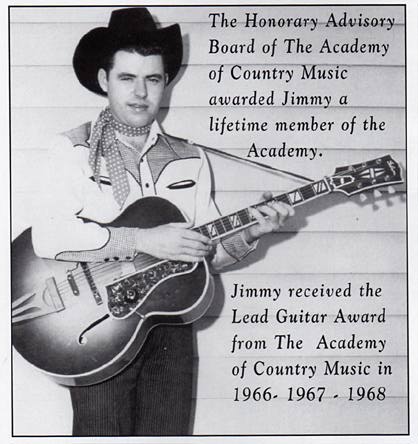 Then the scene changed; they began playing and singing with the whole family in churches throughout Colquitt County and other areas after Jimmy's dad started preaching. He pastored several churches including Pleasant Hill Missionary Baptist Church. This is the church where four generations of Bryants, includig Jimmy, are buried.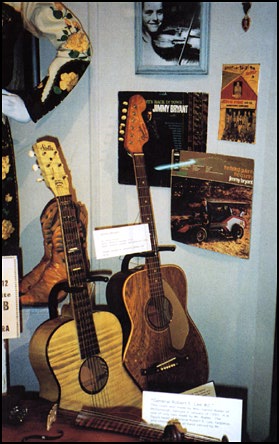 Jimmy was drafted into the Army at 18 and went through boot camp in Meridian, Mississippi. His biggest challenge was getting out of bed early. He was used to playing all night and sleeping in the next morning, but boot camp changed that. One time when he missed roll call the drill instructor picked up him, mattress and all and dumped him on the grass. He didn't miss roll call after that. He finally made it through boot camp and was sent to Europe to fight in WWII. He was assigned to the Third Army under General Patton's command. Jimmy was wounded during this time and after he healed he was assigned to the Special Services Unit so he could help entertain the troops. He actually got to play with the band for the Bob Hope Show one night.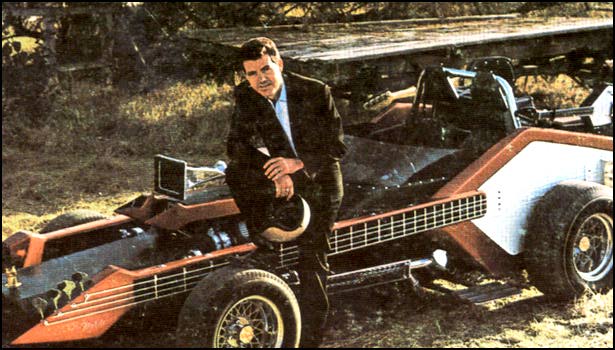 After being discharged from the Army and got started playing locally again. He met his first wife, Gloria, at a supper club and it was love at first sight. They married and had six children, Cookie, Donna, Tootie, Patty, Jay and John. They eventually divorced and he married his second wife, Charlene, and they had no children. This marriage didn't last long and he married a third time to Patty and they had one child, Corinna. Patty was still married to Jimmy when he died of cancer September 22, 1980.

In 1950, Leo Fender gave Jimmy the very first Fender he built because Jimmy helped him out with advice and fine-tuning in his design and play-ability while it was being built. In 2003, Jimmy was posthumously honored by The Fender Guitar Co. They built a Jimmy Bryant Signature Telecaster in their Custom Shop.

The Sundazed Music Co., NY, reissued a three CD set of music that Jimmy did in the '50's - '60's, some of it never previously reissued. Now, most of his music has been reissued.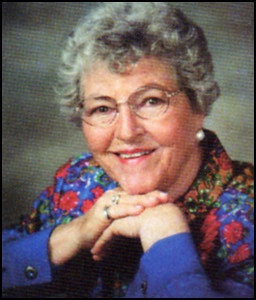 The story of Jimmy's life is chronicled in the book written by his
loving sister Lorene Bryant Epps.




Discography of songs Jimmy wrote is too extensive to show here. Includes Stratosphere Boogie, Cotton Pickin', Bryant's Shuffle and Only Daddy That'll Walk the Line. Complete list is in the book.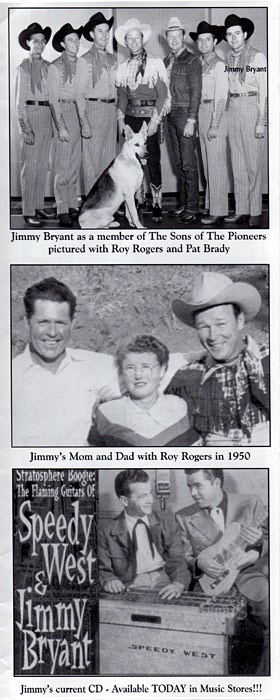 THE BOOK: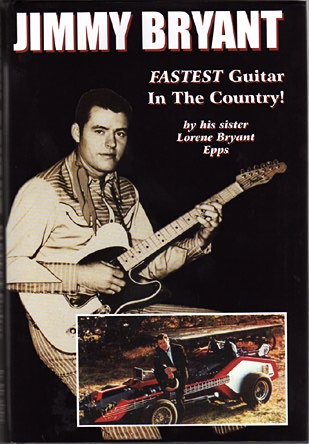 Jimmy Bryant - The Fastest Guitar in the Country
"... was a very entertaing book from start to finish. Lorene knows how to make you stay interested. I was not able to put the book down. Jimmy led a very fascinating life and this was a good look into the music scene that most people don't get to see. I would recommend this book for anyone interested in the music industry or just for an interesting read." Bonnie Tankersley (secretary Rockabilly Hall of Fame)

Published by
Lorene Bryant Epps
9050 Coffee Road
Hahira, GA 31632
lobryantepp@alltel.net
www.lorenebryantepps.com



RECOMMENDED LINKS:
Axxx Hot Rod Guitars Proudly Presents the "Jimmy Bryant Tribute Guitar"
www.TimaraStringBenders.com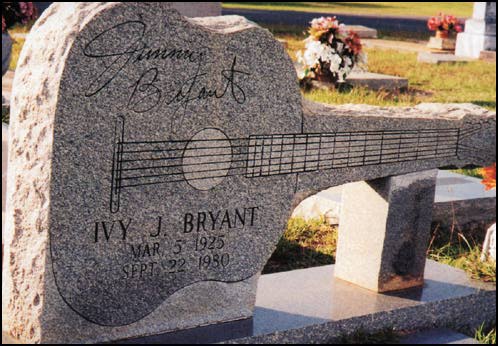 Posted August, 2004


"Traditional Country Hall of Fame" Home Page