ROCKABILLY HALL OF FAMEŽ MERCHANDISE & SERVICES
This Artist's Page is Available for Sponsorship - Click Here




Since Doreen was three years old, she has loved Country Music - during the past few years, she has been active on the country music scene, singing and playing guitar, entertaining at benefits, jamborees, guitar & fiddle clubs. This activity has included Roy Thomson Hall Lobby Show & Main Auditorium, annual Classic Country Music Reunion in Trenton, Ont., Oprey Orillia, Heritage Theatre in Brampton, Ont., Mapleleaf Country Jamboree in New Market, Ont., CKNX Barn Dance (Canada's Largest Travelling Barn Dance) in Blyth & Howick, Collingwood Jamboree, Mapleleaf Country Jubilee in Baldwin, Ont., Beeton & Tottenham Fall Fairs, Oprey Toronto, as well as guest appearances at Toronto clubs and Nashville, TN, at Tootsie's Orchid Lounge and Captain's Table on Music Row.
RADIO: l995-96, Doreen announced, on Country Calendar, entertainment in and around Toronto, Saturday mornings on Radio l430 CKFH and Features on Sunday. In l997-98, she announced Station ID'S, and commercials on Radio l430 CHKT, Atlantic Canada, as well as Features for the Havelock Jamboree.

RECORDINGS: "Unending Love" & "Should I Cross The Line", both title albums self-penned as well as "Country Music Will Live On - 2000 & Beyond"

AIRPLAY: "Should I Cross The Line" has been on Most Played Artists and Most Played Songs on ECMA Lists. Waltz Across Texas was #l on Playlists of l4 Radio Stations in Texas; "Should I Cross The Line" & "I Don't Believe You've Met My Baby" have been on The Top 40 Chart in East Texas, and also on the National Charts in Belgium & France. "Unending Love" has been on an Internet Radio Show in Nashville for three months as well as an Internet Gospel Show in Denmark. Doreen's music was also on an hour "All Canadian" Program which aired in Germany, Chicago &Nashville. Airplay includes Toronto, Belleville, Peterborough, Trenton, Kingston, Collingwood, Quebec, Newfoundland, Denmark, Sweden, Ireland, Pennsylvania, Scotland, England, New Zealand, Australia, Poland, Russia, France, Austria, Dominican Republic, Holland, Spain, Las Vegas and regularly on the Wrangler Gene Program (Texas).

AWARDS: Two Uncle Buddy Golden Boot Awards; Two Heart & Lung Patients Support Services of Ontario Awards Lone Star State Country Music Association Best of Texas (2000) Horizon Award. Doreen enjoys writing articles for Entertainment News, Texas, & a column, Country Calendar, for the Barn Dance Historical Society in Wingham, Ontario, promoting country music.

MEMBERSHIPS: CCMA, SOCAN, CCMR, LSSCMA, ECMA, Barn Dance Historical Society.



CD'S & CASSETTES AVAILABLE:
Joe Radio, Toronto, Ontario l-800-563-7234
Blue Mountain Music, l53 Hurontario St., Collingwood, Ont. L9Y2l9
Country Music Store, 2889 Danforth Ave., Toronto, Ont. M4ClM3 4l6-690-5564
DB Enterprises, l Pergola Rd., Etobicoke, Ont. M9W5K4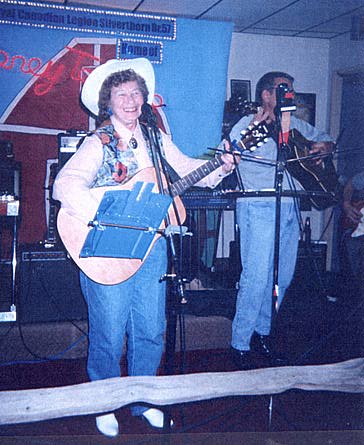 DOREEN BROWN
c/o Dbenterprises
1 Pergola Road
Etobicoke
ON Canada, M9W 5K4
Phone: (416) 745-9341
E-mail: dbenterprises@sprint.ca


During the past few years, Doreen has been active on the country music scene entertaining at benefits, jamborees, guitar and fiddle clubs; Roy Thomson Hall Lobby Show & Main Auditorium; annual classic country music reunion, Trenton, Ont.







Posted January, 2002 "Traditional Country Hall of Fame" Home Page