ROCKABILLY HALL OF FAME® MERCHANDISE & SERVICES
This Artist's Page is Available for Sponsorship - Click Here

DI ANNE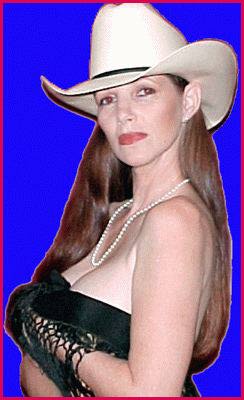 Di Anne Foxx was born in Poplarville, Mississippi. She was raised in Picayune, Mississippi, where her home is today.  Di Anne was one of five children. At an early age Di Anne was signing with others in her family in the church they attended.

She was raised listening to Hank Williams, Patsy Cline, Tammy Wynette, Conway Twitty, Merle Haggard, George Jones, Dolly Parton and Jim Reeves and fell in love with country music and truly wondered "Who's gonna fill their shoes?" She decided when she could she would perform country music. Then she heard Elvis! She fell in love again. Today Di Anne says "I like most of the Old Time Rock and Roll but I will always be a Country Music Fan! I also believe that Elvis is still King!"

Her father told her to find something she loved to do and then find a way to get paid for it. That's what she did. Di Anne has been performing with bands since 1983 and in 1992 Di Anne began making her living performing Country music under the stage name, "Di Anne!".

Di Anne performed at numerous clubs, bars and festivals during the next several years throughout Mississippi, Louisiana and Alabama.

In 1996 Di Anne performed at the 83rd Washington Parish Free Fair where she performed prior to Mark Chestnutt and Bryan White.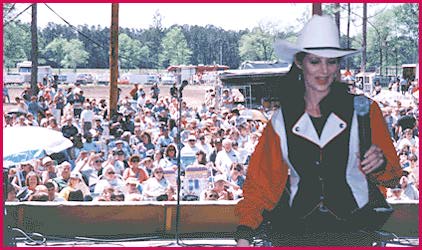 Also in 1997 Di Anne performed at the 1st Annual Country Festival in Hancock County, Mississippi. Here she performed prior to Sawyer Brown and LeAnn Rimes. After these performances Di Anne started writing her own songs.
In 1997 Di Anne made her first trip to Nashville to find out more about the music industry and to find out what it takes to move ahead in the entertainment business and to meet the people that could help her advance her career.
Also in 1997 Di Anne traveled back to Nashville with her band to make a promotional video on one of the band's original songs. In this same year she met Skip Easterling who helped Di Anne to complete some of the songs she was working on by putting the musical composition to them.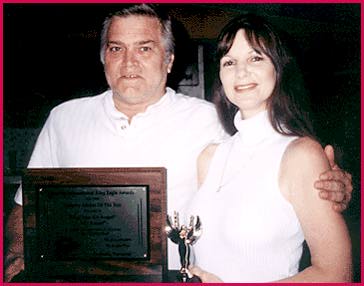 60's Recording artist Skip Easterling & Di Anne!
(Co-writers of "Are You An Angel")

In July of 1998, Di Anne was the head-liner at the Washington Parish Watermelon Festival.
In 1999 one of the songs that Di Anne and Skip had been working on entitled "Mother Earth" was published in a book entitled "On The Road" from the Association of Songwriters and Lyricists. In the same year Di Anne signed a songwriters contract with Mohawk Skywalker Publishing/BMI. During this same year Di Anne had her first album produced by TwinSpan Records and began promoting them.

Songwriter/Entertainer Ruben Howell & Di Anne! during recording session at Mohawk Studio
During all of Di Anne's entertaining career, she has given charity performances for the handicapped, the elderly and for our veterans as her schedule allows.
In 2000 Di Anne was nominated for a Trailblazer award by some of the DJ's that played her music. Di Anne attended the award show held by Airplay International in Nashville. Though Di Anne did not receive the Trailblazer award she did receive the "Country Album Of The Year" award for the album "Are You An Angel".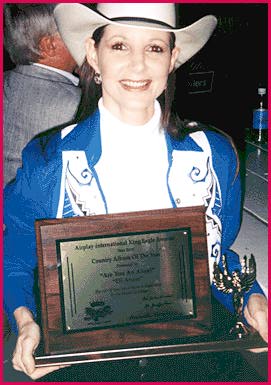 Di Anne was also presented with the International Star Award for "Country Female Artist Of The Year".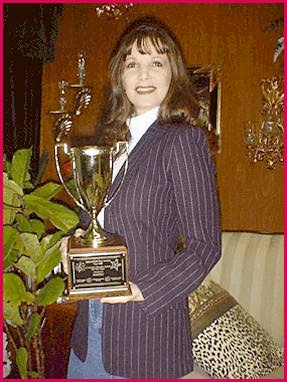 Di Anne! & International Star, Year 2000,
Gold Cup Award for Female Country Music Artist of the Year
2001 was a very good year for Di Anne. In May, she signed with FoxFire Records of Nashville and her stage name was changed to "Di Anne Foxx". Part of the signing agreement was a $10,000 signing bonus and one of the company's limos.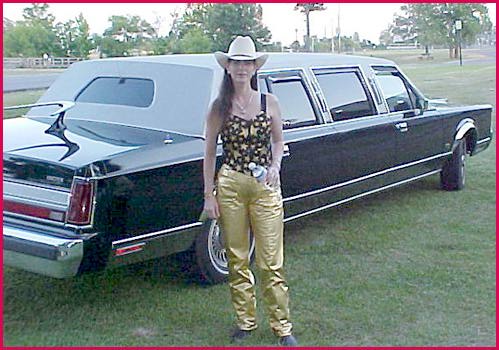 After signing, she began working on her next album entitled "Tainted Rose" which was completed before the end of 2001.
At the award show hosted by Airplay International for non-major artists, Di Anne received an Silver Cup award for being named "Entertainer Of The Year" and also another award for "Career Achievement Songwriter". Also at the award show Col. Jason Hawkins of Airplay International presented Di Anne Foxx with certificates from the Governor's offices of both Kentucky and Tennessee making her an Honorary Colonel, recognizing the work she does for the handicapped, the elderly and also for our veterans.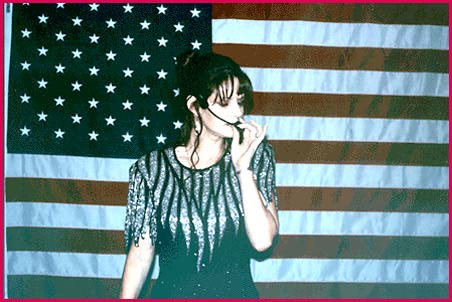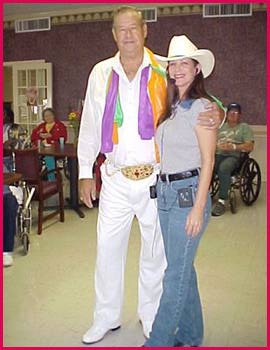 Di Anne Foxx and "Judge" Blue Seal
Performing for the Elderly at the Picayune Convalescent Home
In July of 2001, Di Anne performed at the Rockabilly Festival in Olive Branch, Mississippi. Di Anne was booked for this festival by the greatest drummer of all time, Col. Robert Morris, an inductee of the Rockabilly Hall Of Fame, and the Traditional Country Hall Of Fame.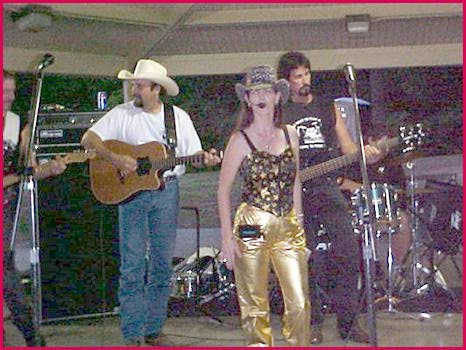 Di Anne shared billing at the Performing Arts Center in Auburn, Washington with Lacy J. Dalton.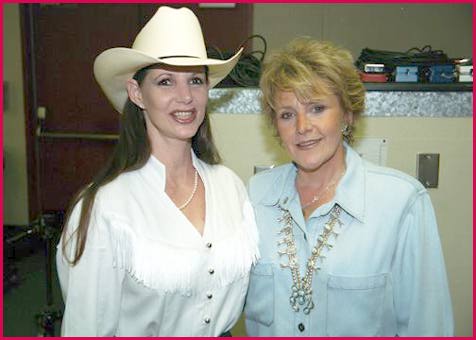 Di Anne! & Lacy J. Dalton
Performing Arts Center, Auburn Washington
(Photo Courtesy of Scott's Photography)

In Beaumont, Texas at the LSSCMA award show, Di Anne was presented with a Tammy Wynette Platinum album for her love and dedication shown to Tammy by Di Anne recording one of Tammy's songs on her album "Tainted Rose". In October, Di Anne attended the C.M.O.A. Award show in Las Vegas and received the International Star Award, Country Division for "Album Of The Year" and in December was presented with the "American Heritage" award for her patriotic contributions.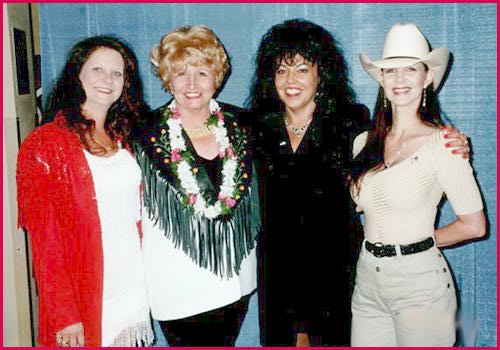 Jeniffer Foxx, Bunnie Mills, Wilma D'Arco, Di Anne Foxx at Award Show in Las Vegas, 2001
In 2002, Di Anne's album "Tainted Rose" was certified Airplay gold and Di Anne was presented with a Gold Record acknowledging her accomplishments. By the middle of the year the album reached Airplay Platinum status and she was presented with the Platinum Record.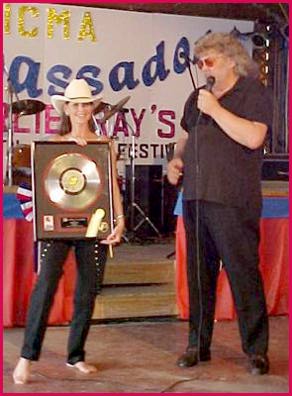 Di Anne Foxx Receiving Airplay Platinum Album From Col. Jason Hawkins
(Still NO Shoes)
Di Anne was also presented with the Gold Cup award from the International CMA commemorating 50,000 downloads of her song from her first album, "Are You An Angel" from the ICMA's website. In the photo you'll notice that Di Anne is Bare-footed. She's a REAL country girl!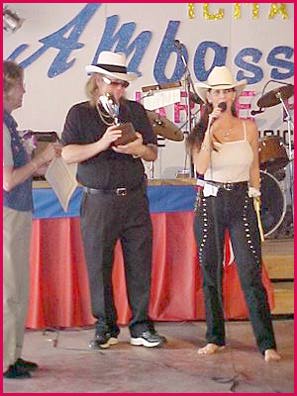 Di Anne Foxx Receiving Silver Cup for 50,000 Downloads On Her Hit
"Are You An Angel" From Her Site On www.radiocountry.org
(Notice the BARE Feet! Someone even offered to buy her some boots!)

Di Anne will always be working on a new album!

Di Anne is also a director in the Mississippi Songwriter Association.




Posted September, 2002


"Traditional Country Hall of Fame" Home Page