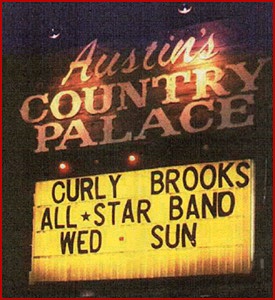 Curly's CHOF page is sponored by Austin's Country Palace.
3556 Halls Mill Rd., Mobile, AL. The biggest night club in Mobile, AL.
Seats 1200, has acres of lighted parking and plenty of security.
Big stars every month! Operated by John & Marsha Lowe.






I am seventy years old now and have Leukemia. I had Prostate cancer in 2000 and Colon cancer in '03. So that has slowed me down considerably. I am doing good now. I take KEMO pills daily and by the Grace of GOD I'm doing GREAT.
Thanks so very much
Keep em Dancin'
Curly
Clinton335@webtv.net.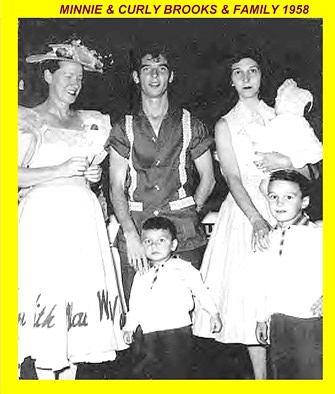 You couldn't tell very well on the picture, but Minnie's skirt had "win with Wallace" on it. To my knowledge that was the only time she did her show out of her regular costume.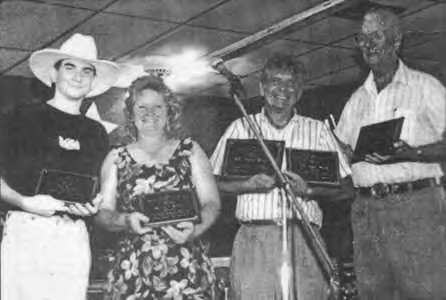 TRI-CITY LEDGER, THURSDAY, JUNE 13, 1996
Brooks Named Entertainer of Year
Local country music legend receives awards
Bluff Spring's very own Curly Brooks received two prestigious awards dining the Mobile Country Music Association's annual award on June 1 in Chickasaw.
Brooks, a fanner headliner for the late Minnie Pearl, was named Entertainer of the Year and Male Vocalists of the year.
Other awards went to 15-year old Jon Miller of Satsuma. Jon received the Horizon Award which is given to the newcomber who shows potential. Shirley Stever of Mobile was named Female Vocalist of the Year. Chris Brunson received the Gospel Singer of the Year. award and Doug Pritchett was the Hall of Fame recipient.


'New country' gets its chance Mobile Country Music Association encourages young performers to participate in twice-a-month sessions
By DAVID CLOTHIER Correspondent
Tastes in music change with each generation, although new musical styles are always built on what came before them. Curly Brooks, president of the Mobile Country Music Association, knows this, which is why on the first and third Fridays of each month the association changes it stage format. "We make it clear that these two nights we are having what we call 'new country'," he said.
"Music like Travis Tritt. We're encouraging young people, such as Jon, to come in and perform." The Jon he referred to is Jon. Miller, a 15-year-old, who began taking music lessons a year ago. He performed several popular ''new country'' hits the night Brooks made his comments. Miller began singing and playing the guitar at the MCMA auditorium in Chickasaw at the beginning of the year. '1 started at the Gulf Coast Opry in Saraland a Few months earlier," Miller said. "I was involved with the Mobile Country Music Association when they were first trying to get it (new country) started. We've just started putting out notices to get young people out." A sophomore at Satsuma High School, Miller recently placed second in a campus talent show. However, he has set his sights higher. "I hope to get a marketing degree and move to Nashville and pursue a career in music," he said. "I'm trying to record a song I've written. I've set up a date (to make he recording) twice, but each time they backed Out."
To gain more exposure, Miller ;and Drastic Change, the band he usually performs with, will play at the sixth annual Take-A-Kid Fishing Rodeo May 11 in Saraland. However, country music does not dominate his life. Miller will receive his Eagle Scout badge later this month. Drastic Change will perform at the reception following the ceremony. Brooks has seen the country music industry go through many changes. "I've been in it for 30 years," he said. "I played on the Grand Ole Opry with Minnie Pearl and others." After he completed his professional performing days, he returned to Mobile and became involved with the MCMA.
He still has Nashville connections and uses them to give young musicians exposure. Bobby G. Rice is one old friend who comes down to performances at the MCMA auditorium on U.S. 43 in Chickasaw. Rice is a recording producer in Nashville.
All of this became possible in 1986 when Jack Cardwell and Johnny Bozenan founded the association. The membership of the tax-exempt corporation now tops 250. Annual dues are $10, and a donation of $2 for members and $3 for non-members is asked at each performance. Besides the new country nights, traditional country and bluegrass are presented every Saturday night in the format of the Grand Ole Opry. Gospel music is performed the last Friday night of each month. The association will hold its annual reunion the first Saturday in May.
"We'll have covered dishes and entertainment all day," Brooks said. "No admission is charged." Also that day, the new inductees in the association's hall of fame will be announced, as will the vocalists of the year and other awards. The wide spectrum of country music will be represented. 'The kids," Brooks said of the new country performers, "can come in on any Saturday night (and perform). I encourage them to learn a couple of traditional country songs to play." In that way, Brooks helps bridge the gap between the two worlds of country music and helps members of the younger generation remember their roots.

PAYBACK TIME FOR GOOD ADVICE
The week before Jack Cardwell died, Curly Brooks made a promise. And Brooks, who owes much to Cardwell, intends to keep it.
Cardwell gave Curly his start in country music. But nearly 40 years later, Curly Brooks will tell you that Jack Cardwell did something far more important.
Cardwell, who died in the fall of 1993, was a legend in Mobile - a local TV and radio personality who had a couple of songs on the national charts. He knew Hank Williams, Elvis, Jim Reeves and Grandpa Jones.
He and his brother Ed founded the Mobile Country Music Association. And Jack was known for his generosity, which is how he came to help Curly Brooks.
One Sunday in December 1956, Cardwell staged a benefit in Mobile that featured country star George Morgan. He let young Curly perform so that Morgan could hear him.
The very next day, Jack received a call. George Morgan had mentioned Curly to Jim Denny, talent director at WSM radio station, home of of the Grand Ole Opry. Denny invited Curly to Nashville.
Curly, a graduate of Vigor High School, hocked a guitar and a microphone, combined that money with $20 Cardwell gave him, and caught the Greyhound to Nashville. Denny took Curly to a studio and interrupted a Brenda Lee recording session to hear him sing. By the time he was back in Mobile, Cardwell knew Curly was on his way. That's when Cardwell did the thing that Curly is most grateful for.
"We went up to Chickasabouge Creek. Jack had a boat up there," he says. "I was starting to wonder what Jack was doing. I was too excited to fish." But Jack wasn't fishing.
He steered onto a sandbar, stopped, and they climbed out and sat on driftwood. "He said, 1 wanted to spend this few minutes with you. You're fixing to be introduced to a fast world. A lot of things are going to be thrown on you - booze, dope, women. If you can't control yourself, you'll never make it. I want to be sure that before you leave, you know Jesus.'
"He prayed for me - that God would show me the way, give me the strength. I'd never had anyone do that."
Eventually, Curly Brooks went on the road with Minnie Pearl, even played the Grand Ole Opry with her once. And he faced the things Jack Card-well had warned him about. After a year in Nashville, Curly decided his wife and two sons were top priority. So he quit his job with Minnie Pearl and came home to Mobile.
"I told Jack, 'I don't want you to feel I let you down. I just don't believe I want to make this sacrifice,'" he says. "Jack really understood."



Thursday, February 29, 1996 Brooks is on mission for MCMA
Century's Curly Brooks is President
of Country Music Association
By Anne Tyree, Ledger Lifestyle Editor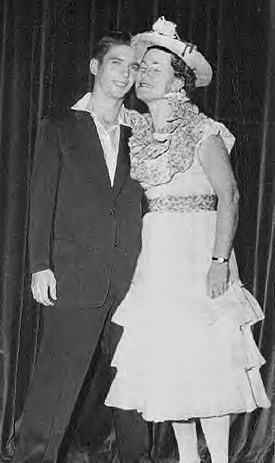 Century's Clinton "Curly" Brooks is a far cry from Nashville and the Grand Ole Opry, but as a young country music artist he was right up there with the best of them.
In 1957 Curly appeared on Jack Cardwell's TV show in Mobile. Cardwell, who died in the fall of 1993 was a legend in Mobile. He was a local TV and radio personality who had a couple of songs on the national charts. He and his brother Ed founded the Mobile Country Music Association.
Curly along with his band became the opening act for Minnie Pearl and in 1958, the second show Curly played in with Minnie Pearl, was right here in Flomaton at the old gazebo located where the parking lot is behind Coleman's Drugs.
An average day on the road back then began around 9 a.m. with "whistle-stop type shows beginning nearly every hour or two at every hole in the road along the way and ending late at night hundreds of miles away from where the day had begun.
"Minnie Pearl was a delight for everybody," commented Curly "It was a business for her. She was very intelligent, in fact she speaks five languages."
Miss Minnie Pearl's husband was Henry Cannon, of the "Cannon towel" Cannons. Curly recalled one incident that occurred while on tour. As young people will often do, Curly packed a towel from a motel in with his belonging before leaving for the ncxt stop. Henry Cannon happened to notice the towel in with Curly's things and inquired if Curly needed towels at home. A bit embarrassed to have been caught with the "hot" towel Curly apologized.
A few days later while talking with his wife, Annette, who was waiting faithfully for him at home, Annette asked Curly where did all the towels come from that had been delivered to their home that day. A bit confused Curly soon found out Henry Cannon had sent two big boxes full of brand new Cannon towels to their home. Needless to say Curly never packed a motel towel in with his belongings while on tour.
This particular road tour was a political tour for George Wallace. The days were long and hard with little time being spent at home with family. By now Curly's family had grown to his wife and two sons. Curly was having more and more difficulty staying away from home even though he loved to sing. Curly began to realize what was of the most importance to him.
The length of a normal tour was on the road for eight months and home for two months. This left very little time for a family. With this in mind. Curly walked away from his career and returned home to be with his family.
Curly and his band were replaced by a couple of little known newcomers named Roger Miller and Mel Tills.


During the 60's and 70's Curly played in a mainline club in Texas that seated 500 people. "I was happy where I was making a good living," commented Curly. Performers struggling for recognition as they climbed the ladder to success would appear on stage. A few included Mickey Gilley, Freddie Fender, David Houston and Gene Watson.

Curly would get invitations from TV shows to make guest appearances but this would have to be done on his nights off which would tend to take time away from his family. Those struggling artists would always make a point to appear but Curly, who realized earlier in his career what was of more importance, didn't have that burning desire for the recognition. Curly would make appearances, but not as frequently as the other artists.



The Brooks family returned to this neck of the woods. Jack Cardwell, who had played a vital part in the beginning of Curly's career, had founded the Mobile Country Music Association (MCMA). The MCMA gave a format for the young (and not-so-young) and upcoming artists to work on their performance skills. Prior to the MCMA if a young artist wanted to perform on stage they had to go into the clubs and bars, and oft times having to lie about their age just to get in the door.
The MCMA provided a wholesome, family oriented atmosphere for the artist to perform on stage, in front of a live audience with a live band.
The MCMA's building is located in Chickasaw just off Interstate 65 heading toward Mobile. The building, though adequate, is getting old, the roof leaks and has very little parking space.
Cardwell, before his death made Curly promise to do everything he could to get the MCMA going in the right direction situated into a new building. With this in mind, Curly was elected as president of the Mobile Country Music Association in July 1995.
The MCMA has now purchased 10 acres of land, gotten a metal building and are now waiting on the permits to go on up with the building. The land is in Eight Mile adjoining Baumhauer Park right on Highway 45.
In keeping with the wholesome family atmosphere while providing the format for the country artist to perform, Curly and the MCMA are heading full-speed ahead. The new building will seat approximately 450 people with ample parking space.
A stream is located on the back side of the property and a fish pond will be stocked. This will provide. entertainment for visitors and others attending outdoor functions at the open air amphitheater or for campers in the RV park. Plans are also in the works for the MCMA's own radio station to be located on site.


Posted August, 2005


"Traditional Country Hall of Fame" Home Page