ROCKABILLY HALL OF FAMEŽ MERCHANDISE & SERVICES
This Artist's Page is Available for Sponsorship - Click Here


Courtesy: Chuck Mayfield and Hillbilly-Music.com
Chuck Mayfield
Born:  December 23, 1934
Arizona Hayride
KWKH Louisiana Hayride
KCKY Coolidge, AZ
KRUX Glendale, AZ
KWKH Shreveport, LA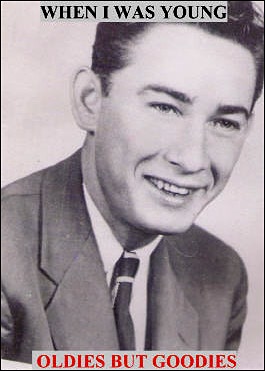 Chuck Mayfield was born in Fort Smith, Arkansas in 1934. Around 1947 or so, the family moved to Eloy, Arizona. They said he was quite talented at an early age, having played and had been singing he was a young boy of twelve years old.

He kept at it but it wasn't until about 1952 or 1953 that he began singing professionally.

He signed a recording contract with Starday records in 1952 (two articles found published in 1955 and 1956 indicate he signed with Starday 'last year').

He also recorded for the Abbott and Dot record labels.

Chuck's singing talents earned him guest spots on some of the great live radio shows of the era such as the KWKH Louisiana Hayride, bradocasting out of Shreveport, Louisiana; the WFAA Saturday Night Shindig that aired out of Fort Worth, Texas; and finally, the KNUZ Houston Jamboree that entertained fans in Houston, Texas.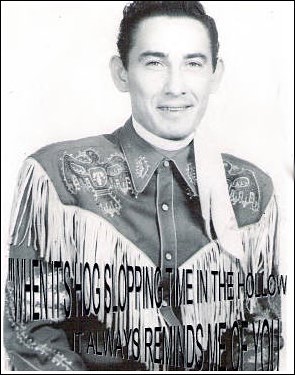 One highlight of his career includes playing the reknowned New York City venue, Madison Square Garden, in 1956.

Earlier in his career, he won a popularity contest in Arizona.

In 1956, Chuck was doing showsover KCKY out of Coolidge, Arizona, a town a bit southeast of Phoenix. Chuck told us they were featuring his tunes during fifteen-minute shows at that time.

"The Eloy Flash"as his fans called him, did a weekly television show with Ray Odom and the Sunset Riders. He also appeared every Saturday night on the Arizona Hayride that aired over KRUX that broadcast from Glendale, Arizona, a suburb of Phoenix.

Somewhere along the way, his talents got noticed by the folks at the KWKH Louisiana Hayride that was broadcasting from Shreveport, Louisiana. Chuck says he joined the Hayride in early 1959 and did numerous personal appearances with such legends as Johnny Horton, Jim Reeves and Red Sovine.


A couple of his Starday recordings the articles mention were: "Hog Slopping Time" b/w "Are you Trying To Tell Me Goodbye".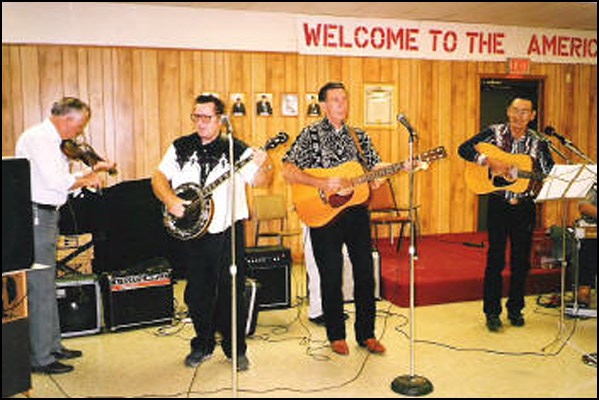 CHUCK MAYFIELD WITH HIS RICH MOUNTAIN BOYS MENA, ARKANSAS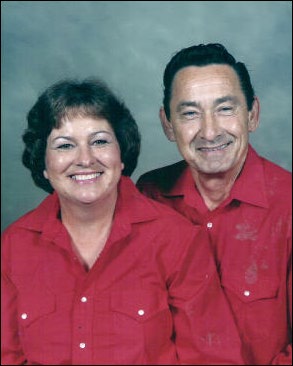 Chuck and Charlotte Mayfield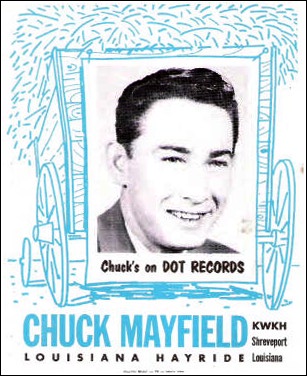 Song Samples from Chuck Mayfield's
Lousiana Hayride CD:
Hog Sloppin' Time Reminds Me of You
Who's the Biggest Fool
Four Faces High
I Know It



cmayfield1223@earthlink.net

http://www.chuckmayfieldhillbillycountrymusic.com/

National Link: Chuck and Charlotte Mayfield

Credits & Sources
Country Song Roundup No. 37; March 1955; American Folk Publications, Inc.; Derby, CT
Cowboy Songs No. 47; July 1956; American Folk Publications, Inc.; Derby, CT

Updated March, 2006


"Traditional Country Hall of Fame" Home Page