Review of the Oneida's
Green Bay Fest III



By Mike Vincent - Mikesandy999@aol.com
Posted June 6, 2007

First and Foremost, I would like to give praise to Bob Timmers and the Rockabilly Hall of Fame for his untiring work on this project, People whom have never seen him in action aren't aware of his continuous support of Rockabilly music, Rockabilly Artist's and those of us that have, surely appreciate his ongoing push for the original Rock-n-Roll music.
&nbsp I will try my BEST to give you a accurate review of the acts I saw ... So please don't write negatively if I happen to get a couple things wrong Please.
&nbsp The Oneida Casino and it's owners and producers of shows also must be Congratulated. I have seen almost every Rock act alive, including a couple of Alan Freeds shows and many many others and the Oneida can be proud it ranks up there with the big ones.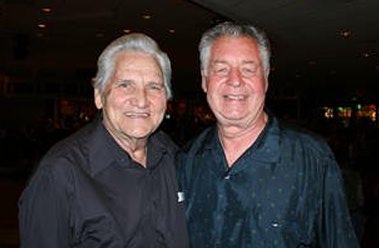 WEDNESDAY MAY 16th, 2007

The Rockabilly Hall of Fame show was first up from 4pm to 8pm.

DAVE AND THE BAD CATS
This is the group that backed most of this part of the show, as usual they were and are good Rock-N-Rollers, I believe from Wisconsin and are veterans of the craft and did some Johnny Cash songs well, as well as a couple Rick Nelson tunes.

ALAN CLARK
Alan joined the show with his great guitar playing and songs like Rockabilly Man made the audience Rock as always, You know it's going to be a great time when you see Alan come on stage. He does a lot of humor on stage and can make you laugh your ass off,  And shines when it comes to his great guitar work. He's a lot like myself where not only is he a musician he sees all the acts too, and is loved by everyone. Alan has done music with a lot of the Greats also. Glen Glenn joined him on Thursday when he arrived.

CHAN ROMERO
When Chan comes to the stage , excitement breaks loose, he has a unique style of playing the guitar. Chan played Hippy Hippy Shake and many other of the hits on the Del Fi label by him and another Del Fi member Ritchie Valens...he did some definite favorites of mine that were Ritchie's Little Susie ... etc. His song styles are great and we could tell the people were glad they came and he knew it too. Right on Chan and a little inside chatter, Alan myself and Chan talked and between us we have 36 children, yep and we still had time to play music. LOL : )

MIKE VINCENT
Hey that's me ... Well I was pleased as heck to be part of this 5 day lineup of a lot of my favorite Artists. I got on stage and was introduced and I opened with Gene Vincent's I Got a Baby and followed with My Babe, a song Bob likes and one we did together in Nashville on my Sun Sessions with DJ Fontana and Johnny Meek's and then I talked to the crowd and told them how proud I was to have worked with DJ and Johnny and Bob Timmers and also to do this song of mine called Elvis, Gene and Jerry Lee and finished with a Whole Lot of Shakin' Goin On. I thought it all went well and at the end as I came down a few fans greeted me and one man from Finland said wow when you say Whole lot of Shakin' ... you mean it, yep as my drummer used to say we hit from the first note and don't stop. Great Fans from all over the world and I was proud to be part of it, Special Thanks to the Fans of England, France, Denmark, Sweden, Germany and the Netherlands and Italy and of course the US and my man Bob Timmers. Alan Clark and a guy named John Hall backed me on guitar as well as Dave and the Bad Cats. Great job. I had a Great time. I wish Sandy could've been there with me.

ART ADAMS
Art is always a top draw, and has a exciting show. He also had Rory Justice on stage with the standup bass. Art and Rory are anything but slow. Art did his Dancin' Doll with many others and did his dipping and grooving on stage and created some fantastic entertainment. He also spoke of his upcoming Canadian tour, besides being a great friend he is a showstopper!

JERRY WILLIAMS AND THE ROCKETS
This was a energetic group to say the least, Jerry merged with the Rockets to put out some outstanding Rockabilly.

LARRY LEE PHILLIPSON
Wisconsin's own Rocker, he has a Johnny Cash way down voice but was damn sure appreciated by his many fans and kept his image through the years.

AL AND THE BLACKCATS
Great, Great Physcobilly they pounded the stage jumped on the bass and spun around in circles so much , they got me dizzy. These boys had the show and the energy and did songs of their own and did songs of the past like Eddie Cochran's  Summertime Blues and Elvis's Baby Lets Play House and many many others and definitely gave the old originals a new twist and when they did Tear it up, they did just that. A dynamic group and one not to miss and I wonder if they sold their CDs cause they kept saying folks we got to have this money to get us back home   (LOL) ... What a rush ... Great job, guys. Oh and to let you guys know, Nol and Wies are friends of Sandy's and mine also, meant to tell you that.
Then after our show was over the night was now underway.

BIG SANDY
Always entertaining as a Artist and a M C, he brings excitement to both, their antics on the stage almost make you think the BLUECAPS ARE ON STAGE. A GREAT GUY AND A GREAT ENTERTAINER ... Sandy Rocks.

LITTLE RICHARD
What can be said about the dynamic Little Richard that already hasn't been said. His part of the show was like 1956 again he had a full horn section a sound system that was his own (especially set up for LR). From where I was it looked like he had a white suit on, he sat down and rocked the house he pounded away at his old hits like Good Golly and Miss Ann and he even did Bob Segars Old Time Rock n Roll, and The Stones, I know its Only Rock n Roll. For a man of 74 he is still the Architect and he talked of some of his friends now passed such as Ray Charles and James Brown and then asked everyone, Do you really love Little Richard and everyone yelled yes ... Well, Then he said about a week ago my Brother passed and I want everyone to say a prayer for him. He did True Fine Mama and a couple of blues tunes, a rousing rendition of Lucille and he ended with Tutti Frutti and he had a group of girls on stage a pretty white girl and a big fat black lady (Iquote) etc. As the black lady approached he said. (oooooh not that fat) LOL  and they all danced. I believe it was too, Rip it up. I believe he did 15 songs and he talked a lot and I heard some complaints of that ... c'mon the man is 74 years old! I think he should be able to talk as much as he wants. Anyone who is a LR fan knows he likes to talk and they like to hear him talk, he talked how next time he wanted to do that show for a week not 1 day and how he loved everybody. He had a jammed packed auditorium as always, and Little Richard my friend, we all hope you PLAY till your 110. The Beauty's on duty and the Georgia Peach Rocks. His piano was in top form and his Exhilarating show was a memorable one.

JACK SCOTT
I had never seen this dynamic performer before, but has always been a favorite if mine. He did all his hits and explained them. He held his guitar firm and all these good sounds came out ... he did: The Way I Walk, My True Love, Leroy and many of his lesser known songs ... all good. He has a great voice and was a pleasure also to talk too. A man that sounds better than his records.

FIVE KEYS
These guys were class Extraordinaire, they are from the old school but the good school and along with their hit out of sight out of mind, they showered many of their hits and did it in perfect showmanship and style. Some of their songs were 55 years plus and still sound great. They came across as smooth and suave as ever and did a accapella number that was awesome. Personally loving doo wop the way I do it was a pleasure to see this incorporated with Rockabilly and it should be. They were both the music of the 50's and groups like the Five Keys show how essential doo wop was.

LAUREN MARIE
A young lady with a great voice, I personally don't know a lot about her but she was good and a good showgirl

NARVEL FELTS
Narvel through the years has kept his music style and good range of voice and that night was no exception, he is a definite crowd pleaser.


NOTE: EACH ACT WAS 45 MINUTES LONG MAKING IT IMPOSSIBLE TO SEE ALL ACTS, MANY ACTS ON OTHER STAGES WERE NOT SEEN BY ME BECAUSE OF ATTENDING MY FAVORITES, I'M SURE ALL THE OTHERS WERE GREAT, CAUSE I DIDNT SEE A BAD ACT THE WHOLE TIME I WAS THERE.



THURSDAY MAY 17, 07

SONNY BURGESS, ROSIE FLORES AND BILLY LEE RILEY,
THE CRICKETTS AND FERLIN HUSKEY
All these great Artist's I wasn't able to see because of a commitment I had in Chicago and I have seen Sonny before and talked with him on Wednesday and the Crickets I met before and Billy Lee I saw and met in Vegas but Ferlin is a guy I've always wanted to see and missed him again. I was told all these artists were spectacular as usual and that Billy Lee and Sonny were in great form.
&nbsp Sandy wants you all to know that she really wanted to be there. And that she really hate's that she missed this great event. With a lot of her favorites Billy Lee, Art Adams, Sonny Burgess, Glen Glenn, Alan Clark, Dale Hawkins, Big Sandy and others. Bob and Dianne, Mary, Nikki and Larry. She said she sends her love to you all.

GLEN GLENN
Glen is always a favorite of mine, he puts on a show as vibrant as I'm sure he did when he was 21. No age slows my friend down, he is a solid Rocker that makes the word Rockabilly what it is and with the backing of Alan Clark who could go wrong. Glen's Cup of Coffee and a Cigarette is a favorite of mine and all his other great songs.
&nbsp His wife Mary adds beautiful support and keeps that Rocker along with his worldwide acclaim of fans ... Rockin, a showman of great stature and loved by everyone ... he ranks up there with Elvis and the rest and I'm proud I get to see him perform and that he is my friend. Right on Glen.

LEE ROCKER
This dynamic standup bass player was great as always and I will talk about him more on Sundays review when he returned to play with Slim Jim Phantom.


FRIDAY MAY 18, 2007

LINDA GAIL LEWIS
Linda Gail kicked off Friday and what a way to start. I hadn't seen Linda in about 20 plus years and like her brother plays a wild piano. She Rocked and Rolled along with her talented daughter Anne Marie, whom harmonized with her Mom. Linda like Jerry Lee is a exciting act to say the least. She performed a lot of her and her Brothers songs stating that until some better Rock-n-Roll songs come along I will do my Brothers songs. She does them good too. Her rendition of Whole lot of Shakin' Goin on and Great Balls of Fire and High School Confidential had her brothers style but you gotta go a long way to beat the Killer even if you are his sister Linda, still love ya though girl. But she comes close, her approach is a little faster than Jerry's but still great. She also did songs from her new CD called Hungry Hill the title song is a Bluesy type diddy that is great and talks about the depression years in Louisiana and did a lot of others from that cd which were great. Her performance was like JLL's where as it never slowed down and when it did it was good, she was very polite to the crowd and talked about Jerry and the family a lot.
&nbsp On talking to her daughter after the performance I asked how come she didn't play piano, she said there's enough piano players in my family (LOL). She was pretty and pleasant and has a great voice. On speaking with Linda Gail I told her now its full circle, now I've met all of you and I asked her if she tours with Jerry anymore, laughingly she said ... no not since I'm playing piano. She's a sweetheart and a very talented lady like the rest of her family ... she made the day. Like her brother 5 stars ... *****

RUSTY YORK
SID AND BILLY KING
All good show people, the latter I believe are Texas Rockabilly's and good guitarists, they had a nice style and good guitar riffs, Don't know a lot about these guys but they were good.

THE CLEFTONES
Another great Doo Wop group, that has style and a lot of moves like the Temptations and another group from way back and their hits were many and they did them all in great style and their outfits were great too. Great harmonizing. Great show guys.

FRANKIE FORD
My man is a one great entertainer, he comes on stage with a plum colored suit with a black and white long piano scarf draping his shoulder and sits down and gives the piano hell and pounds out Sea Cruise and many many others. In amongst his piano playing he tells stories, funny stories. Hhe kept on about his ex mother in law saying (LOL) HOW GLAD SHES DEAD AND GONE. He's a trip as much as his great piano styling, he is quite the entertainer and messes with his band also. He also told the crowd how his Sea Cruise had recently got him a award and had told us total sales so far were in excess of 38 million copies. He gave a great show as always and later upon talking to him asked how come Louisiana has such great piano players and he laughed and said ya know I've always tried to figure that one out. Great guy, Great entertainer. Some people said he talked a lot, ya he did but his stories were great ... Right on Frankie.

SLEEPY LaBEEF, GLENN BARBER
The legend is as good as he's ever been, Sleepy does Rockabilly the way it should be done, hard and fast Not surprising he broke a string, damn, with his ardent approach I'm surprised any stay on. He is a great Texas Rockabilly and is known worldwide. He plays like he means it and in his black totally garbed suit and hat, he puts out this wail of a good sound and after getting his buddy Glenn Barber on stage who is a damn good musician in his own right, they teamed up with some great songs and Sleepy wouldn't let him leave the stage. Near the end of the show they were blinking the lights and Sleepy said I think I can do 2 more and they won't throw me off will they ... everyone laughed. He's a dynamic performer and a act not to miss.

ALTON LOTT
Prior to this show I didn't know much of him, I was on a radio show some years ago in Memphis and his song played also and I wasn't impressed, not a song I really liked but what a great surprise this guy played the guitar like God, he was a great performer and kept us Rockin.

GENE SUMMERS
He (along with Pat Cupp) were the only no shows of the event. Both due to uncontrollable circumstances.

THE PENGUINS
Wow what a show ... Doo Wop Supreme, Earth Angel only one of many they did great. They definitely brought you back to 1956. They also did some of the Platters hits and others ... the lead singer's voice still supreme, They entertained in great style. A great chapter in the book of Rock-n-Roll.

RAY SHARPE and BARBARA LYNN
Ray Sharpe back in the late 50's did a song called Linda Lu and I'm ashamed to say till I saw him this time I never knew he was African/American, Sorry Ray. His voice always sounded white, but has a great voice and a great song. The real surprise with this artist was his superb guitar playing and I mean great, man. I thought Stevie Ray Vaughn was up there, he did a bunch of songs and then brought out Barbara Lynn and she too was a great guitarist, She kinda thumped the guitar and slapped it, great style and she is good, she had a big hit song, it escapes me now, but she had good range and was a good entertainer.


SATURDAY MAY 19, 07

CHARLIE GRACIE
One of the founding fathers this Philadelphia based Musician proves what it means to say the Master.. He surely don't look his age and he quoted he's been married 49 years and he has played about 57 years and sounds as good today as his records. When I first heard Charlie (before anyone I was 12). Now in his 70's he could easily pass for 50, he's a one good looking and good playing Pizon. He is proud of his Italian heritage as he should be and his song Butterfly is more than a classic, he didn't mention it but back then he and Rosie Clooney were the innovators of the early harpsichord or electric piano as it may.
&nbsp Charlie beautiful approach is as natural as Apple pie and about as sweet. my favorite has always been 99 Ways. Which he also did along with many others. Charlie goes back to the days of 78's and I've still got my Mom's copy of that (kinda wore out but I got it.). He is what we call in the business a very clean guitarist. Chet Atkins is also in that category. As beautiful as a showmen/ musician he was a pleasure to talk to (his autograph line was about a hour long ) as opposed to most were 45 minutes. I could listen to Butterfly another 50 years and Charlie Gracie

ROY HEAD
A great performer but through the whole show he looked like something was trying to get out of his body that couldn't. He did many songs before doing his great song Treat Her Right. He too told many stories and one where he kinda riddled Texas. Lots of Texans in the audience - and after lots of applause his statement about you can always tell when your in Texas cause the people got no teeth ... the audience booed him ... and he yelled out joke joke joke, but he was pretty good, basically a nervous artist who maybe could've loosened a little. He pranced the stage in wild frenzy and his songs were short.

THE CLOVERS
As in the past groups of Doo Wop they were ALL great and the Clovers by far were no exception Their song of Love Potion number 9 was well received. They had style and perfectionism and they also did some of their buddy's, the Coasters hits, such as Searchin' ... a favorite of mine. The lead and bass singers were especially great and their antics on stage helped their already great show.

CARL MANN and RAYBURN ANTHONY
When I got into Rockabilly as a kid, along with Elvis, Carl Perkins, Jerry Lee and Gene and Dale, there was this other guy that took Rockabilly and really made it rock, this guy was Carl Mann. Carl's records were bought by me whether on the Sun label or Phillips or whatever..I never even looked at the song if it said Carl Mann on it , I bought it. I as many others loved his style and how he could take my Moms songs and put a Sun Rockabilly beat to them.. Carl went on stage and I figured through the years MAYBE his style would've changed. Not a chance his styling was just like his records. Carl did them all, Pretend, Some Enchanted Evening, Mona Lisa and all the rest...Just to see him was worth coming to the fest and his partner Rayburn was a shocker, Sorry but I had never heard of him and after hearing him I wish I had, he too was great to say the least, held his guitar like he meant it and played in that all too popular Sun records/ Sam Phillips style. He picked like Carl Perkins.
&nbsp Upon talking to Carl I had to ask him what that was that he does where it sounds like he's tripping over his notes and Bob Timmers heard me and he said Mike they all do that and I said no not like him and then Carl laughed and said we call it Chickin Pickin and I said see Bob I told you.
&nbsp I also was told through a article about him that he had quit a long time ago and recently came back...I hope he decides to keep playing...if you haven't seen him , your in for a real Rockabilly treat.

THE COLLINS KIDS
A good family group even though it wasn't my stick. They were good and the audience they had loved them, they tended to do more country than rockabilly (nothing at all wrong with country, please don't misconstrue my meaning). We listen to country music too, Sandy's Dad raised her on the old time classic's they are now.

LEVI DEXTER and the ORIGINAL ROCKETS
WOW this lad from England had all the guts and grind that Elvis had back in the 50's. If not more so and to the Kings Fans out there (which I'm definitely one) no one beats the king but this boy had all the moves and never slowed down through the whole act. A act I figured I'd watch a couple songs, he had me mesmerized through his whole act AND THE BOY NEVER SLOWED DOWN. He did a couple Elvis songs and many others ... the rockets were great too, flying all over the stage, especially the stand up bass ... man he was crazy dragging the bass all over and laying underneath it (look what you started Gene LOL). It made you feel like you were watching the Blue Caps. A great show and one not to miss. Right on guys, carry on the tradition.

THREE BAD JACKS
As always a great show ... they know how to rock.

BRAMM RIDDLEBARGER AND HIS WAILIN ELROYS
Some name huh, yep and some group too, not sure but I believe they were from Finland. I was in the seats in the lobby and I heard them and they were tearing up the house, they too spun around so much and jumped off and on the stage and the lead singer had a little laryngitis and still was good. He asked for a Elvis, Eddie Cochran or Gene Vincent singer and a fan said this guy knows that stuff, introduced me and away we went.. I did Baby Lets Play House and the boy's sped it up, but it was a gas, AND THEY WERE GOOD. Physcobilly at its best, a honor to do it with them ... the lead player's voice was still good even through his horseness. They literally got the whole house Rockin. Hope to hear more from them. Thanx Guys.

DEKE DICKERSON
Sorry Deke, I didn't get to see your show but I saw Deke throughout other acts (all the stars want him) and he is by far one of the best out there and adds excitement to any venue. His guitar styles are clean and mean. Deke knows his stuff.


SUNDAY MAY 20, 07

SONNY WEST
Sonny was ok but I don't know much about him and missed about three quarters of his set, but what I saw was good

THE BOBBETTES
One of the original girl groups and one of the best. Their harmonies were perfect and they sang what their fans wanted to hear. Their craziness only added to their greatness. The lead singer which has been there since the beginning told funny stories about the girls and how they pick on her. When we were kids and listened to them in the 50's their Mr. Lee got us all going like any Elvis song. She stated on stage, ya'll know the song I like it like that. Well we did a song we DON'T like it like that ... funny song. They also asked the audience what do we do after Mr Lee. The audience hollered I Shot Mr Lee. They said right and we did. They provided lots of humor and great harmonizing too. Right on girls ... they also made a joke we used to have a midget now we got a amazon ... ya well keep the Amazon ... great voices ... great songs.

MARVIN RAINWATER
This Native American Chippewa Indian had one real big hit, Gonna find me a Bluebird and I remember when it was out it was a giant. It just fit in at the time.. The surprise of his act is he didn't do that song (he thought it was too country). I guess when your 81 you can and have the right to do as you please. He too was a funny storyteller and had a lot to tell, he told the audience send me your thoughts. I will put a song to it. He played great guitar and did some goofy songs such as a song about a obscure beer, and just Roger Miller type songs, but through all this he prevailed and the crowd loved him and he didn't waste no time he occupied every second. As he left the stage the audience was yelling Bluebird but he never did it. But he was a great entertainer and a delight to talk to. When taking a picture with him someone yelled the white guy and the Indian and I proudly said nope 2 Indians ... I'm part Cherokee.

WANDA JACKSON
Showstopper supreme. Where most stars you could squeeze your way to the front, you couldn't with Wanda or Little Richard. Wanda's voice was in check and as good and strong as ever. She did a gutsy copy of Elvis's Lets Have a Party and many others. She also did religious songs and talked about Patsy Cline and also stated that how on June 6th, 1971 was the best day of her life cause she found Christ. She talked about this in length and a guy next to me who was taping her said ... oh man, here she goes on that religious stuff. Well I look at it this way if you don't want to listen ...leave or go to another stage. This is Wanda, she is one of many stars who talk about God and Christ ... again that's her. I'm Thankful To Our Lord everyday for the opportunities I get in the music business ... some talk about it more than others (their preference) Wanda's Brenda Leeish twang in her voice is still there and strong.
&nbsp The 1st lady of Rockabilly did a great set doing em fast and doing em slow and mentioning Elvis, Some entertainers when they get around the 70 age lose it...Wanda has gained if anything. I didn't get to talk to her as her line to get a autograph lasted well over a hour and Dales set went through and she still had a line...Rockabilly QUEEN SUPREME WANDA JACKSON.

DALE HAWKINS
Anyone whom has known me since I was 15 knows I love Dale Hawkins music. Not only Susie-Q but all his music. Dale in my eyes along with the Killer are the new kings of Rock-n Roll since Elvis has passed (musically only, the king will never die). Dale came on stage backed by great guitarists from the band KING MEMPHIS and opened with Wildcat Tamer a Rockin' number he does well. His second was my favorite Little Pig and then he did La Do Da Da and he did another favorite he does not always do, A house,a car and a wedding ring. and he did a couple from his new cd which is great: "Going back to Louisiana". When Dale has a good band behind him, Dale puts his heart and soul and whatever else into his music and takes you back to the 50's when we used to throw that top down and dig Dales music ... cool.
&nbsp Dale was in a great mood and as his music showed he rocked and rocked and rocked. He also talked about the hat he wears, talking about veterans of the wars and that above everything else we need to support our troops...Right on Dale. He talked about Checker and Chess records ( a note from me at the time in Chicago ,Dale was only one of very few white artists on that label..Artists like Chuck Berry, Howlin Wolf and others called that label home.
&nbsp He closed again with Wildcat Tamer. A great song a sad note, he told the audience he was off vacation next week and going back for chemo. We pray every day he totally kicks that bad disease and we ask that you all pray for him too and another important ... very important thing. The Rock n Roll Hall of Fame in Cleveland I think often times overlooks certain singers. As in Dale's case he should've been there a long time ago. Bob Timmers and the Rockabilly Hall of Fame have a petition we want you all to sign to put Dale in the Hall of Fame in Cleveland. Dale has electricity, a great Louisiana voice, great bands, James Burton, Roy Buchanan, great record sales and next to what I saw go in at the last entry, he excells 10 fold. Upon getting a picture with him in the lobby, Bob Timmers took the picture and Dale said: uh uh Mike for you yes, for him no ha ha ha  (of course he was only kidding)
&nbsp I wish he would get a new release of his old checker stuff just like it was song for song. I betcha it would sell. Sandy and I love the man and his music and we hope the best for him. Rock on Dale.
(PS: He made Alan Clark show the audience his tongue)

THE CADILLACS
These classic artists have endures the tests of time with their famous doo wop songs the groups leader Earl (Speedo) has done it with them. They are so cool to watch on stage Ya know how dumb can you be sometimes, it never dawned on me that the line in the song "well they often call me speedo but my real name is Mr Earl" ... and that is his name, I thought it was a line in the song ... da double da. At any rate they are entertainment supreme and did many many songs and at the end after all their kibitzing on stage (they pick on Earl a lot, ha ha). They shuffled off the stage in a Broadway like line to thundering applause. They are a institution in themselves. Upon signing a picture for me I asked Earl if they ever covered the Rays hit Daddy Cool (which I love and did on my Nashville sessions). Earl said no but its a great song, I wish we did.Doo Wop Perfection and early Rock-n-Roll stirred in.

BO DIDDLEY
The worst shocker of this whole venus was that Bo suffered a stroke ahead of doing this show. I have seen Bo many times and he along with Little Richard are the innovators, Little Richard with the Piano and Bo with the guitar...yep he was first. Another artist to play at the Chess studios I believe under the Argo label and Bo shows how a guitar should be played...he was greatly missed and we hear he is doing much better...not many men in the industry have hit songs about their own name..Bo's had a few and sold millions..I feel Bo never got the dues he's paid and deserves back what he's put in...we love you Bo

SLIM JIM PHANTOM and LEE ROCKER
Lee Rocker did a show here on Thursday but when notified in LA after doing a show there about Bo Diddley's stroke, he agreed to come back to Green Bay and come back he did. Slim Jim and he did nothing short of knock the walls down. The Stray Cats drummer just stands and beats  that drum like his very being depended on it and Lee meanwhile is running up and down that bass. They did Rock This Town, Tear It Up and Stray Cat Strut and even a couple Elvis/Eddie Cochran tunes and literally put a new meaning to Rock-n-Roll, Rockabilly music as it should be ... hard and fast. Slim Jim would jump in the air at the end of the song, land over his drum spread eagle and then run and hit the bass with his sticks and Lee went crazy also. This was surely a highlight of the whole week, well worth bringing Lee back. There are a lot of great stand up bass men. Lee has to be number 1. Gene Vincent and Carl would've been proud to have these 2 legends in their groups. As you watched them it was like they were at a garage bands playing their favorite songs. They truly were in a world of their own and rocked their ass's off. And the last song Jim threw his sticks and ran over and kissed Lee on the lips (well I guess to each their own, Ha Ha Ha) but you could see fire between these 2 musicians and it definitely scorched the audience who would not stop clapping even after a return to the stage ... ROCK AND ROLL.

ROCKY BURNETTE
At first his act was a little plain and then he explained how his Dad and Uncle (Johnny and Dorsey were the real musicians in the family and then he did a song of his Dads called Dreamin. He did a slow rendition of the song and did a couple others and rocked a little. He was good but as HE SAID his Dad was greater and hard to believe he said Dads been dead 40 plus years. His Dad, Johnny had a lot to do with Elvis in the early days. It is noted in certain circles Johnny was along when he made (Elvis) the record for his mother at Sun but couldn't get in. Again I heard this don't know if its true and was going to ask Rocky this but he never came down to sign autographs.
&nbsp My friend Paul Burlison was part of the Johnny Burnette Trio, he passed away awhile back and he and his dynamic guitar playing, his joking and the man himself are sadly missed as are Johnny and Dorsey

THE END


By this time I was pretty rocked out and my legs will never be the same, ha ha.. It was by far the best venue in length I have ever witnessed and I've seen a lot including a Alan Freed show and Bill Grahams shows in California and on and on. WHAT A BLAST as we used to say.
&nbsp I hope I have covered my 45 acts that I saw, I think there were a total of 170 acts in the 5 day event, ANY QUESTIONS I can answer for you I will be happy to and if anyone has a DVD of the show we will gladly pay for it.
&nbsp I wish to personally thank Bob Timmers for his great guitar work and mostly his perseverance of keeping this music we all love so much and he works hard at it sometimes against the odds, along with the casinos he represents and the artists, its not easy, my hat goes off to him.
&nbsp I also wish to Thank ALL the musicians whom made everyone look good they were all great as were all the MC's including Big Sandy (Great Job - he gets you in the mood) and Del and Dave and Ken and the rest. What a great job you all did.
&nbsp Special Thanks to the Oneida Casino, Green Bay Wisconsin for their belief in our music and we hope to see many more shows ... You're Awesome
&nbsp To all the musicians I saw there and performed with on stage a big cool THANX GUYS and GALS.

-Mike Vincent


---


AND A LITTLE NOTE FROM SANDY:
Bob Timmers could always use any donation's to the Rockabilly Hall of Fame®. Go check it out, And remember he's got ton's of stuff to buy too.  CD's I'm sure of a lot of the name's Mike mentioned here in his review he has for sale, T-Shirts, Hats. Get your Business cards done through Bob and the RaB HoF. Let's Help keep this WONDERFUL Music Alive and get some of our Artist Paid for all the hours of music  they've put out there just for us, and a lot of them has done it for nothing and for making all of us some dancin' fools. LOL - GOD BLESS BOB for all his hard work. Take care all and keep in touch.
-Sandy




Back to the "Take Note" Main Page