ROCKABILLY HALL OF FAMEŽ MERCHANDISE & SERVICES
This Artist's Page is Available for Sponsorship - Click Here


90 Years Old
By Shaun Mather

October 5, 2005 - It gets a bit scary when your heroes that celebrating their 70th birthday (JLL) or 80th (BBK), but what about Skeets McDonald. Had he still been alive today, this month would have seen Skeets celebrate his 90th.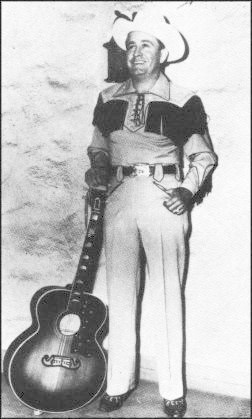 Best known for his self-penned chart-topper "Don't Let the Stars Get in Your Eyes," Skeets McDonald was a honky-tonk singer and songwriter whose work helped serve to bridge the gap between country and rock & roll. The youngest of seven children, Enos William McDonald was born on October 1, 1915 in Greenway, Arkansas, and earned his nickname after an incident involving a swarm of mosquitoes. He became interested in music at a young age, and according to McDonald family legend, even traded his hound dog for a guitar and six dollars. When his older brother moved to Michigan several years later, McDonald followed, and joined his first band, the Lonesome Cowboys, in Detroit in 1935. He continued to perform on local radio stations until he was drafted to serve in World War II in 1943.

When he returned home he got a job on a tv show in Detroit. In 1950 he made his first records, recording with Johnnie White and his Rough Riders. A year later he headed west to Los Angeles, and began performing on the Hometown Jamboree, the influential tv show hosted by Cliffie Stone. This new job was instrumental in landing him a contract with Capitol Records, for whom he scored his biggest success in 1952 with Don't Let The Stars Get In Your Eyes. He spent the decade with the label and cut some typically excellent West Coast hillbilly, as well as some forays into the rockabilly sound. He employed young guitar-whiz Eddie Cochran to back him in the studio for You Oughta See Grandma Rock and Heart Breaking Mama. Although they made little impact on the charts at the time, they are now considered rockabilly classics.

After he joined Columbia in 1959 he concentrated on straight country and managed a couple of moderate hits like Call Me Mr Brown in 1963. He moved his body as well as his sound from California to Nashville and began appearing on the Grand Ole Opry, before succumbing to a heart attack in 1968. His chart career ran (stuttered) from 1952 to 1967 but only produced 5 entries ­ quiet a unique situation which must have proved frustrating for the artist and label alike.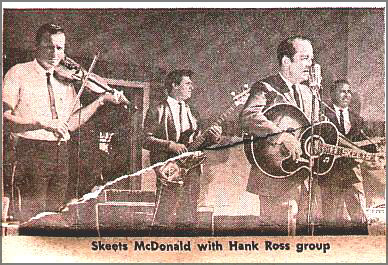 Born: Enos William McDonald, 1 October 1915, Greenway, Arkansas
Died: 31 March 1968, Inglewood, California


Recommended listening:
Don't Let The Stars Get In Your Eyes - Bear Family BCD 15937 (5CD).



Country Charts

| | | | | |
| --- | --- | --- | --- | --- |
| Date | Pos | Weeks | Title | Label no. |
| Oct 52 | 1 | 18 | Don't Let The Stars Get In Your Eyes | Capitol 2216 |
| Oct 60 | 21 | 6 | This Old Heart | Columbia 41773 |
| Sep 63 | 9 | 18 | Call Me Mr Brown | Columbia 42807 |
| Jan 67 | 29 | 4 | Big Chief Buffalo Nickel (Desert Blues) | Columbia 43425 |
| Feb 67 | 28 | 4 | Mabel | Columbia 43946 |



Posted October, 2005


"Traditional Country Hall of Fame" Home Page