ROCKABILLY HALL OF FAMEŽ MERCHANDISE & SERVICES
This Artist's Page is Available for Sponsorship - Click Here




Ruth and Nelle Poe
The Poe Sisters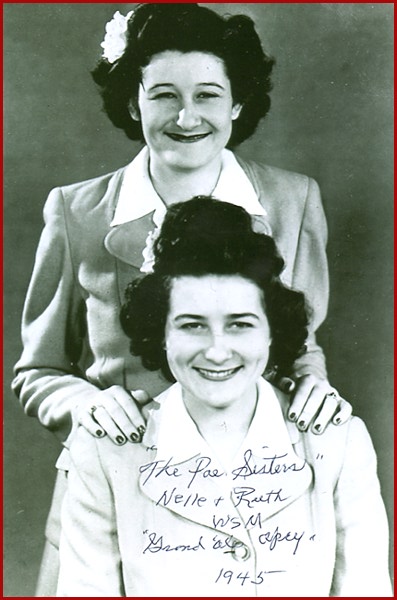 Article from the Bluegrass Unlimited March 05 issue.

The Poe Sisters were both born in Big Creek, Calhoun Country, MS, Nelle in 1922 and Ruth in 1924. They began their career in October 1943 in Bridgeport, CT, where they were both employed as inspectors of radios for the General Electric Co. They appeared locally on radio over WICC, and on weekends toured the region with a troupe of entertainers. During this time, they played for servicemen at the famous Stage Door Canteen in New York City.

When you saw the Poe Sisters in Mobile, AL, with Ernest Tubb's touring group, they were members of the Grand Ole Opry, joining the cast in June 1944. Ruth played a mandolin Bill Monroe loaned her during their entire time on the Opry. Ruth was married in 1945, and shortly after that, Nelle returned to Connecticut, breaking up the act. But within months, she was back and the duo resumed touring and working on the Opry.

Nelle told this writer recently, "Our idols were the Delmore Bothers, and we tried to sing like them. The Solemn Old Judge, George Hay, said we were the 'female Delmore Brothers.' I can't say what kind of music we sang - some bluegrass, some country." Their repertoire included a number of Delmore Brothers songs, but they also performed material associated with the Carter Family, the Blue Sky Boys, Roy Acuff, and others.

The Poes left the Opry for good in August 1946, at which time Ruth returned the mandolin to Monroe. Bill told her she could keep it, but she declined. When asked recently why she didn't keep it, she said, "Daddy always told us, 'Don't take any gifts from men.'"

Several months after leaving the Opry, Nelle was married, and the duo decided to leave music altogether. When asked why they didn't continue playing after they were married, Nelle said, "We always did what our daddy said. He said when you get married, you should quit working and raise a family." The advice was unnecessary however, as Nelle soon moved with her husband back to Bridgeport, CT, making it impossible for the duo to continue the act.

The Poe Sisters made no commercial recordings. During most of the time they were working on the Opry and touring, commercial recordings were not being made due to shellac and other material shortages caused by World War II. When record companies geared back up following war's end, they were concentrating on big sellers - in country music that meant Eddy Arnold, Ernest Tubb, and Bob Wills, among others. Before anyone could approach the Poe Sisters about recording, they had left music.

Fortunately, a number of air checks were made of their Opry performances, and ten of these miraculously survived. This material was issued on LP in Germany in 1989, the Poe Sisters, "Early Stars Of The Grand Ole Opry," Cattle LP 122, which is still available (LP only). Some of the recordings have suffered the ravages of time but it is a miracle that they have survived at all, so that is certainly not a harshly adverse criticism. In fact, if anything, it enhances the performances lending them authenticity and capturing the flavour of the age.

There are no frills and fancies, no technological wizardry, just two young sisters harmonizing and playing in a style not vastly dis-similar to that popularized by The Carter Famiy. The songs are the type favoured by the mountain folk and the hillbillies and include the sad "In A Little Village Church Yard" by A.P. Carter, "As Long As I Live" from the pen of a young Roy Acuff and "False Hearted Girl" and "The Farmer's Daughter" courtesy of The Delmore Brothers. On "Farmer's Son" Nelle appears to have simply adapted the lyrics using exactly the same melody as "The Farmer's Daughter" but both versions are enjoyable.

(In July, 2004, Nelle boarded a bus, and journeyed to Nashville. She and Ruth were interviewed by John Rumble at the Country Music Foundation as part of the Oral History Project. The two-hour interview is on file at the Country Music Foundation and Museum.)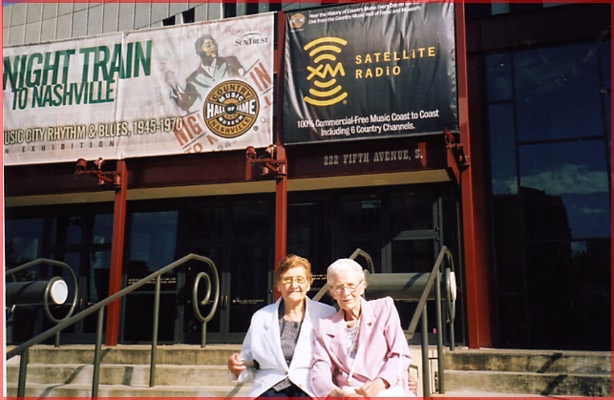 Ruth and Nelle sitting on the steps of the Country Music Hall of Fame, Nashville, TN July 14, 2004


Biography of "The Poe Sisters"
by Nelle Poe Yondell

NELLE - Born May 4, 1922 in Calhoun County at Big Creek, Mississippi. Upon completion of High School in 1941 she took a 10 week course in Electronics at Tupelo, MS, through a Government Program, The National Youth Administration (NYA). After completion of the course she was sent to Connecticut and was hired by General Electric Co. Bridgeport, CT Feb. 1943 as an inspector and test technician on radios.
RUTH - Born December 2, 1924 in Calhoun Country at Big Creek, Mississippi. She graduated from High School in 1943 and joined her sister Nelle in Bridgeport, CT. There she got a job working at General Electric Co. as an inspector on radios.
Ruth and Nelle began their career in radio over WICC Bridgeport, October 1943. They joined a touring group, "The Bridgeport War Council", similar to the USO Troupe, that did volunteer work on Sunday (a radius of 300 miles) from Bridgeport, CT. They played to servicemen, who had returned from war, in MA, CT and NY. They appeared at the former Stage Door Canteen in New York.
In Dec 1943 they were on a talent show in New York on the first TV station in the USA W2X2V.
They returned to the South, June 1944, and were hired by George D. Hay, founder of "The Grand Ole Opry", June 17, 1944. Ruth played mandolin and sang lead, Nelle sang harmony and played guitar. Ruth played one of Bill Monroe's famous Gibson mandolins while on the Opry.
The Poe Sisters toured with Ernest Tubb and The Texas Troubadours from the Grand Ole Opry - 1944-45.
Ruth married Dan Collins from Nashville, TN Dec. 1945 - Nelle and Ruth left the Opry Aug. 1946. Nelle returned to Bridgeport, CT to her job at General Electric Co. She met and married Jack Yandell from Clarksville, AR Dec. 1946. Nelle Poe Yandell now makes her home in Mountain View, Ark., and Ruth Poe Weir lives in Nashville, Tenn.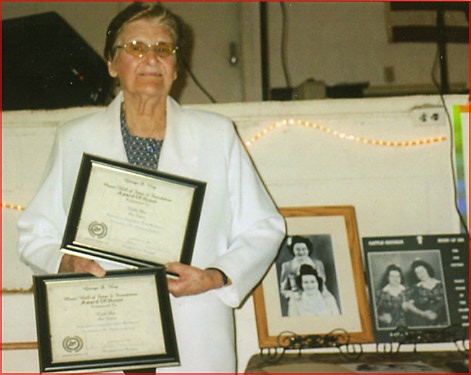 Nelle accepting "Award of Honor" for Ruth and Nelle at the George D. Hay Hall of Fame Museum Mamoth Spring, AR, Sept. 18, 2005

From the Hill n' Holler Review Mammoth Spring, Arkansas on September 21, 2005

Opry Star From the 40's
Receives Hay Medallion
A very special guest at the George D. Hay Music Hall of Fame and Foundation Induction ceremony and award show last Sunday was a lady from Montain View, AR, Mary Nelle Poe Yandell.
A member of the Poe Sisters - who sang on the Grand Ole Opry in the 1940's - Nelle Poe was given her induction medallion and certificate of recognition. She also accepted for her sister Ruth who was in Nashville, TN. Holding her medallion Sunday, Poe said she would rather have this George D. Hay medallion than recognition from the President.
Poe who remembered the famed founder of the Grand Ole Opry said he always told her "Poe, keep it simple." She said she will never forget George D. Hay, and the 83 year old said, "I still love him."
George D. Hay hired Nelle and her sister Ruth to sing on the Grand Ole Opry in June 1944 and he described them as "the female Delmore Brothers." The sisters sang bluegrass and country, material by The Carter Family, The Blue Sky Boys, and Roy Acuff. While members of the Opry they toured with Ernest Tubb. Nelle said that the Solemn Old Judge liked acoustic guitars, and Tubb was the first to bring an electric guitar to the Opry stage. Her sister Ruth played Bill Monroe's mandolin the entire time they were at the Opry. When it came time for them to leave the Opry she gave it back to him because her daddy told her not to take gifts from men.
We asked Nelle if she had ever seen or played with Hank Williams, and she said she thought she might have. She said there was a man and woman singing at a road show she was at and when she asked who they were, she was told they were Hank and Audrey, but she wasn't sure.
The two Big Creek, Mississippi, girls started their careers after they went North to work at a GE plant in Bridgeport, CT. They appeared on a local radio show, toured with entertainers on the weekends and appeared at the Stage Door Canteen, in New York City.
The Poe sisters never cut any records, but a number of air checks were made while they were performing at the Opry and ten of them still exist. The performances were issued on an LP in Germany in 1989 "Poe Sisters: Early Stars of the Grand Ole Opry."
They left the Opry in 1946 and both married and retired from music.
Besides the George D. Hay Foundation honors on Sunday, The Poe Sisters were inducted into the Old Time Country Music Hall of Fame by the National Traditonal Country Music Association at the National Old Time Music Festival in Missouri Valley, Iowa, on Sept. 4, 2005.
They have also been interviewed by the Country Music Foundation in Nashville, as part of the oral history project.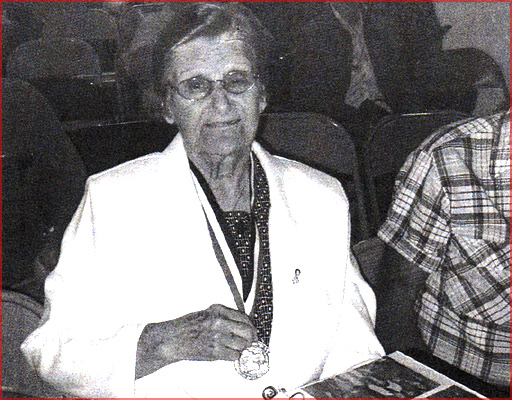 Mary Nelle Poe Yandell show off the George D. Hay Music Hall of Fame medallion she received


Updated October, 2005


"Traditional Country Hall of Fame" Home Page