ROCKABILLY HALL OF FAMEŽ MERCHANDISE & SERVICES
This Artist's Page is Available for Sponsorship - Click Here

Morris Family / Morris Brothers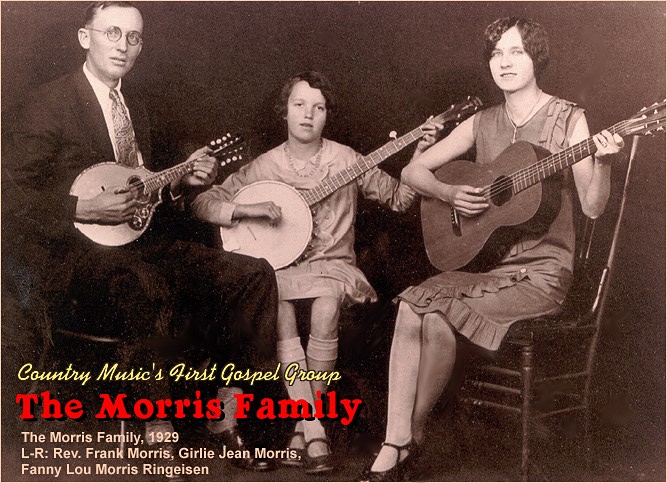 The 1920's ushered into the American culture many of this century's greatest sounds. This was a period when general consumer items were mass-produced and made affordable to the common family. Phonographs and radios developed a demand for radio performers and recording artists. Ruralists saw the beginning of the acceptance of their music into larger markets in the twenties. In 1923, the first "hillbilly" record was recorded in Atlanta, Georgeia. It was Fiddlin' John Carson who performed "Log Cabin in the Lane" and "The Old Hen Cackle." Two southern radio powerhouses featuring live entertainment, WSB Atlanta, Georgia, and WSM Nashville, Tennessee, opened their airways. Many historians recognize 1927 as the beginning of country music in the recording industry, with the releases of "Weeping Willow" by the Carter Family and "Sleep, Baby Sleep" by Jimmie Rodgers. The year of 1927 also marks the beginning of country's first gospel group, the Morris Family. The Carter Family had a tremendous influence on us, according to Fanny Lou Morris Ringeisen, member of the original Morris Family. The new country release encouraged our family to work at their music and songs. The Morris Family began their playing and singing as many others of the era did, within the influence of their warm home and church environments, in and around Lumpkin County, Georgia. Since the family patriarch was also a minister of the Gospel, this made their brand of homestyle pickin' and singin' extra special. Joining in at the old time singing conventions provided a wealth of experience for the family. At that time, the Morris Family band included Rev. Frank Morris, who played mandolin, Fanny Lou Morris Ringeisen, who played guitar, and Girlie Jean Morris who played banjo.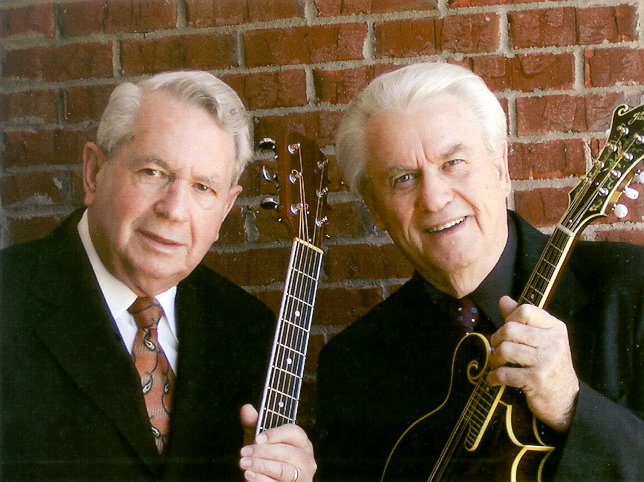 Rev. Frank Morris was the pastor of Wahoo Baptist Church, one of North Georgia's oldest churches, formed in 1819. The good association of Rev. Morris with other churches throughout the lower Appalachians, along with his closeness to many of Georgia's political personalities, assisted the Morris Family in securing performances at political rallies, church services, and community events. His sister, Fanny Lou Morris Ringeisen, contributed much to the early sound of the Morris Family. She borrowed twenty-five dollars from her brother, Herbert Morris, who was then in the U.S. Navy, to purchase a Washburn guitar to play in the band. She still cherishes that guitar in her home in Albuquerque, New Mexico, as she does the banjo which was played by her niece, Girlie Jean. Since Girlie Jean was only eight year old at the beginning of their musical career, many times the heavy banjo would have to be place on a stool so Girlie Jean could play it. In the early days of radio, the Morris Family found their music in demand by the radio audience.
They made regular visits to two Georgia radio stations from which their programs were heard, Toccoa, Georgia WTFL and Atlanta's WSB, a 50,000-watt giant. The group's appearances spurred the interest of the owners of Vocalion Records, the Brunswich-Balke-Collendar Company, and on March 20, 1930, the Morris Family recorded their first songs at the WSB Biltmore Hotel studio. They recorded "Oh Mary Don't You Weep ," "He Rose Unknown," "A Dream of Home," and "Will It Be You?" These songs were released nationally by Vocalion Records.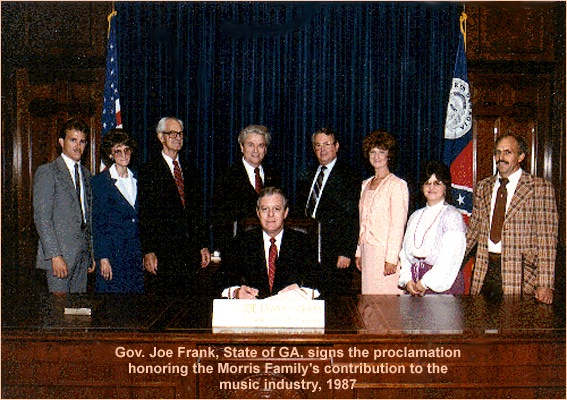 As years progressed through the Great Depression, younger members of the Family became involved in music. Miss Frankie Morris began playing the piano. As brothers Herb, Homer, Vaughan and Gene grew, they began playing various instruments and harmonizing together and by the early 1940's, they could really sing a song. In 1944, after a long illness, Rev. Frank Morris went home to be with Jesus. This was a great loss to this family and especially to these four young boys. But by God's grace, they were able to continue, as dad would have wanted them to do. In March 1945, brothers Herb, Homer and Vaughan decided to continue performing as the Morris Brothers. They added Henry Moss, a young fellow from North Carolina, as a tenor singer and mandolin player. Henry later married original Morris Family member, Girlie Jean Morris.
Aunt Fanny Lou Morris Ringeisen, and the Morris Brothers' sister, Frankie Morris Smith, are the only living members of the original Morris Family as of this writing Aunt Fanny Lou lives in Albuquerque, New Mexico, and at 92 years young, is such a wonderful blessing to the whole Morris Family. We love you, Aunt Fanny Lou! Sister Frankie Morris Smith lives in Marietta, Georgia with her husband, "Smitty." They are retired and enjoying life. She is still a mother-like sister, to Herb and Homer, checking on them on a regular basis to make sure everything is okay with them. She is a wonderful sister, mother and supporter of this family's music. She is much loved. Girlie Jean Morris Moss went home to be with Jesus two years ago. She is missed so very much. A wonderful sister and mother, a true friend to those she knew. She is now singing with the family members who have gone to be with Jesus as they await the remaining family members to join them. Girlie Jean was a very musically talented lady, and was an outstanding music writer. As you listen to "Homesick to Go," or "Glorious Things," you will experience the great writing talents of this dear lady.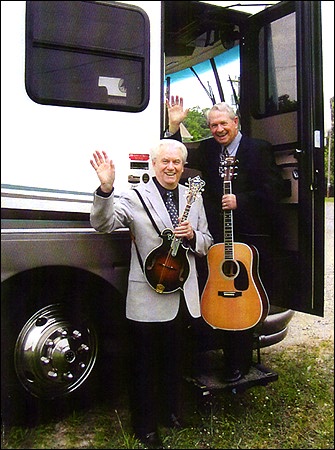 Homer and his wife Pauline make their home in Acworth, Georgia. Their sons Kent and Philip have been a part of the Morris Brothers Band since they were very young boys.
Herb and his wife Virginia make their home in Marietta, Georgia. They have three children, Ronald, Donna and Randall.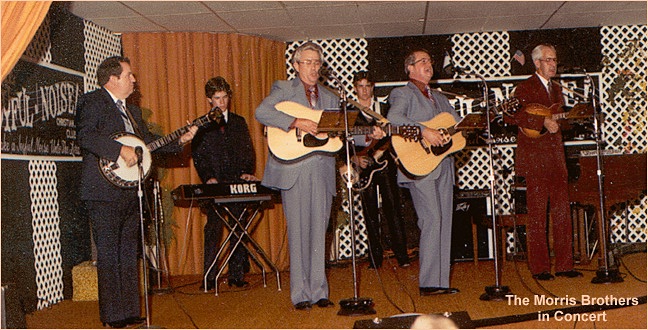 Excerpts From "Notes and Queries"
by Walt Saunders Bluegrass Unlimited January 2004
The brothers began working country radio at WGGA in Gainesville, GA., in 1945 and 1946. The band moved to WGST, Atlanta, appearing daily at 6:00 a.m. They later moved to WLAQ, Rome, GA., where they remained until 1949. The group left radio at this point and Homer and Vaughan continued only on stage for several years. Eventually, the group disbanded. Homer entered the ministry, and the others took up pursuits outside of music.
Finally, in 1974, the brothers reformed the group. Gene (who never played with them professionally) and Vaughan Morris passed away in the mid 1970s. From the early 1970s through the mid 1990s, the band was fronted by Herb (lead guitar) and Homer (guitar). Other members were Homer's two sons Kent (keyboard) and Phillip (bass), their brother-in-law Henry Moss (mandolin), and Dan Atcheson (banjo). The group traveled extensively, appearing at many large gospel sings, and a number of bluegrass festivals (usually the Sunday morning gospel portion). They also worked a package tour with Jerry Clower and the Chuck Wagon Gang.
Original Morris Family banjoist Girlie Jean Morris Moss passed away in 1996. "She wrote many of the songs the Morris Brothers recorded," Herb recalls, "and she wrote songs for other groups,too." Morris Family guitarist Fanny Lou Morris Ringeisen, who had retired to Albuquerque, NM., passed away in September, 2002, "just before her 93rd birthday. Henry Moss retired from music because of bad health. We stopped traveling with the band in the mid 1990s. The band members are with other groups or in business for themselves."
Herb (76) and Homer (73) continue performing as a duo, and continue to record. "We work the festivals and the gospel circuit, and book up to fifty dates per year. We have recorded on Morningstar, Perfection Sound, several independent labels, and on our own label, MBM Sounds. Our last album, 'Bluegrass Gospel Jewels' is on MBM."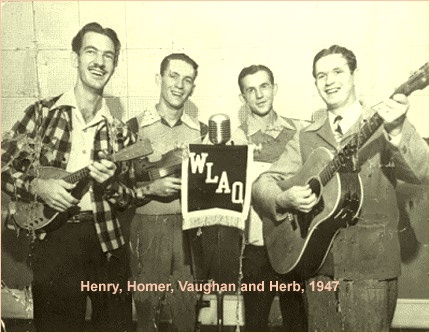 Excerpts From "Notes and Queries"
by Walt Saunders Bluegrass Unlimited April 2004

"I was interested in your comments about the Morris Family/Morris Brothers in the January 2004 BU. The week before, I included a Morris Family recording from 1930, 'Blue Eyed Boy,' on my radio program of old-time country music from the '20s and '30s called Were It All Began. The program is on KRFC-FM, a new community radio station in Fort, Collins, CO., and I was illustration the influence of the Carter Family on country and bluegrass music. I note the pictures you ran with your story included the Morris Brothers, but not the Morris Family. Do you have access to a photo of the Morris Family? If so, I'd like to see it. I think the Morris Family's sound was in the Carter Family tradition and, as with the Carter Family, they were many years ahead of their time." Conway Gandy, Fort Collins, CO
Some praise for The Morris Brothers from emails sent to them.

Well, I have good news for you. Your terrific son "What Would You Do?" is #3 on our top 200 charts. Great. Our congratulations to both of you. I get so many, many requests to play it. It's a masterpiece. Fantastic harmony singing, great fiddle, dobro, mandolin and steel. It's country to the bone. It's country to the bone. It's a big hit here. My personal favorites are "Mansion for Me," " Garden in the Sky," "Not My Will" and above mentioned songs dedicated to mothers. I love so much those mournful ballads. Your meaningful songs bring me close to our Lord and Savior and strengthens my feeble faith. All musicians are fantastic but Steve is stand out. It's probably the best album you have ever recorded. We wish you good luck and success. From Miroslaw Desperak, Poland.
This is Jimmy Strange and I have a program called The Bluegrass Gospel Hour heard on WMTN Morristown, TN, and also WJCF Jefferson City, TN. I received your new recording in the mail this week and I played part of it on my Saturday program. I got RESPONSE about it right off. Everyone commented about the great distinctive harmony you have, "good listening music". I got the most feedback about "Will You Follow Me". Just keep this kind of sound coming and PLEASE! don't change anything. Jimmy Strange Bluegrass Gospel Hour Tennessee.
Excellent, great, magnificent, majestic, brilliant,... WOW! What else can I say. It will definitely get air play on WMSD. I love #7 but think that you've done a superb job on "Drifting Too Far From The Shore", love the touch the Steel gives to the "drifting" - makes me cry! Dr. Paul E Heaton WMSD Pastor Bible Baptist Church.
Today I received your album "Vintage-Plus" in the mail. Thanks. It's really again a great project. I sure will use it on our radio show here in the Netherlands and we'll try out the song "Drifting Too Far From The Shore" on the European Chart. In July we'll sent it to the voting dj's on a compilation disc. Hein, Netherlands.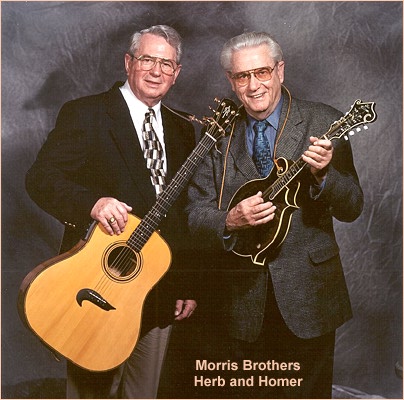 ---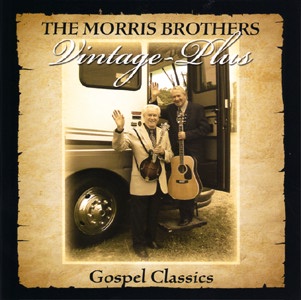 The Morris Brothers have recorded 16 albums and dozens of singles. They are known for their close harmony singing and are referred to as "Masters of Harmony" by many DJ's all over the globe.
Our new album "Vintage Plus", a collection of old and new songs, is getting tremendous recognition in the U.S. and Europe. This is some of the Morris Brothers finest work according to DJ's in the U.S. and Europe. It is loved by Traditional Country, Gospel, and Bluegrass fans.

Contact information for The Morris Brothers:
P.O. Box 6484
Marietta, GA 30065 USA
Phone: (770) 428-5659
Fax (770) 592-3990
sales@morrisbrothersmusic.com
http://www.morrisbrothersmusic.com
Email: pollynana@aol.com


Posted June, 2005


"Traditional Country Hall of Fame" Home Page