ROCKABILLY HALL OF FAMEŽ MERCHANDISE & SERVICES
This Artist's Page is Available for Sponsorship - Click Here

JIM GRUBBS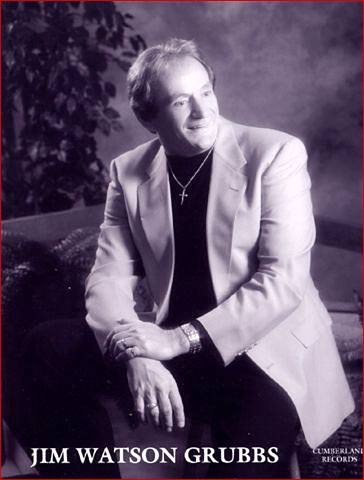 I agree with all of what is said here about COUNTRY MUSIC. There are two or three that I will listen to in reference to their music. The rest, though very popular I don't consider COUNTRY even though they are classified as such. Today's RADIO Programers are very reluctant to listed to what is considered 'TRUE COUNTRY'.

I considered myself very lucky. Back in the 70's, after working clubs, [some with"chicken wire"], was lucky there too as nothing was thrown at me or the band. I became very frustrated working smaller "night-spots" as I felt the need to do something more re-warding. There wasn't anyone I knew at the time to contact for assistance as there was not any one I knew that would take me serious enough to make contacts or tell me who to contact.

  One day I took it up on myself to contact "ACUFF-ROSE" Publications. I talked to a Lady and we visited for some time via phone. She told me that her Husband was a Producer there in Nashville, Tennessee, gave me his phone number and I contacted him. He ask for a Demo tape, which I had with five songs on it. I mailed him the tape and he called telling me I had "potential" and ask me to visit with him in person. I then made arrangements to travel to Nashville, met with him and it was a very pleasant meeting, However to record I would have to finance myself. Me, having not that much cash could not say YES or NO.

My plans were to, after arriving back home was to borrow the specified amount, which I did. After several weeks of reviewing material sent me by the producer and with his coaching I finally did Record several songs. The session was set to be recorded at "THE HOUSE OF CASH STUDIOS" in Hendersonville, Tennessee, which is now a MUSEUM. The record label was an independent. I didn't have the money to do any thing with the tape so the Master stood still for several months.

Then I had an opportunity to do my own show at one of the auditoriums and for the event we needed a few records. I then borrowed the money once more to have one thousand printed, of course after the concert I had several left over [more left than sold] We, my wife and I wondered what we were going to do with the rest of the records.

She, my wife was a GREAT help as she "hit the side walks" so to speak on her day's off from work. She traveled the state. This was during the time of "RECORDING RATINGS" but all the DJ's listened and even the BILLBOARD station begain playing it immediately here in our home state of Little Rock Arkansas. We then had more records pressed and my wife and friends mailed it nationally. The Producer of the Record, of course was very surprised. Matter of Fact HE didn't place his name on the record as PRODUCER, I feel because he thought we would not be persistent in what we were doing. The recording of the "A" side of the record did make the "coventent" Charts.

This of course lead to more recordings. By this time we had financial backing. Both my wife and I worked with-in the Medical field at that time and we were well acquainted with The Chief of Psychiatry and The Hospital Administrator who both agreed to help with the moneys that were needed to continue with our project. BAD LUCK again!

The Physician, who at that time seemed as though like a second Father to me needed OPEN-HEART SURGERY. He expired immediately after the surgery, A TERRIABLE LOSS!! We then, due to the circumstances decided to wait before we did anything else in reference to follow up on another release follow-up.

After a few months we did have another recording printed, but didn't have the moneys to follow through with it as we did the first time. Since that era I have recorded several times but never was offered a RECORDING DEAL.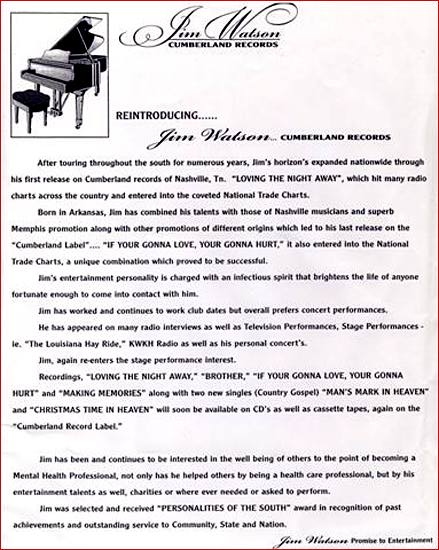 I now have a CD with several songs on it that I recorded with the same PRODUCER. Some are completed, some are not. I also have a Southern/Country Gospel CD and sing at different CHURCHES. I still am interested in Traditional Country and would very much like to CONTINUE with what I once enjoyed so much.

My name is Jim Grubbs but I DBA as Jim Watson. Our local radio does air my Gospel CD and KBHS Radio located in Hot Springs Ar. at times continues to air one of my recordings, as mentioned above that made the CHARTS, "LOVIN THE NIGHT AWAY" The "B" side of that particular recording is: BROTHER.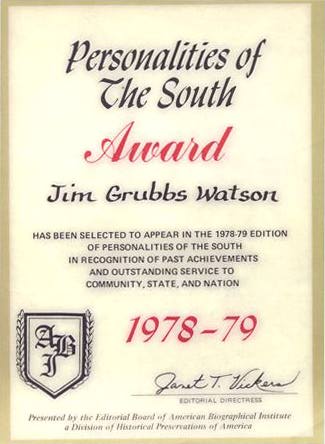 Jim Grubbs - biff255@hotmail.com


Posted March, 2003


"Traditional Country Hall of Fame" Home Page